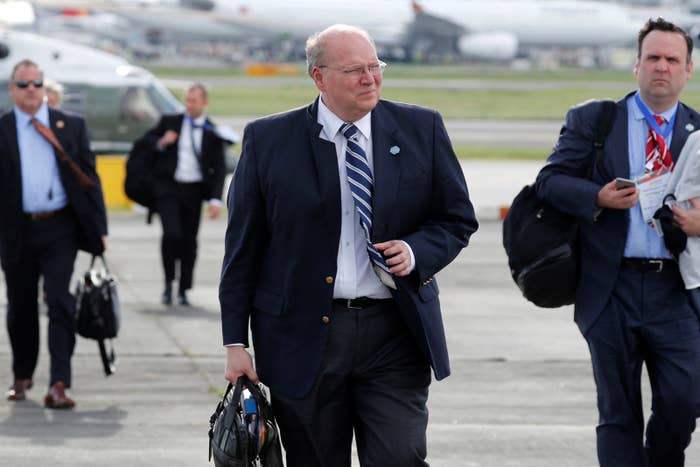 Joe Hagin, a top aide to President Donald Trump, will be leaving the White House next month, an announcement that comes a day after BuzzFeed News reported he had previously worked with key backers of an alleged "sex cult."
Hagin, the deputy chief of staff for operations, played a key role in organizing the president's summit with North Korean leader Kim Jong Un in Singapore.
"Joe Hagin has been a huge asset to my administration," Trump said in a statement Tuesday. He added that "We will miss him in the office and even more on the road."
Hagin had been looking to leave the White House and was eyeing the vacant position of deputy director of the CIA, the Washington Post reported earlier this month. But Hagin is now planning to end his career in federal government and return to the private sector.
Hagin, an alumnus of both Bush administrations, was seen by many in the Republican Party as the steady hand, given his experience. White House press secretary Sarah Huckabee Sanders said in a statement Tuesday that Hagin "brought a level of expertise and institutional knowledge that is unrivaled" and he "made every day at the White House run smoother, better, and always more fun." But Trump loyalists increasingly viewed him with suspicion and thought he wasn't loyal enough to the president.
His last day is expected to be July 6.
Before he joined the administration, Hagin and a company he cofounded made millions of dollars working in Libya with a lucrative client: an aspiring Libyan expatriate politician with deep pockets and troubling relationships, BuzzFeed News reported Monday.
The client, Basit Igtet, was deeply involved in NXIVM, the celebrity "sex cult" whose leadership is now under federal indictment, two sources said. Igtet proselytized for the group, while his wife, the heir Sara Bronfman, reportedly kept the cult afloat with tens of millions of dollars. Hagin's firm worked with Igtet from 2011 to at least 2013.
Hagin told BuzzFeed News he knew of Igtet and Bronfman's involvement in the organization while he worked with them, and had read about the group. "I remember reading about it," he said, in a brief phone interview, "and stayed away from it."
He was also one of about a dozen people invited to a NXIVM event by Igtet in early 2013. Hagin said he did not attend.
And in 2013 — as Hagin's future boss was railing against the Obama administration over the 2012 terrorist attack on the US Embassy in Benghazi that killed a US ambassador — Igtet met with the man the US believed to be the mastermind of the attack, who has since been convicted on terrorism charges.

A White House official said Hagin was not aware of that meeting.