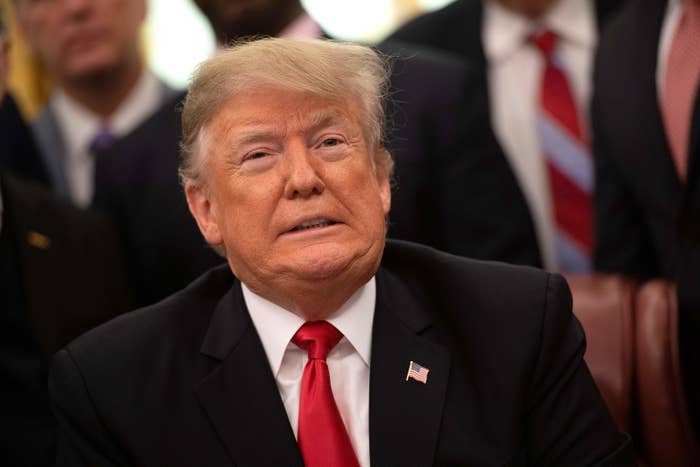 Before President Donald Trump entered the opulent ballroom at Mar-a-Lago on New Year's Eve last year, he stood on a red carpet leading to his glitzy party at the Florida club and predicted a "fantastic 2018" and a "tremendous year" ahead.
Fresh off Republicans' success in pushing legislation overhauling the tax code through Congress, Trump predicted rising stocks and companies investing in the US at a "rapid clip."
The year hasn't shaped out quite like the president envisioned.
Days before Christmas, the government has partially shut down — something that the president recently said he would be "proud" to own before changing his mind and shifting blame onto Democrats. Allies around the world and top Republicans are also in panic mode after Defense Secretary James Mattis — seen as one of the last moderating influences on Trump left in the administration — resigned after the president's decision to withdraw troops from Syria and likely Afghanistan.
Trump is also ending the year in even deeper legal trouble and mired in investigations into several of his associates and affiliated organizations. His former lawyer has been sentenced to three years in prison after implicating the president as an unindicted co-conspirator, and special counsel Robert Mueller's Russia investigation is still ongoing. He's facing a stock market that's on its way to having the worst December in nearly 90 years, amid continued fears of an escalating trade war with China. Trump has also been unable to reverse General Motors' decision to shutter a plant in a state he won, despite repeated claims of being the ultimate deal-maker who would bring jobs back. Meanwhile, uncertainty over how long cabinet members and top staff will survive this administration continues to linger.
The president is under fire from all sides. He has upset allies in different factions within the Republican Party, angering prominent supporters like Sean Hannity and Rush Limbaugh over his failure so far to secure any significant funding for a border wall — his top campaign promise.
He's also disappointed more establishment, hawkish members of his own party, including his top ally Sen. Lindsey Graham, first over his handling of Saudi Arabia after the murder of Jamal Khashoggi, and more recently over his decision this week to pull troops out of Syria without any coordination or consultation from Congress. His biggest accomplishments for the year are limited to the passage of a long-sought criminal justice reform bill, which again, some allies like Sen. Tom Cotton vehemently opposed, and the confirmation of another Supreme Court justice and other judges across the country. (However, the confirmation battle for Justice Brett Kavanaugh was one of the messiest in recent history).
"I think people are becoming significantly concerned," said retiring Republican senator Bob Corker. "It's one thing to have issues on the domestic side, but when you start willy-nilly foreign policy moves against US interests, that is a wake-up call for people in the Senate."
All of this even before a Democratic majority takes over the House in January — and launches additional investigations into the president and obstructs his agenda — after an energized Democratic base helped vote Republicans, including in historically red districts, out of office.
"I think this was finally the year the cracks started showing," said a former White House official, who said Trump has been "defying the laws of political gravity" since 2015, but his continued troubles this year suggest that might be ending.
Another source close to the president conceded he'd had "ups and downs" this year and the confluence of recent events timed with the holidays don't make the administration look good. But he said the president's recent efforts to fulfill his campaign promises — threatening a shutdown for wall funding and pulling troops out of the Middle East — would ultimately work out for him politically even if he takes an initial hit.
"His appeal lies in the fact that he's a fighter," the source said. "If he doesn't fight, if his supporters view him as not willing to fight, which is the principal thing that drove them in the first place, then that's a problem."
For most presidents, the second year is a tough one, with big losses for their party in the midterms, said Julian Zelizer, a presidential historian at Princeton University, but it's usually a response to a legislative push or policy change. In Trump's case, Zelizer said, the losses in the midterms seem to be a response to his way of "governing and what he represents."
"It's certainly been an unconventional, unstable, and unsuccessful year for President Trump," Zelizer said.
Scott Jennings, a GOP strategist and former special assistant to President George W. Bush, said the president needs to stay focused on winning back the suburban voters who abandoned the Republican Party in November, but his actions in 2018 don't give that crucial voting bloc a clear path back to the GOP.
"To me, if I'm Trump, everything I do, everything I say, should be focused on how it's going to restore the confidence the people in the suburbs had for me in 2016 but didn't in 2018. The answer revolves around peace and prosperity," Jennings said.
He added that on both of those buckets right now "you could make a case for good and a case for concern," which needs to change.
Gearing up for reelection, Trump has a web of political problems facing him, with a new acting chief of staff, Mick Mulvaney, by his side, who reportedly wants to focus on politics and messaging and to avoid trying to control the president's instincts.
In recent months, Trump has grown increasingly frustrated by the media's focus on the Mueller investigation and has taken to handing out a two-page printout listing his accomplishments to reporters interviewing him in the Oval Office. The 58-point bullet list, according to New York Magazine, also includes statements along the lines of what the president likes to tweet: "Republicans want STRONG BORDERS and NO CRIME. Democrats want OPEN BORDERS which equals MASSIVE CRIME."
Even during what will likely be the last press conference of the year, which past administrations have used to tout their accomplishments and end the year on a lighter note, press secretary Sarah Sanders was grilled about Trump's support for his former national security adviser Michael Flynn, who continues to await sentencing for lying to the FBI, and about the president's claims about Mexico paying for the wall.
Later, in a conference call with reporters this week, the White House tried to tout the gains from last year's tax bill. But much of the call ended up with Kevin Hassett, chair of the council of economic advisers, being questioned on the dips in the stock market and the ballooning deficit.
Hassett argued that despite the drop in the stock market, the economic fundamentals are still positive, with wages growing and unemployment decreasing. "There's nothing in our data, other than the sort of financial market jitteriness, that suggests that the fundamentals are changing," Hassett said.
The president has repeatedly tied the upward swings in the stock market to his own policies while distancing himself from any downward movement. "It's like waking up in the morning and taking credit for the fact that it's not raining today," Jennings said on the way Trump repeatedly touted the stock market gains in the past.
In recent days, Trump has remained focused on his border wall, but it's his economic policies that are still "pretty much the only thing keeping them in the game politically," said another former White House official, while also arguing that history will remember his long-term economic achievements rather than the daily Russia drumbeat or stock market performance.
"The unsubstantiated cries of collusion and palace intrigue fall on deaf ears of the American people who are seeing wages and confidence increase. ... I think things aren't nearly as bad as they seem."
But with no clear plan in the works to end the shutdown, things are at least bad enough for the president to delay his trip to Mar-a-Lago — for now. This year's New Year's Eve bash at the club is still more than a week away.
Nidhi Prakash contributed reporting.