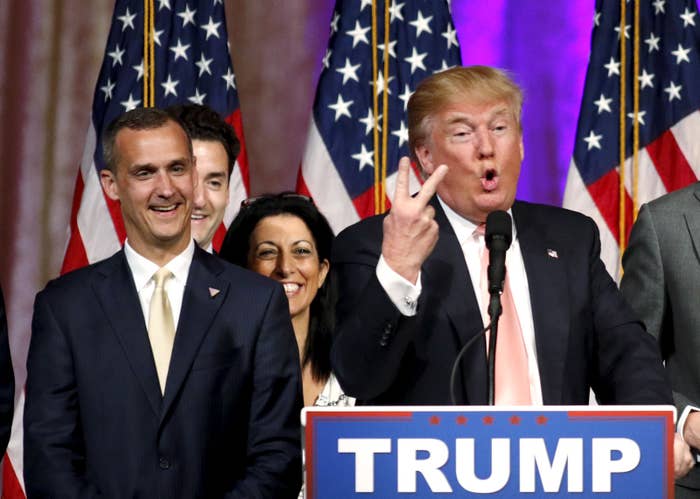 Lobbyists with deep connections to President Trump have been profiting off the GOP-controlled swamp they promised to drain, in large part due to the lack of connections established Republican lobbyists have to the new president.
Even as some former Trump staffers-turned-lobbyists have come under scrutiny for peddling access to the White House, firms with ties to the new administration are still making millions from contracts with foreign governments and major corporations.
For example, American Continental Group has signed 16 new clients just this year and brought in $2.4 million in the first three months of the year, federal lobbying disclosures show. ACG's president is David Urban — one of the few Washington lobbyists to fully back Trump during the primary. Urban, whose name has been floated as a possible replacement for White House chief of staff Reince Priebus, was a senior adviser on the Trump campaign, focusing on the operations in Pennsylvania.
Brian Ballard, a Florida-based fundraiser for Trump, expanded his firm into Washington, DC this year and has already signed 27 domestic clients and brought in $1.3 million in the first three months of the year. Ballard's clients include major companies like Amazon and American Airlines. Additionally, the Socialist Party of Albania signed a one-year contract with the firm, paying Ballard $20,000 per month; the firm also signed a $900,000-contract with the Dominican Republic, according to documents filed with the Department of Justice.
Ballard told BuzzFeed News that his firm doesn't pitch clients or boast any connections to Trump. "We've tried to do things that are thoughtful and mindful and not just be the one-trick pony," adding that he's brought on top hill staffers and even former Democratic Rep. Robert Wexler.
He added that it's been a "rude awakening" for staffers-turned-lobbyists who have come under scrutiny for bragging about access. "Sophisticated clients need to see results and that you can deliver for them. It's not a flash. It's a shoulder to the wheel."
One of those former staffers new to Washington's lobbying world, Corey Lewandowski, announced Friday he was leaving his newly formed firm, Avenue Strategies, for a new venture. The former campaign manager made the decision following reports that an affiliated company was offering prospective clients meetings with Trump and Vice President Mike Pence. Lewandowski never registered to lobby, but the firm he co-founded, which includes other former Trump staffers, has signed at least six reported lobbying clients this year and brought in $140,000 in the first three months. (The firm's clients include Citgo, the oil company owned by the Venezuelan government).
Lewandowski also told prospective lobbying clients that he has access to Trump's Twitter account, BuzzFeed News previously reported.
Another former Trump staffer, Stuart Jolly, also announced Monday he was leaving Sonoran Policy Group, which includes others with connections to the White House. According to Politico Playbook, Jolly's departure comes "amid scrutiny of his efforts to highlight his access to the White House." The item points out that Jolly recently posted a picture on Facebook in front of the presidential limousine with the caption "My uber finally arrived!"
In texts to BuzzFeed News, Jolly said the claims of scrutiny are a "mystery to me and [the firm] SPG." Jolly, who will be starting his own firm, added: "None of us understand that reasoning at all because it had no bearing on my departure. I just want to do my own thing and not fly to D.C. so often."
SPG signed three domestic clients this year along with the Embassy of New Zealand, which is paying the firm $25,000 per month, and the Czech Republic. Jolly told BuzzFeed News he isn't taking any of those clients with him to his new firm.
The Lewandowski departure, which followed several negative stories about his firm, in particular could help established Washington lobbyists — without Trump connections — make the case that top clients still need experienced hands.
"There's always going to be a niche market for Trump-connectors but any sophisticated client is going to pair them with more established firms that can turn a connection into real activity in Congress or in the agencies," said one such GOP lobbyist.