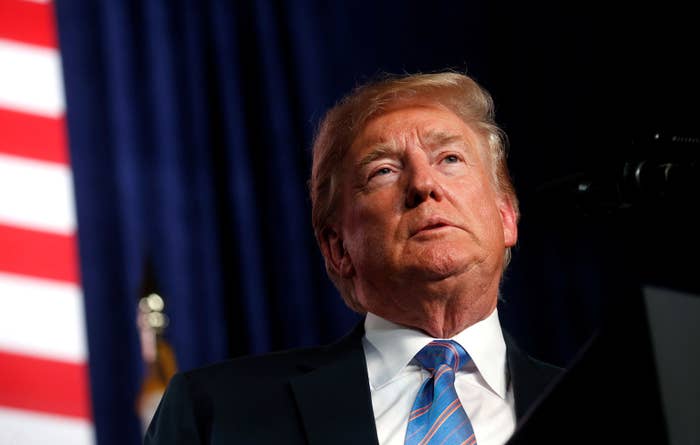 President Donald Trump's 2020 reelection campaign has spent another nearly $340,000 in legal fees in the last three months, according to the latest fundraising reports filed quarterly with the Federal Election Commission.
Combined with spending earlier in the year, Trump's campaign has now spent a total of about $1.2 million on legal fees.
Eight law firms and the Trump Corporation were paid by the campaign for legal consulting. The bulk of the Trump campaign's legal spending, or about $180,000, went to the law firm Jones Day. Two others firms — Harder LLP and Larocca, Hornik, Rosen, Greenberg & Blaha, which are involved in the legal fight with Daniels — were paid a combined nearly $54,000. Other firms that were paid by the campaign were Belkin, Burden, Wenig & Goldman LLP; Schertler & Onorato LLP; Seyfarth Shaw LLP; Van Hoy, Reutlinger, Adams & Dunn PLLC; and McDermott Will & Emery.
The legal spending also includes a small amount, about $5,500, to the Trump Corporation, the filings show.
Schertler & Onorato represents Trump's former bodyguard, Keith Schiller, and McDermott Will & Emery had been representing Trump's former lawyer Michael Cohen.
The campaign's spending on legal fees has declined significantly compared to last quarter, when it spent about $835,000, or more than one-fifth of its total spending, on law firms.

Rudy Giuliani, another one of the president's lawyers, has said he is working on a voluntary basis and not getting paid.
The spending comes as Trump continues to call special counsel Robert Mueller's investigation into Russian interference in the 2016 election a "witch hunt." The Department of Justice announced an indictment against 12 Russian intelligence officers on Friday as part of Mueller's probe.
The continued use of campaign funds to pay for the president's mounting legal fees means that the money that small-dollar donors are giving to the president's campaign isn't all going toward traditional reelection efforts like ads, campaign staff payroll, and fundraising.
The campaign also spent about $150,000 on Trump properties over the period, including the Trump International Hotel in DC and Trump Doral Golf Resort in Florida. The total campaign spending at Trump properties so far this year is about $275,000.

Overall, the campaign has raised about $8.4 million between April and July and has spent about $3.6 million during the same period. Trump's reelection campaign has about $33.1 million in the bank.