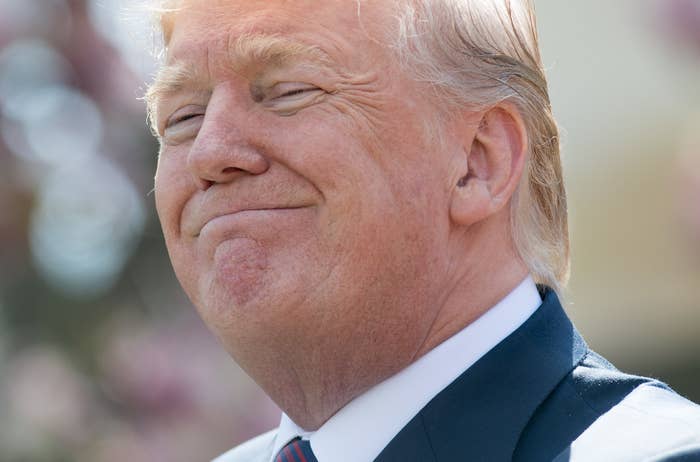 President Donald Trump's 2020 reelection campaign has spent about $835,000 in legal fees so far this year, or about 22% of its total spending, according to the latest fundraising reports filed quarterly with the Federal Election Commission.

The spending comes as Trump deals with the intensifying special counsel investigation into Russian interference in the 2016 election, as well as an ongoing legal battle with adult film star Stormy Daniels, whose given name is Stephanie Clifford.
The campaign's legal consulting spending went to at least eight different firms and the Trump Corporation. The bulk of the spending, about $350,000, went to Jones Day, which has represented the campaign since the 2016 election, including any litigation related to it.
Two others firms — Harding LLP and Larocca, Hornik, Rosen, Greenberg & Blaha, which are involved in the legal fight with Daniels — were paid a combined $280,000. The campaign did not respond to questions from BuzzFeed News about the payments, but an official told the New York Times that they were not related to Daniels.

Using campaign funds to pay for the president's mounting legal fees related to Daniels and the Russia investigation means that the money small-dollar donors are giving to the president's campaign isn't all going toward traditional reelection efforts like ads, campaign staff payroll, and fundraising.
The campaign has raised $10.1 million so far this year, spent $3.9 million, and has $28.3 million cash on hand. The campaign has also paid Parscale Strategy, the firm run by the 2020 reelection campaign manager Brad Parscale, nearly $1.7 million so far this year.
Other notable payments from the campaign include $22,000 to Johnny McEntee, the president's former personal aide. McEntee was recently forced out of the White House after security issues related to gambling and was then quickly hired by the campaign. And despite the president waging a war against Amazon in his tweets, Trump's campaign made about 20 different purchases from the online retailer worth nearly $2,000 combined.
The campaign also spent about $125,000 at Trump businesses, including Trump International Hotel, Trump restaurants, and Trump Tower.