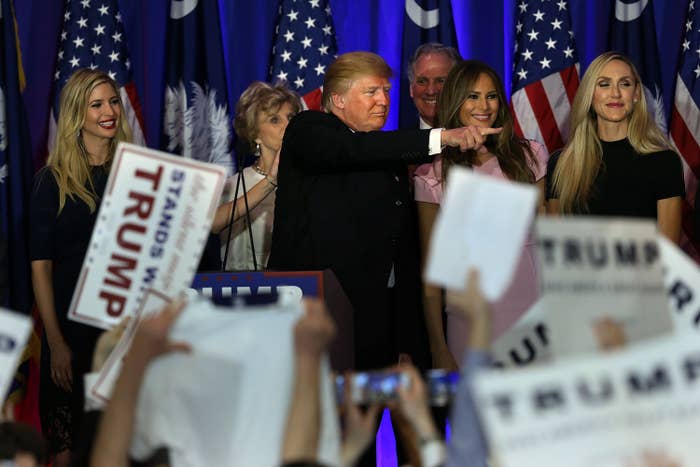 Late last year, Donald Trump's campaign aggressively courted top current and former staffers from a Koch-backed group in an effort to rapidly build up their national ground operation.
There was a reason: Trump's campaign manager, Corey Lewandowski, was formerly the New Hampshire state director for Americans for Prosperity, the biggest Koch-funded group. His intricate knowledge of the state paid off, as Trump soundly won the second state on the Republican calendar.
Trump's plan for upcoming primaries in states voting on March 1 and 15 was supposed to follow a similar model, recruiting top staffers affiliated with the billionaire Koch brothers' political network — specifically from Americans for Prosperity or AFP — who are well-trained in organizing and getting out the vote in their states.
In some states, Lewandowski was successful, but in many key states that could decide the GOP nominee in the coming weeks, his recruitment efforts failed. At least half a dozen current Koch network staffers in states with upcoming primaries turned down offers, in addition to a few former top staffers who previously worked for the group for several years.
One top Americans for Prosperity staffer in a March primary state who was approached said Lewandowski made a strong case, insisting that "(Trump) was for real. He's going to go all the way."
But in the end, he decided to stay with the group. Some others who turned down offers recommended other organizers in the state who were eventually hired by the campaign.
Trump's investments in ground game have been repeatedly questioned in the last few months, as the Republican Party grapples with whether Trump can convert his poll numbers to actually winning primaries, or if it's just smoke. After winning the South Carolina primary on Saturday, the March primaries — which are in states where many of the activists were approached — will play a crucial role as Trump's opponents look to make comebacks.
"Anecdotally, I'd say a lot of people have been approached," said another source close to the group. "It's not surprising. The staff is the best trained and most experienced."
Although Lewandowski's recruitment efforts failed in some key states, he has been able to bring on a handful of staffers who worked for AFP — most of whom, however, weren't still working for the group when they were hired by the Trump campaign. Lewandowski became well-connected with the group's staff and activists outside of New Hampshire during a stint as regional director for the group.
Based on press releases and news reports, those who made the move last year and early this year include: Charles Munoz, former staffer who is now leading the real estate mogul's efforts in the Silver State; Stuart Jolly, former Oklahoma director who is now advising the campaign; Matt Ciepielowski, who was an AFP-New Hampshire field director and served as state director for Trump's campaign; Alan Cobb, former AFP vice president who is serving as a consultant; Ken Mayo, director of field operations who had the same job for AFP-Florida; and Scott Hagerstorm, Trump's Michigan state director who ran AFP-Michigan.
Trump's campaign lawyer, Don McGahn, has also represented groups affiliated with the Koch network.
A chunk of the group's more than 2 million well-trained volunteers across the country are also volunteering for the Trump campaign.
Although other campaigns are using AFP volunteers and some staff as well, the Trump campaign's systematic poaching has rankled some Koch-network donors — they remain frustrated with Trump's frontrunner status, especially in light of his political views, which really run counter to much of the libertarian-infused views within Koch world.
The network has tried to freeze out Trump, as Politico previously reported, barring him from using its voter data operation and not inviting him to speak at seminars and forums organized by various Koch groups.
Donors affiliated with the Koch groups are also still considering launching an anti-Trump campaign during the primary.