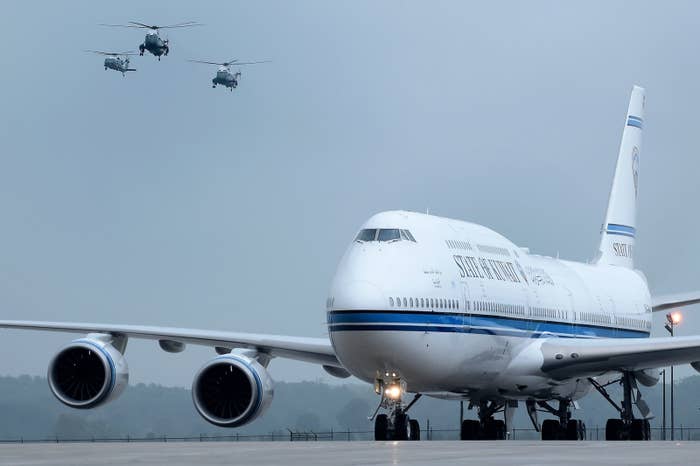 Two of President Trump's cabinet secretaries could be running afoul of an obscure 19th-century law through their use of private jets for government work, even though they say they're paying for the travel themselves.
Government watchdog groups and some congressional Democrats are exploring whether Small Business Administration Secretary Linda McMahon and Education Secretary Betsy DeVos are violating the Antideficiency Act, a law that bars the federal government from accepting free services.
Trump officials' travel habits are under tight scrutiny following news reports detailing how Health and Human Services Secretary Tom Price has spent thousands of taxpayer dollars on private jets — at times combining personal trips with work travel. The HHS secretary on Thursday apologized for the taxpayer-funded travel and said he would refund the government for his share of the travel costs with a personal check, raising its own Antideficiency Act issues.
Environmental Protection Agency Administrator Scott Pruitt has also billed taxpayers for more than $14,000 for private air travel, CBS reported Wednesday. And while DeVos and McMahon say they are handling the expenses for their own travel themselves, some members of Congress and outside groups are requesting more information on their use of private planes to check for potential ethical and legal issues with their practices.
Democratic Sen. Patty Murray, the ranking member on the Senate Health, Education, Labor and Pension Committee, told BuzzFeed News in a statement that her office is interested in going through the agency travel information, specifically records pertaining to DeVos, to make sure no laws are being violated. "Given the Trump Administration's concerning pattern of skirting ethics rules and laws, I believe Secretary DeVos' travel record should be examined closely to ensure no more rules are being bent or broken," Murray said.
Charles Tiefer, a law professor at the University of Baltimore and an expert on the Antideficiency Act, said DeVos and McMahon's travel arrangements do appear problematic. "Volunteering private planes for the use of the government means the government is getting the benefit of unappropriated spending," Tiefer said. "It violates the spirit of the law, and perhaps even the letter."
A spokesperson for McMahon told BuzzFeed News last week that "on the rare occasion when Administrator McMahon utilized private air services for official government business, she has paid for that expense herself in full, with no government reimbursement." A spokesperson for the Education Department, meanwhile, told the AP that DeVos used her own personal plane for government work and has paid for all of her travel expenses "out of pocket and at no expense to taxpayers."
Both the Small Business Administration and Department of Education have so far not released more detail on the costs of the flights, plane ownership, and where exactly the payments are coming from.
But specific information could be on its way. In a letter sent Tuesday, the House Oversight Committee asked federal agencies to submit information to Congress on senior officials' use of government or private planes for both work-related and personal travel. Agencies have been asked to comply by Oct. 10.
A spokesperson for Democratic Rep. Elijah Cummings, the ranking member on the Oversight Committee, told BuzzFeed News in an email that the committee doesn't "know enough about how they are using private planes" at this point to take any actions related to the Antideficiency Act: "If/when we get that information, we might be able to tell if there had been an Antideficiency Act violation."
The act specifically says: "An officer or employee of the United States Government or of the District of Columbia government may not accept voluntary services for either government or employ personal services exceeding that authorized by law except for emergencies involving the safety of human life or the protection of property."
The key to knowing whether or not officials are violating the act could start with figuring out how the pilots for DeVos and McMahon's private planes are being compensated, said Larry Noble, senior director and general counsel for the Campaign Legal Center.
"Is (the pilot) providing the service for the government?" Noble asked. "Is the pilot getting paid by DeVos?"
The plane itself could also be an issue, Noble said, if "the law applies to property as well as services."
Carol Wilkerson, a spokeswoman for McMahon, reiterated on Thursday that the administrator travels by private air only on "rare occasions" services and covers "the entire cost out of her own pocket."
"Upon her arrival at SBA, the Administrator sought and received advice from SBA's Acting General Counsel on the issue of use of private transport for SBA-related travel," Wilkerson added. "She has followed and continues to follow that guidance."
A spokesperson for DeVos did not respond for comment.
The Government Accountability Office usually deals with the Antideficiency Act if a member of Congress or agency asks the GAO for a legal opinion on a particular case. The GAO declined to comment on whether DeVos or McMahon's travel arrangements would violate the act.
Although the regular use of private planes has been more common among Trump's wealthy cabinet members, former Commerce Department secretary Penny Pritzker, who served in the Obama administration, used her own private plane as well and paid for the costs. A former Commerce Department official said Pritzker bore the costs of the plane herself and that her staff were meticulous in making sure her use of it met the legal and ethical requirements.
At the time, cabinet members' travel arrangements were not being scrutinized by lawmakers as they are now.
Issues with the Antideficiency Act typically come up during talk of government shutdowns, particularly over concerns about unpaid government work, but they also come up every now and then with ambassadors paying some services out of their own pockets during their postings abroad, said Richard Painter, vice chairman for Citizens for Responsibility and Ethics in Washington and an ethics lawyer under President George W. Bush.
Painter said that based on the details of DeVos and McMahon's travel, their use of private planes could become a "technical issue" with regards to the Antideficiency Act. "There are some concerns there," Painter said, but the bigger problem would be any evidence of a "corrupting influence."
"We need to find out about what's going on," he said.

Lissandra Villa contributed reporting.