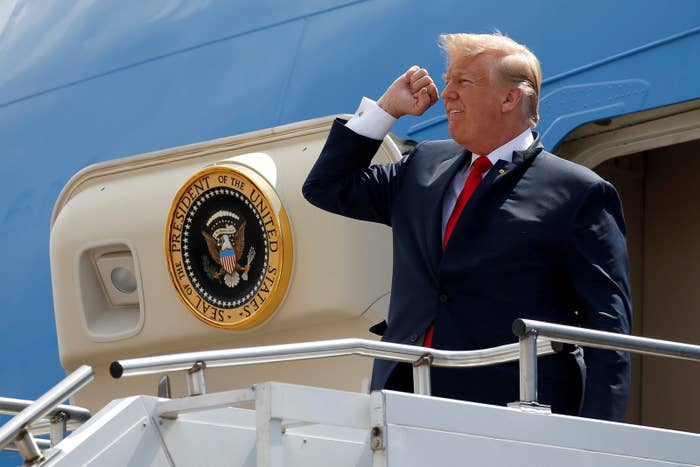 President Donald Trump's announcement that he was pardoning far-right commentator Dinesh D'Souza, who pleaded guilty in 2014 to campaign finance fraud, caught many in Trump world by surprise Thursday morning, but they insisted it was not indicative of possible pardons for Trump allies ensnared in the Russia probe.
D'Souza isn't that well-known of a figure among Trump's base of supporters, leaving many confused about the reasoning behind the pardon, especially since it came at the same time the White House announced major new tariffs, several sources close to the administration told BuzzFeed News — most of whom spoke on the condition of anonymity to speak candidly. D'Souza met with former White House advisers Steve Bannon and Sebastian Gorka last year and tweeted photos with the two, as he distributed signed copies of his book to senior staff.
Rudy Giuliani, Trump's outside counsel, told BuzzFeed News in an interview that the president told him about his decision to pardon D'Souza Wednesday night, adding he does not know who recommended the pardon to Trump.
Saying he "wasn't part of the decision making-decision making process," Giuliani said Trump told him of the plans. "And I said, 'Mr. President, I think that's the right thing to do.'"
"I told him I thought that Dinesh D'Souza, I thought it was a political prosecution, it's a kind of a case where they'll sometimes resolve it — particularly a first offense — in favor of civil penalties," Giuliani said.
The president told reporters Thursday on his way to Dallas he made the decision to pardon D'Souza on his own. "I don't know him, I never met him, I called him last night, first time I've ever spoken to him," Trump said, according to White House pool reports. "I said, 'I'm pardoning you.' Nobody asked me to do it."
"I've always felt he was very unfairly treated," the president explained. "And a lot of people did, a lot of people did. What should have been a quick minor fine, like everybody else with the election stuff ... what they did to him was horrible."
D'Souza, Trump said, was shocked to hear from him. "He almost had a heart attack."
D'Souza's wife on Twitter gave credit to Sen. Ted Cruz for the decision, saying he put a pardon on Trump's "radar." Cruz, retweeting D'Souza's wife, called the pardon "a terrific day for Justice."
He also said he was considering pardoning Martha Stewart and commutating of the rest of former Illinois governor Rod Blagojevich's sentence. Stewart, who was convicted of obstructing justice and lying to the government about a stock sale, hosted a spinoff of The Apprentice. Blagojevich was a contestant on Celebrity Apprentice, and Trump called his conviction "a tragedy" in 2011.
Trump on Thursday said Blagojevich's sentence on corruption charges was "really unfair." "Eighteen years in jail for being stupid and saying things that every other politician — you know that many other politicians — say."
There's been some speculation that Trump's pardon of D'Souza — like his earlier pardon of Scooter Libby — could be a signal to others that he's willing to use his power to help people he deems "unfairly" treated, especially people who might be in the sights of special counsel Robert Mueller.
"I say there's nothing to that," Giuliani said, adding that he's had no discussions with Trump about sending any messages with his pardons. "Just because you pardon one person, there's no guarantee you're gonna pardon another." (Giuliani said that Trump and his lawyers' position on pardons for people under Mueller's scrutiny is that granting or foreclosing the possibility of a pardon "is not something that is properly addressed right now" because the matter is ongoing.)

A former White House official echoed that, saying he doubts "there's any grand strategic reasoning behind this play," adding that the D'Souza pardon likely came out of a conversation with a Fox News personality like Sean Hannity or Judge Jeanine. Blagojevich's wife personally made the case for pardoning her husband on Tucker Carlson's Fox News show last month.
The former official said he doesn't think Trump is playing "the sort of three-dimensional chess people ascribe to decisions like this. More often than not he's just eating the pieces."
Another source close to the president said the D'Souza pardon "showed poor judgment."
The pardon is an example of one of the things the president does best, though, countered another former White House official: trolling.

"President Trump has once again shown that there is no one better at masterfully spinning up the left and trolling the entire press corps," the official said.

And another source close to the administration said he was "not a fan of the guy," but tried to give Trump the benefit of the doubt. "A case can be made that [D'Souza] was targeted because of political affiliations."
Joseph Bernstein contributed additional reporting to this story.