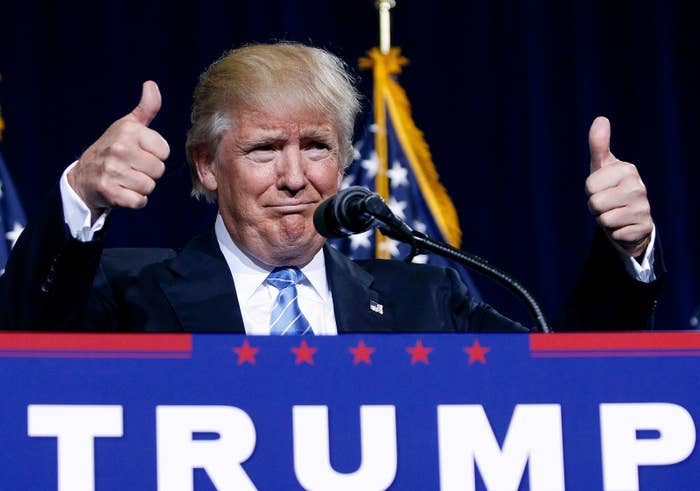 President Donald Trump's close political advisers are making millions of dollars working for several different entities gearing up for Trump's reelection campaign — raising questions about whether they are following campaign finance laws designed to keep campaigns from coordinating with big-money outside groups.

Campaigns and party committees are not allowed to coordinate with allied outside groups that are supposed to be independent, such as super PACs and nonprofits. But the Federal Election Commission, which is governed by a board of three Republicans and three Democrats and usually deadlocks on issues, has hardly enforced that rule. In the 2016 election, candidates and their allied groups took advantage of those blurred lines to raise and spend millions of dollars.
Now, that pattern is continuing, based on new fundraising reports filed Wednesday with the FEC.
Two firms led by Brad Parscale, formerly the Trump campaign's digital director, made at least $5.1 million from Trump's reelection campaign, the Republican National Committee, and a pro-Trump super PAC called America First Action last year. Parscale himself also earned an additional $15,000 from the reelection campaign in January of 2017.
The super PAC, which filed its latest fundraising reports with the FEC Wednesday, shows nearly $140,000 in payments to Parscale Strategy in the second half of the year — the first filing that shows any payments from an outside group to a Parscale firm while it was also working for the campaign and RNC.
The super PAC also has an affiliated nonprofit, America First Policies, governed by less transparent rules. Parscale cofounded that organization.
"This is potentially problematic," said Larry Noble, a campaign finance lawyer and general counsel for Campaign Legal Center. "My guess is that they are assuming that the FEC will not go for it, and if it does, they will make some legal argument that the three Republican commissioners will accept."
And Parscale is not the only one getting payments from multiple entities.
Cara Mason, who served as the finance director for the Republican National Committee and Trump Victory Fund during the 2016 campaign, has also received payments from the RNC and the independent pro-Trump super PAC.
Her firm, Mason Strategies, was paid about $80,000 last year from the RNC. She also received $30,000 herself as payroll from the committee.
The new FEC report shows Mason Strategies was paid $60,000 in total last year for "fundraising consulting" by America First Action. That includes a period in June and July when the firm received money from both the RNC and super PAC.
America First Action officials told BuzzFeed News they were confident the organization has not run afoul of campaign finance laws, but declined to give specifics.
"Both America First Action and America First Policies take seriously their legal obligations, and work diligently with counsel to ensure that all of their activities, including any done through their consultants or other vendors, are legally compliant," said Erin Montgomery, a spokesperson for the groups.
Mason could not be reached for comment. Parscale declined to comment on the record. Among the dozens of employees between his two companies is the president's daughter-in-law, Lara Trump, who is stationed with Trump's official reelection campaign.
Trump's allies also dispute that he is a formally declared candidate for president in 2020, even though he established a reelection campaign committee on the same day of his inauguration and has been fundraising for it. They point to a note Trump included with the filing: "While this does not constitute a formal announcement of my candidacy for the 2020 election, because I have reached the legal threshold for filing FEC Form 2, please accept this letter as my Form 2 for the 2020 election in order to ensure compliance with the Federal Election Campaign Act."
Campaign finance lawyers say there isn't a distinction between a "formally declared candidate" and one who has established a reelection committee. "The formal announcement is irrelevant under federal law," said Paul S. Ryan, who has worked on coordination related complaints and serves as vice president for Common Cause. "If that's the super PAC's best argument, then they're in trouble."
But Ryan added that in Parscale's case, since his work is on the digital side, the rules could be murkier. "The Federal Election Commission has completely failed to provide regulated guidance on online political political activity, and Parscale is the online, digital whiz," he said.
America First Action and America First Policies are Trump's primary advocacy groups outside the White House. They promote the president's agenda — and his preferred candidates. When Trump backed Luther Strange in Alabama's messy Senate race last year, for example, both groups spent money to help the endangered Republican, who lost the Republican nomination to Roy Moore.
The groups also have promoted Trump in ways that can seem hand-in-glove with the Trump campaign proper. An ad released last year by the reelection team was strikingly similar to an ad for America First Policies, with both featuring some of the same footage, as Politico reported at the time — the ads were produced by the same firm, Jamestown Associates.
Other key Trump loyalists work with the America First organizations. Wednesday's filings disclosed $55,000 in payments to a firm associated with Corey Lewandowski, the former Trump campaign manager, and $60,000 to a firm run by Marty Obst, Vice President Mike Pence's top political aide who also helped launch a Pence leadership PAC. An organization affiliated with David Clarke, the former sheriff who's been a prominent Trump surrogate, received more than $30,000.