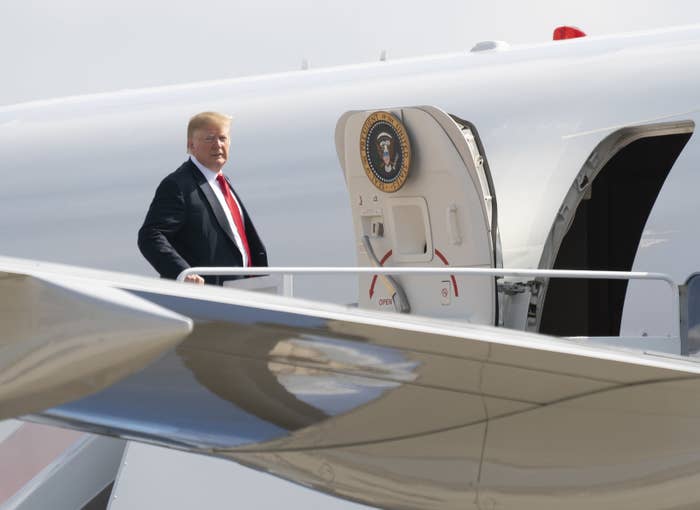 Four Democratic senators are calling for an investigation into who has received Air Force One tours under the Trump administration, following reporting by BuzzFeed News that found that some members of the president's private Florida clubs appeared to have received those tours.
In a letter to the inspectors general of the Air Force and Department of Defense, Sens. Elizabeth Warren of Massachusetts, Tom Carper of Delaware, Richard Blumenthal of Connecticut, and Sheldon Whitehouse of Rhode Island cite the BuzzFeed News report as "particularly troubling."
"If true, these reports could mean that the President or his family have used government property for private gain — giving tours of Air Force One as a perk for club membership — or that some citizens have potentially been able to buy access to Air Force One via their personal payments to the President's private club," the letter states.
"This use of Air Force One would not only raise questions about readiness, security, and taxpayer cost, but it also violates the basic principle against using public office for private gain, and could constitute a violation of federal ethics rules... Moreover, federal ethics law prohibits the use of government property, including Air Force One, 'for other than authorized purposes.'"
The letter asks that the investigation include four priorities: a review of individuals who have had access to the presidential aircraft for tours or other nonofficial travel since January 2017; an analysis of the policies and procedures for how the tours are provided and how people are vetted for them; a "determination of whether any of the individuals who received tours of or access to Air Force One had a business relationship with President Trump and his family"; and findings on "whether any Air Force, federal ethics or other rules and regulations may have been violated as a result of these Air Force One tours."
The senators also ask for a copy of the Air Force's policies on the "authorized purposes" of federal government property.
BuzzFeed News first reported last month that some Mar-a-Lago members appeared to have received Air Force One tours, based on heavily redacted records received through a Freedom of Information Act request.
A spokesperson for the White House previously said in an email, "It is common for friends/family of the President to receive tours of Air Force One," pointing out that "Mar-a-Lago has been the President's home for many years."
CORRECTION
The letter was signed by Sens. Warren, Whitehouse, Blumenthal, and Carper. An earlier version of this story misidentified one of the senators.