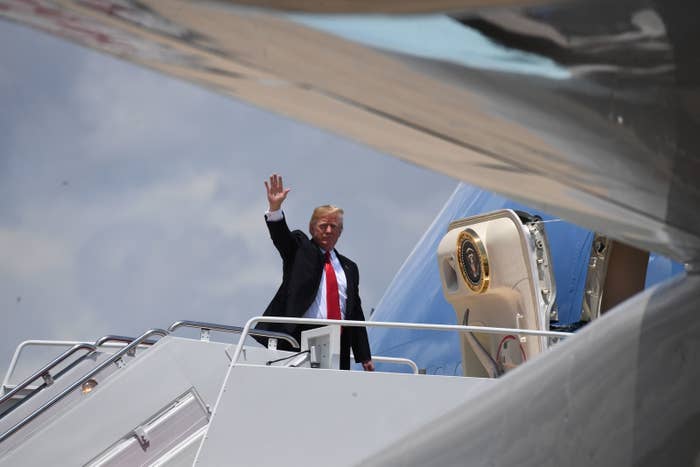 Some members of President Donald Trump's exclusive Florida clubs appear to have been invited to an Air Force One tour last year, according to an invitation obtained by BuzzFeed News, which was cross-checked with records received through a Freedom of Information Act request.
Members would not confirm or deny that they actually attended, but the invitations would raise more questions about the blurry line between Trump's administration and his family's private businesses. Although past administrations have given Air Force One tours to friends, family, and even donors, in this case, those attending would have paid Trump's exclusive clubs thousands of dollars annually.
Two separate tours were scheduled at the Atlantic Aviation FBO at Palm Beach International for 1 p.m. and 2 p.m. on Feb. 18, 2017 — hours before Trump held his first 2020 campaign rally less than 120 miles away at the Orlando Melbourne International Airport hangar.
The two tours are recorded differently compared to all other Air Force One tours given in the 14 months after Trump took office, according to redacted government records provided to BuzzFeed News. Unlike the other records, they don't list an agency name or title of the official in charge of the tour. The listed date for the tours matches up with the date and time listed on the invitation.
At least 14 people were scheduled to take those two tours. Although the names of the individuals are redacted, partially unredacted email addresses show eight of those people were affiliated with Arrigo Automotive Group, a family-owned car dealership in the West Palm Beach area.
The leadership of the company — Joe Arrigo and his sons, Jim and John Arrigo, and their wives — have been members of both Mar-a-Lago and Trump International Golf Club in West Palm Beach. Membership records from 2007 obtained by BuzzFeed News list the family as members of both the clubs and specify that Jim Arrigo had been a member of the Trump International Golf Club since 1999, the year it opened.
Photos show John Arrigo playing golf with the president about two weeks before the scheduled Air Force One tour last year; being listed as the men's golf champion in 2006, 2007, and 2008 on a plaque at Trump International; and attending the New Year's Eve bash at Mar-a-Lago in 2009, according to the Palm Beach Post. They also show Jim Arrigo cohosting a charity event at Trump International in December 2017. Social media posts from other members of the family show them checking in for Easter brunch at Mar-a-Lago last year and posing for pictures geotagged at the club.
Jim Arrigo did not return calls for comment. When reached by phone and asked about the Air Force One tour, John Arrigo did not deny it happened. Before quickly hanging up, he said: "I have no comment about it. I appreciate you calling though. Thank you." Joe Arrigo, reached by phone Friday and asked whether he participated in the tour, repeated twice: "I'm not interested in talking to you, ok?"
BuzzFeed News first received the text of the emailed invitation last year but could not confirm if Mar-a-Lago members had attended. The invitation was sent to undisclosed recipients by Air Force pilot William McDougall.
When contacted by BuzzFeed News last year, the pilot neither confirmed nor denied the event. Instead, he directed BuzzFeed News' questions about the tour to Hannah Salem, who now serves as director of press advance for the White House. "I don't have any working information on that," Salem said when asked about the tour last year.
The White House at the time also took the same approach. Without confirming or denying, Stephanie Grisham, then a spokesperson for the White House who now works for the first lady, said in an email, "It is common for friends/family of the President to receive tours of Air Force One."
"This is something that has been done in past administrations going back years and is not out of the ordinary," she wrote, adding that if the invitation was sent to long-time club members, "then they are also most likely longtime friends of the President. You have to keep in mind that Mar-a-Lago has been the President's home for many years."
Asked again this week with the additional information, the White House did not return a request for comment.
Private tours of Air Force One would be just another perk members of the president's clubs have gotten in the last two years. Trump has spent one-third of his days in office at one of his properties, according to a tally by NBC News.
He's reportedly talked through policy proposals and cabinet appointments with members, and at times given some members a look into situations that typically play out in secured locations. Last year, Trump huddled with advisers at Mar-a-Lago after North Korea launched an intermediate-range ballistic missile. Pictures of the high-level meeting soon after found their way onto members' social media accounts.