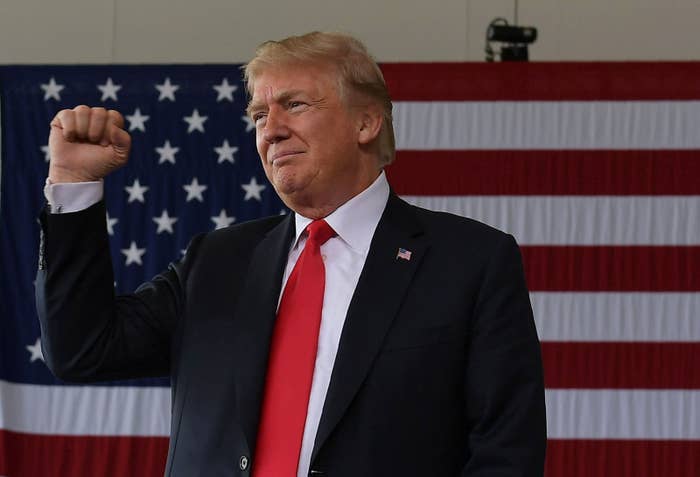 Some Trump loyalists are too controversial to serve in the president's administration, but they're not too controversial to work for his reelection campaign or supporting outside groups.
A rash of hires in recent weeks show that President Donald Trump's reelection is so far acting much like his first campaign: valuing loyalty to Trump over experience or qualifications.
Trump's reelection campaign just this week hired the president's former personal aide, Johnny McEntee, who was escorted off White House grounds last Friday. McEntee, according to the Wall Street Journal, is under investigation for financial problems related to online gambling and mishandling of his taxes. According to a campaign press release, which praised him as "outstanding" and a "proven leader," McEntee will be serving as senior adviser for campaign operations.
White House deputy press secretary Raj Shah declined to comment Wednesday about McEntee's departure. "I'm not going to address that," Shah said when asked by reporters. "Look, Johnny McEntee has taken a position at the campaign and I think he's going to do a great job."
And an outside group supporting the president's agenda, America First Policies, also announced Thursday it was adding Carl Higbie as director of advocacy. Higbie, a former Navy SEAL, was forced to resign from his role as chief of external affairs for the Corporation for National and Community Service after CNN published previous racist and sexist comments he had made. In 2013, Higbie said "the black race" had "lax" values and that black women think "breeding is a form of government employment."
Higbie has apologized for his comments.
Asked about his hiring and whether the group had reviewed his remarks, a spokesperson for the group, Erin Montgomery, said in an email: "We've all said things we've regretted--but we apologize, learn from our mistakes, and move on. As a former U.S. Navy SEAL with two tours of duty in Iraq, Carl Higbie risked his life for the better part of a decade to protect the freedoms of all Americans. He's been a warrior on and off the battlefield — a loyal fighter for policies that will help put all Americans first. As we said in our press announcement, we believe Carl will be an invaluable addition to our team."
Earlier on Thursday, America First Policies highlighted his military experience in their announcement about his hiring.
"Carl Higbie has been a loyal fighter for the America-first agenda since day one," said Brian O. Walsh, president of America First Policies, in a statement. "His esteemed military leadership and service to our great nation — along with his extensive experience in advocacy, communications, and campaigning for candidates for federal office — will make him an invaluable addition to the America First team."
The group also has Sheriff Dave Clarke on its payroll. Clarke has been strongly criticized for his tenure overseeing Milwaukee County Jail, during which prosecutors believe an inmate died of dehydration after not being given water for a week. Clarke, who had said he had been offered a job with the Department of Homeland Security, didn't end up in the administration after CNN reported he plagiarized parts of his master's thesis.
Clarke has already made thousands of dollars from America First Policies.
A source close to the president said he wasn't surprised that the campaign and America First had made those hires, calling them "soft landings" for people who are always going to stay in the fold.
Typically controversial hires could upset donors, but two sources who regularly talk to Trump donors said those writing big checks are too preoccupied by other things at the moment — the midterms and major policy shifts coming from the White House on trade — to worry about these hires.
Plus, sources close to the campaign and president say, this is still Trump world: There's no telling who will still be on the payroll come next month, to say nothing of 2020.