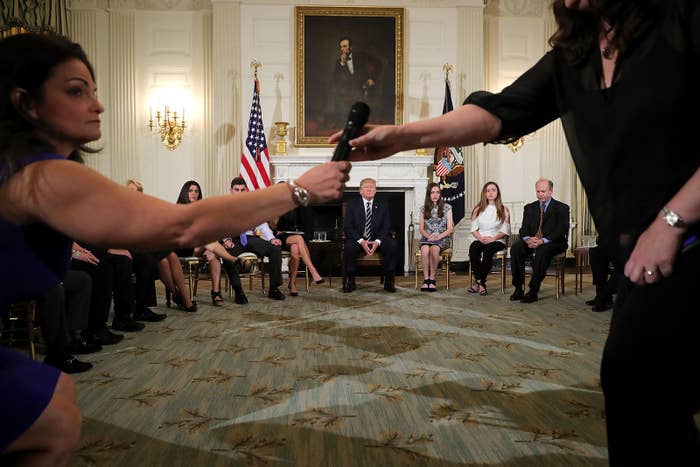 In the aftermath of mass shootings in Texas and Las Vegas last year, President Donald Trump did not advocate for any specific policy changes to prevent future massacres, hold listening sessions, or tweet about background checks.
He pointed to each of the shooters' "mental health problem," and promised after 58 people died in Las Vegas that he would be "talking about gun laws as time goes on."
But the conversation on gun control measures from the administration didn't really begin until four months later, when a shooter killed 17 at Marjory Stoneman Douglas High School in Parkland, Florida, last week.
After an event that targeted children in an area with deep ties to Trump, and spurred a new movement of teenagers demanding action on television, the president is now actually talking about solutions. And although the administration's proposals are unclear at this point, and the chances of significant gun control policy passing Congress are low, Trump is promising this moment won't just pass.
Unlike the response to previous shootings, Trump promised action during an emotional listening session Wednesday — which aired live on all major TV networks for about an hour — with parents, educators, and students who have experienced shootings. "It's not going to be talk like it has been in the past," he said, hearing pleas from the attendees, who at times spoke through tears, begging the administration for solutions.
"We're going to be very strong on background checks...very strong emphasis on the mental health of somebody, and we are going to do plenty of other things," Trump said, later bringing up training teachers for a "concealed carry" firearm as a potential solution.
The White House is considering a few different measures, including a narrow, National Rifle Association–backed, bipartisan bill in Congress to reinforce the background check system. Trump has also called on the Department of Justice to finalize regulations to ban "bump stocks," but it's unclear if the agency would even have the authority to enforce such a ban. And Trump has also not ruled out raising the minimum age for buying semiautomatic weapons, which he alluded to during Wednesday's listening session.
The session came after the survivors of last week's school shooting in Florida launched a wall-to-wall media campaign to advocate for gun control, doing interviews on TV and radio, using social media, and writing op-eds in major newspapers. Trump could not have missed it: He spent much of the long weekend at his club Mar-a-Lago, about 40 miles from where the shooting occurred, tweeting and watching cable news. He also visited some of the victims of the shooting.
The president has been swayed into action by cable news coverage of violence in the past. The images of suffering Syrian civilians in part convinced Trump to authorize airstrikes in Syria in April of last year. Trump at the time dwelled on the youngest victims of a chemical weapons attack. "When you kill innocent children, innocent babies, babies, little babies, with a chemical gas that is so lethal — people were shocked to hear what gas it was," he said from the Rose Garden.
The circumstances of last week's shooting, compared to those in Las Vegas or Texas, also put children at the forefront. And by being specifically tied to a school, Trump was able to take in proposals during Wednesday's listening session that were more narrowly focused than potential proposals to prevent attacks like those in 2017.
On Wednesday, hundreds of students walked out of classes and marched with the Parkland shooting survivors to the US Capitol demanding change. Some survivors — though not the ones who have been most vocal in the media — also participated in the White House listening session, and others will participate in a CNN town hall in the evening.
The Parkland shooting isn't the first school shooting during Trump's administration, but it was the deadliest, and the age of the victims and ease with which the shooter walked into the school has bothered Trump, according to a source close to the White House.
"I met with some of the survivors and their families, and I was moved — greatly moved, greatly moved," Trump said Tuesday of his visit.
While the president was at his club, the shooting was a big topic of discussion among members, who "are upset at the FBI, and local police, who were alerted about the shooter Cruz's behavior, and did nothing," as one Mar-a-Lago member put it to BuzzFeed News. "They obviously did not remove his guns."
Trump may also just have a moment to do something popular. Latest polling also shows that support for tighter restrictions on guns is at an all-time high, according to a Quinnipiac University survey released Tuesday that showed support for universal background checks at 97% among gun owners who were polled.
On certain measures up for consideration, such as the narrow background check proposal in the Senate, a source close to the administration said Trump has little to lose by acting swiftly in the wake of the Parkland shooting. "Heck, even the NRA agrees."
But Trump's calls for quick action don't always last long. Wednesday's televised listening session, and Trump's apparent openness to a wide range of ideas, resembled a similar open negotiating meeting the White House held with members of Congress in January to come to a broad deal on immigration policy. Those negotiations, just over a month later, are stalled.