The (Other) Sideshow At The Republican Convention
Outside the convention, the Democrats are passing out fortune cookies and the Republicans are holding "mini conventions." How Ohio's Senate race is testing both parties' strategies for the general election.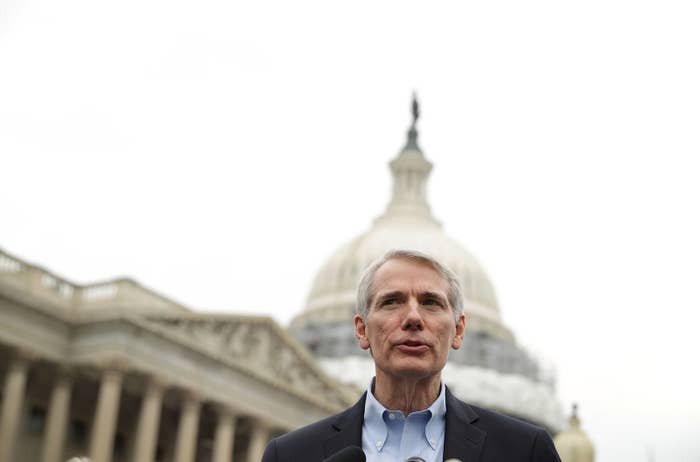 CLEVELAND — Just a few miles from where Republicans were officially electing Donald Trump as their nominee for president, Sen. Rob Portman and his guest speakers didn't mention their party's presumptive nominee at all in their remarks.

Portman — along with Sen. Joni Ernst and Newt Gingrich — was speaking at his "mini-convention."
Each talked about the senator's work addressing local issues such as opioid abuse and protecting Lake Erie. Both Ernst and Gingrich were also slated to speak at the Republican National Convention, but on Monday afternoon, they tailored their remarks just to Portman and the importance of Republicans winning the toss-up Senate race in the state.
When asked about the omission of the party's nominee, Portman reminded reporters he had praised Indiana Gov. Mike Pence, Trump's vice presidential pick, and repeated his support for the nominee. "I've met with (Trump) a couple of times. I think he's got the right ideas on some of the major issues," he said after the event at Cuyahoga Community College.
"What I'm focused on is running our own campaign," he later said, getting ready to head to the floor of the Republican National Convention, admitting that he's growing tired of the Trump questions. "I'm really proud of our record and what I've accomplished."
The Trump show has arrived in the Buckeye state. But there's a different show going on the sidelines as well. This is one of the toughest Senate races in the country — and it's a true display for how Democrats and Republicans are running in the year of Donald Trump.
From Pennsylvania to Nevada, as Republicans try to retain their majority in the upper chamber, they are trying to distance themselves from Trump as much as possible, while digging in on local issues in an attempt to run ahead of the top of the ticket in swing states. Democrats, on the other hand, are doing everything they can to tie Trump to their GOP opponents and draw a contrast between both parties national agendas.
In his remarks before a packed auditorium of his campaign interns and reporters on Monday, Portman and his guest speakers often brought up his bipartisan work on the Comprehensive Addiction Recovery Act, a bill passed by both House and Senate aimed at tackling the drug crisis, which his campaign has also highlighted in ads. They also bashed Portman's opponent, Ted Strickland's economic record from his tenure as governor — a message echoed by several million in ad spending by outside groups, including Koch-backed outfits.
"He was one of those very rare people who has a long career and managed to learn nothing," Gingrich said of Strickland. It's a very unusual artform."
Activists from Americans for Prosperity, one of the Koch-backed groups and the largest grassroots army on the right, has also been repeating the message that Strickland "wants another chance to support the same failed policies," as they talk to voters.
Knocking on some doors in a Cleveland suburb on Saturday afternoon, Colin Jackson, a field director for the group, didn't mention Trump anywhere in his script as he spoke to residents and left door hangers criticizing Strickland. Some voters eventually bring up Trump on their own, he said, but he's become accustomed to explaining to them that "it's not about the person, it's the principles."
The Koch network isn't backing Trump, but it has spent tens of millions on ads in Senate races.
Although Republican candidates are steering clear of mentioning Trump's name too much, it's not always easy to distance themselves from their nominee. Republican incumbents, like Portman, have faced a tough decision in recent weeks — whether to attend the RNC here or not. Most eventually made the calculation that even without a speaking role, being in an arena plastered with "Make America Great Again" and the Trump-Pence signs wasn't the best strategy for winning re-election in purple states.
Portman eventually decided to stop by the convention for a few minutes after hosting his own event. The day before, in a press conference on Sunday, Strickland, flanked by two union workers who had recently been laid off, welcomed Portman and Trump to Cleveland, taking every opportunity possible to name the senator and the presumptive nominee in the same sentence.
"It's important that we call attention to the vast differences between Donald Trump, Rob Portman and the needs of Ohio's working people." Strickland said.
"I'm going to focus my remarks primarily on Sen. Portman, but as you know, he has with some level of enthusiasm — depending on his audience — embraced Donald Trump to be his choice for the next president of the United States of America. And I think that's something he's going to have to live with."
Strickland's key issue to target Portman, who served as trade representative under President George W. Bush, is international free-trade agreements. His campaign and outside groups backing him have labeled Portman "the best senator for China" and called Portman's skepticism on trade agreements on the campaign trail "an election year conversion." (The campaign also blasted out a press release with a tweet from a BuzzFeed News reporter who was handed a fortune cookie that read, "Rob Portman: The Best Senate China Has Ever Had," by a man in downtown Cleveland.)
But Strickland also found a way to work in Trump every few minutes.
Before listing Trump's treatment of women and him mocking a disabled reporter, he said: "When you've endorsed someone for president and you say you're going to vote for them, I think you can safely assume that you've accepted their agenda."
"He cannot hide from Donald Trump, and Donald Trump's toxic agenda," he said.
In another press conference on Monday, Strickland largely repeated the same attacks — making clear of the Democrats' strategy if there was any doubt at all. This time he reportedly went even further, calling Portman a "weak person" who "does not have the courage to call Donald Trump out."