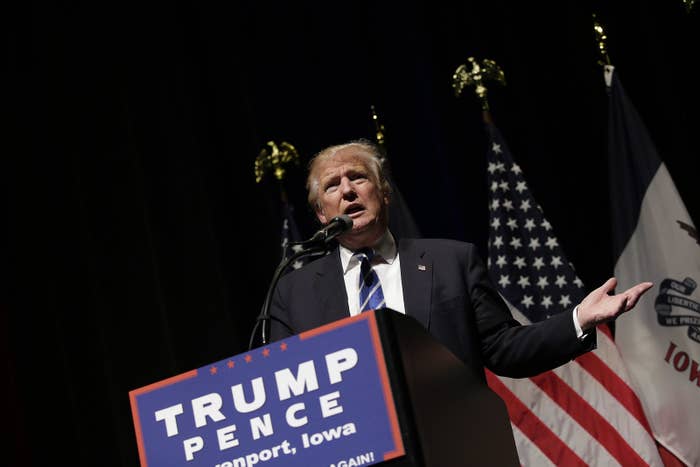 COLORADO SPRNGS, Colo. — Frustrated Americans are looking "in the wrong places; they're looking to politicians," Charles Koch said Saturday evening in a veiled shot at Republican presidential nominee Donald Trump.
"Most people are focused on the worst of times...on our stagnant, two-tiered economy, with the rich and politically connected doing well, while most everyone else is stuck down below," he said, referring to Charles Dickens' A Tale of Two Cities.

"So people are looking for answers. Unfortunately, by and large, they're looking in the wrong places; they're looking to politicians. And the answers they're getting are frightening. Because by and large most of those answers would make make matters worse."

Koch's comments at a mountain resort in Colorado were part of his opening remarks to about 400 donors at the annual summer meeting of the vast political and policy network affiliated with the billionaire industrialists.

As the network sits out the 2016 presidential election, Koch told donors that "politics must be a piece of this strategy, but you got to keep in mind — one piece" to "unite people from all walks of life to work for a free and open society."
"It would be great if politicians were helping us move down this path. But, by and large, they aren't. The good news is we have built this network for just such a condition. So we are in position to make progress in spite of the political situation."
"If we focus just on politics, we're going to continue to lose, continue to deteriorate."

BuzzFeed News was one of 11 news organizations to accept an invitation to cover the event after agreeing to a set of ground rules proposed by the Kochs' political network, including not identifying the donors attending unless they agreed to an interview. With Democrats increasingly attacking the brothers for their political giving, the network has made an effort to be more transparent, opening up parts of their meetings — known as "seminars" — to a few reporters for the first time last year.

Before Koch's remarks, aides affiliated with political operation repeatedly said the network was going to stay focused on Senate races and had no intention of backing Donald Trump, who tweeted Saturday afternoon that he had turned down an invitation to meet with the Kochs while he was campaigning and raising money in the area on Friday.

Network officials declined to comment on whether that was accurate. When asked if the Trump campaign had made any contact with network officials, Mark Holden, chairman of Freedom Partners — the umbrella organization that hosts the gathering — said: "None that I am aware of."

Holden previously met with Trump's team in June. "It was a good discussion," he told reporters Saturday. "We talked about the issues we care about — free speech, criminal justice reform, regulatory reform... and that was it."

Calling Trump's vice presidential nominee, Mike Pence, "a great guy," Holden said Pence's addition to the ticket had not changed their plans about engaging on the presidential level. Pence has attended past network seminars.

Instead, the Koch network will focus on its plans to spend on ads and on grassroots efforts in at least six Senate races — Ohio, Nevada, Wisconsin, Florida, Pennsylvania, and Indiana.

Although they are sitting out of the presidential — saying on Saturday that they don't have plans to run anti-Hillary Clinton ads either — they're not ruling out including Clinton in their messaging by tying Senate Democratic candidates to their presidential nominee.

"We're going to very much focus on policy as we always do. We're going to tie the Democratic Senate candidates to Hillary Clinton and the failed policies she supports," Holden told reporters.

The strategy would be similar to what Democrats have been doing for months in linking Trump and his controversial comments to vulnerable GOP senators.

A number of elected officials are attending the gathering this weekend including House Speaker Paul Ryan; Sen. John Cornyn of Texas; Sen. Cory Gardner and Rep. Mike Coffman of Colorado; Sen. Mike Lee of Utah; Sen. Tim Scott of South Carolina; Wisconsin Gov. Scott Walker; and Kentucky Gov. Matt Bevin.

The Koch network is made up of 700 donors who give at least $100,000 annually. It has 1600 paid staffers and 2.8 million activists across 38 states.
CORRECTION
Holden met with Trump's team in June. A previous version misstated the meeting's attendees.