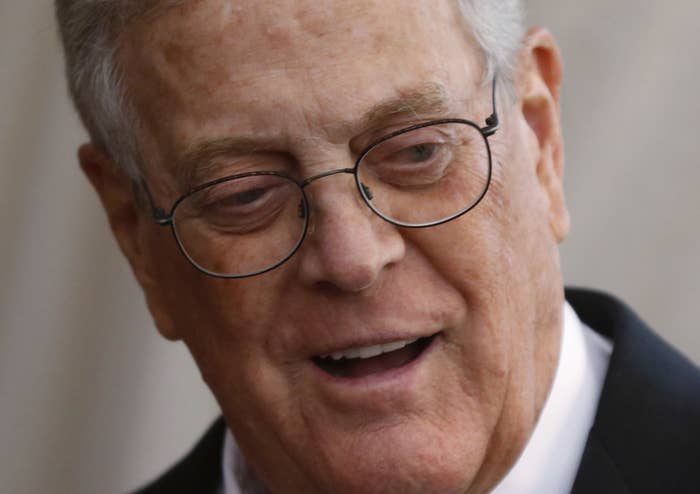 Six months into President Trump's administration, hundreds of the wealthiest Republican donors — most of whom have had a fraught relationship with the president — are trying to push the chaotic White House in a more focused, conservative direction.
They're getting ready to spend hundreds of millions of dollars to make it happen, and are already plotting to protect any vulnerable congressional Republican willing to help their agenda get signed into law.
Donors to the sprawling political network affiliated with billionaire industrialists Charles and David Koch see the next 10–12 months as a prime opportunity to enact the conservative policies they have advocated for decades, with a GOP-controlled Congress and White House finally in place.
"What we're urging Republicans in the House and the Senate to do is to be bold, to go big," said Tim Phillips, president of the network's grassroots arm Americans for Prosperity. "It gives them the opportunity to point to real accomplishments when they get to 2018."
Koch network donors gathered at a luxury resort in the foothills of the Rocky Mountains this weekend, where they laid out an aggressive policy agenda they want to see enacted — and quickly. Several lawmakers who might play key roles on those issues schmoozed with event attendees, while the president was rarely explicitly mentioned during the sessions.
Overall, the Koch network, which did not back Trump in 2016, plans to shell out close to $400 million on politics and policy in the 2018 election cycle — the most it has ever spent, countering those questioning the group's relevance in the age of Trump. With that money, the network is gearing up to target 10 Democratic senators in states that Trump won, and to protect Arizona Sen. Jeff Flake, who attended the event, and Nevada Sen. Dean Heller, officials told donors during a strategy session. A significant amount would also go toward helping vulnerable House Republicans in 23 districts that Hillary Clinton won, as well as Republican governors in several states who will be crucial to redistricting efforts in 2020.
But despite the network's efforts, many remain concerned that Trump will squander this opportunity. More pro-Trump donors, meanwhile, are putting the onus on congressional Republicans, with some going as far to say that they will withhold campaign contributions until the president's agenda is passed.
"Why reward bad behavior?" said a Texas donor who did not want to be named.
Although Republicans have been slow to pass any of their legislative priorities, network officials and some donors celebrated Trump's executive order rolling back Obama's energy policies, Neil Gorsuch's confirmation to the Supreme Court, veterans affairs reform, and right-to-work victories in Missouri and Kentucky.
"We're more optimistic now about what we can accomplish than we've ever been," Charles Koch said at a welcome reception.
Doug Deason, a major Trump backer and Texas-based Koch network donor, said that Republicans could have moved faster on their agenda, but that he's not disappointed with the Trump administration at all. "Anything other than Gorsuch is just gravy," Deason joked. "Even if he just tweeted and pissed people off now, I'd be happy."
But Deason is continuing to push for the rest of Trump's campaign promises to be fulfilled. He said he and his father have met with officials running the pro-Trump nonprofit America First, which got off to a rocky start, and plan to give to the group. He is also one of around 8–10 Dallas donors who are withholding campaign contributions to out-of-state congressional incumbents until health care, tax reform, and other priorities have been passed.
Deason said he even turned down a meeting with Senate Majority Leader Mitch McConnell, telling the Kentucky Republican he needed to pass those bills first. Deason added that he respected McConnell, but that he'd like to "see him grow a pair."
Despite the cautiously optimistic mood and repeated talk of the network's "positive vision" for society, the frustrations and divisions within the Republican Party were also evident among the attendees.
BuzzFeed News was invited to cover the event after agreeing to a set of ground rules, which included not naming donors without their permission.
The gathering, known as a "seminar," came days before the Senate is expected to hold a pivotal vote on a health care bill that will repeal key parts of Obamacare — and the obstacles Republicans have faced in keeping their campaign promise to repeal President Obama's signature legislation was on display throughout the weekend for donors to see.
At an outdoor lunch on Sunday afternoon, under a pavilion with the scenic mountains just behind it, Nebraska Sen. Ben Sasse told the more than 400 donors in attendance that he was less than halfway through reading the bill and had "nothing to announce." Before making that comment, he clarified: "This session is on the record, right? We have press here."
Sasse also joked that Senate Majority Whip John Cornyn, whose job it is to get GOP senators in line behind the bill, was also in attendance. "I have a bruise just around my collarbone from his thumb on me," Sasse said to laughs from the audience.
Sasse then gave a professorial response in which he called the health care bill more "Medicaid reform" than Obamacare repeal, before acknowledging with a laugh that he was "actually ducking" the question.
Although Cornyn escaped Washington this weekend, he wasn't spending his time relaxing at the resort. "It's going to be close," he told reporters, adding he was still working on securing the votes for the bill.
The Texas Republican had more than just Sasse to convince in favor of the bill at the gathering in Colorado. A few other holdouts were also in attendance: Flake of Arizona, Sen. Mike Lee of Utah, Sen. Cory Gardner of Colorado, and Sen. Ted Cruz of Texas.
The network itself isn't supporting the Senate bill in its current form. Network officials are trying to make the legislation more conservative before it comes up for a vote, but the network is not using its resources to advocate for or against the measure yet.
"In all candor, we've been disappointed that the movement hasn't been toward a full repeal," said Americans for Prosperity's Phillips, who was part of a meeting with Vice President Mike Pence and Charles Koch on Friday. Phillips described the meeting as a "cordial discussion," including on health care.
Officials said they're hoping conservatives in the Senate will push the bill farther — just like they did in the House. Some of those conservative leaders from the House Freedom Caucus, including its chairman, Rep. Mark Meadows, also attended the Colorado retreat.
After pushing for years for a full Obamacare repeal and putting their money behind the cause, health care was big topic of discussion among attendees. Chris Wright, a donor from Colorado, said it's important to get health care right because, if not, Republicans will own the issue heading into 2018.
"Politics is the art of the possible," he said. "We're by nature optimists though."
Other donors echoed that sentiment, putting their concerns about Trump aside — even just for a few minutes.
California-based Libertarian donor Chris Rufer described what Republicans had done, or even proposed, so far as "very minor" in terms of impacting the average American. But asked if the network would play a role in changing that, Rufer responded with excitement: "Oh yeah!"
The retreat had kicked off, after all, with Frank Sinatra's "The Best Is Yet To Come" playing loudly on big speakers, as officials welcomed donors.