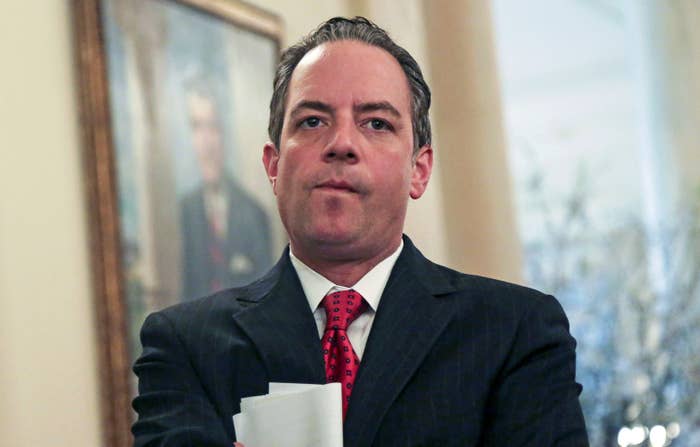 WASHINGTON — For many Republicans elected to Congress, passing an Obamacare replacement and tax reform — promises they've made to voters for years — could prove crucial in helping them keeping their jobs after next year's election.
The same holds true for the unelected Republican charged with running the White House: Chief of Staff Reince Priebus. Except in his case, the timeline is shorter, the allies are fewer, and it wouldn't be the voters doing the firing.
Amid a constant stream of reports indicating widespread dissatisfaction and anger toward Priebus in the White House, sources in the administration, on Capitol Hill, and among lobbyists suggest that a staff shake-up that involves the chief of staff in the near future is unlikely. However, down the road, if the administration is still struggling to pass its big legislative items, especially the new GOP health care bill, that would be more damaging to Priebus than any whisper campaign against him.
Whether Priebus stays or goes is a marker of two possible directions for Trump's presidency: one that works increasingly with Republicans to enact conservative policy; and one that veers further away from the party's low-tax, small-government past and into a nationalistic, uncharted future envisioned by Priebus's White House counterpart Steve Bannon. (Bannon and Priebus say they get along great, insist there's no daylight between them, and even took their bromance to the stage at CPAC).
"His relationship on the Hill, particularly with [Speaker Paul] Ryan and [Senate Majority Leader Mitch] McConnell is what Trump values," said a source close to the administration. "But it's supposed to produce results."
Trump already regularly makes phone calls to longtime friends, former staffers, and advisers to get feedback on his administration, including how specific senior staff members are performing. He also consumes news about his White House on cable TV and in print for several hours a day, especially in the morning and at night, and is undoubtedly paying attention to what is being said about Priebus. Just this week, he tweeted:
Conservative media, in particular, could play a role here in deciding Priebus's fate, sources say. Talk radio hosts such as Laura Ingraham and Mark Levin, along with right-wing websites, have largely steered clear of bashing Priebus for now (even though their followers on Twitter constantly refer to him as a "mole" within the administration). Breitbart did write a story last month alleging that Priebus's "future was in doubt" only to get slammed by Bannon, its former chairman.

Another in conservative media who took on Priebus quickly walked it back. Longtime Trump friend Christopher Ruddy, CEO of the Newsmax Media, who regularly meets with the president, went on TV after a meeting with Trump last month and said: "There's a lot of weakness coming out of the chief of staff."
Ruddy now told BuzzFeed News: "The president has indicated to me several times that he has a lot of confidence in Reince." "Reince has stepped up his messaging, the joint session speech had his fingerprints all over it. Last Wednesday in the Oval office, the president was very praiseworthy of Reince."
Ruddy continued that it's important to note that the administration doesn't have "the horsepower" to draft legislation in terms of hires and is relying on Congress. Still, he cast doubts on the health care bill as currently written, but he didn't blame anyone in the administration for it.
"The health care bill is not completely consistent with the president's campaign," Ruddy said. "He's going to have to make adjustments to that." But on Priebus he noted that his relationships on the Hill are "very positive and strong." "It's one of the reasons the president was quick to adopt Ryan's plans — if Reince wasn't there the White House wouldn't have these good relationships with Congress," he said.
The White House too called Priebus "an incredible leader" whose team is lucky to have him and provided statements from senior administration officials along those lines. "His leadership has been essential as we move forward on the president's top priorities such as repealing and replacing Obamacare," said Marc Short, director of legislative affairs, in a statement.
There's also talk about Priebus leaving on his own terms once the big agenda items are accomplished. One source close to the White House said that in conversations with administration officials it's been made clear that "Priebus is out after tax reform."
But based on what the administration is able to get out of Congress, Trump, who is known to take cues from the media, could decide to make changes. If right-wing icons on talk radio and Fox News start attacking and blaming Priebus, as they used to do when he was chairman of the Republican National Committee, for how those issues get shaped, or worse, fail in Congress, Trump could quickly sour on his chief of staff.
On the establishment Republican side, for now, there isn't any more concern about Priebus's future in the White House than there has been, an administration official said. They have been worried since day one, so news of Trump chewing out his chief of staff in a meeting last Friday didn't necessarily elicit any greater concern this week from that wing of the party, which knows that getting the GOP agenda through will be the ultimate test in the chief of staff's first year.
After that meeting and Priebus's unsuccessful efforts to kill any stories about it, a Politico story last weekend then detailed interviews with more than a dozen Trump aides venting about Priebus, describing his running of the White House as "sheer of incompetence" and claiming there was a "lack of management and strategy."
Those kind of whispers about Priebus in the White House, however, won't necessarily bother Trump, because he views his chief of staff as a political "survivor," another source close to the administration said. He also likes some level of internal competition among his top staff. "The guy managed to stay friends with 17 candidates in the same race," the source said as one of the reasons why Trump hired Priebus. "It takes a special person to do that."
Asked about all the criticisms of Priebus this week as Republicans begin the process of pushing through Republicans' biggest legislative priority, an Obamacare replacement, a senior Republican aide on the Hill responded: "Personalities aren't a factor — it's all about getting a win."
And it's clear that Priebus has a stronghold of support on Capitol Hill, who see him as a valuable asset.
"He's a terrific guy. Obviously he knows us up here. He's close to the speaker. He was somebody who was very successful as national chairman and obviously somebody the president values," said Oklahoma GOP Rep. Tom Cole, adding that although the White House has "has several competing centers of influence," it's helpful to have "somebody who knows you and knows the process" as chief of staff.
Another Republican aide added that it's assumed Priebus isn't going to be in the White House for years, but for now, the administration and congressional Republicans look to him because "he's there to be a tactical voice on getting this stuff done." "He's there not because he has the same ideological soul as the president… but Bannon and [Stephen] Miller and [Jared] Kushner have little to zero experience in government in the tactics, but Reince does," the aide said. "He's the yin to their yang."
In that role as the tactician and bridge-builder, the ultimate job security for Priebus would be accomplishing the near impossible task of passing an Obamacare replacement and getting enough movement on tax reform this year, a top GOP lobbyist said. "It's really hard to imagine getting all of that done, and then Trump letting someone go. That just doesn't make sense."
"It's also hard to imagine that there wouldn't be some early casualties in a White House this chaotic," the lobbyist said. "But it might be too early to start voting people off the island just yet."
Sarah Mimms and Alexis Levinson contributed reporting.