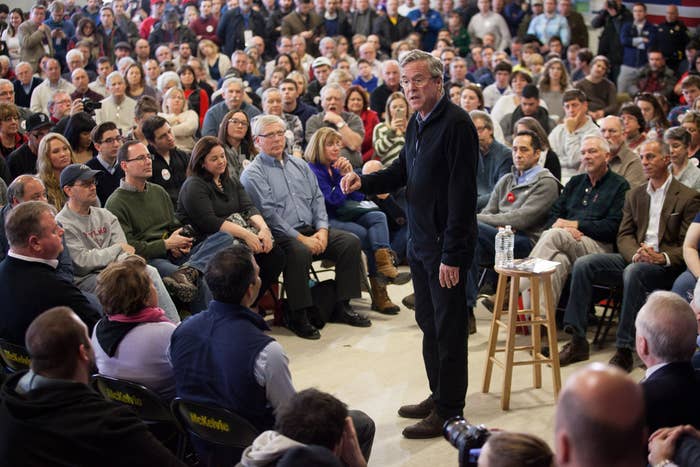 HENNIKER, New Hampshire — In town halls, pizzerias, and high school auditoriums, hundreds of voters are carefully evaluating the three governors who have pinned their presidential hopes on Tuesday's primary in the Granite State — Jeb Bush, Chris Christie, and John Kasich.

Some have made their choice of the three; others are still undecided. But they all agree on one big thing: The Republican Party needs a strong contender coming out of New Hampshire to take down Donald Trump.
With the stakes so high, these "non-angry voters," as described by some, are wrestling with whether to ultimately vote for their personal favorite — one of the three governors, or go by the polls in favor of a more practical favorite, Sen. Marco Rubio. Even as the first-term senator has become the main target for the three governors since his third-place finish in Iowa, they haven't been able to stop his rise, forcing some undecided voters to factor the senator's resilience as they make their decision, based on interviews at events on Thursday and Friday.
One of those undecided voters, Jennifer Page, a 47-year-old pediatrician, attended a Rubio event Thursday morning and a town hall hosted by Christie in the evening in hopes of resolving this dilemma. Even though some of Rubio's views on social issues aren't in line with her beliefs, she was willing to give him a shot.
"I looked at Rubio today, because I want to pass my vote to someone who can get up to the level of the Cruzs and the Trumps," Page said after the Christie town hall at New England College. "Christie and Kasich are polling so low I'm afraid my vote isn't going to help them get to that top tier."
Page was going to wait until Monday night to make her final decision, but Christie had persuaded her for now, she said, to at least look beyond the polls. (Christie repeatedly criticized Rubio during the event for his inexperience and lack of accomplishments. Kasich, he said, he liked, but the Ohio governor wasn't "as tested" as he was.)
"I think I'm going to go with my heart and not the numbers," Page said.
But the numbers are hard to ignore. Although the heated Christie-Rubio exchange during Saturday night's debate could shake up the race in the final days, Christie has been plummeting in the polls, as Rubio has surged. And Kasich and Bush have also been hovering between 8 and 12%, with Trump still maintaining a double-digit lead.
Those paying attention to the numbers are worried that splitting the vote between the governors would only empower Trump more. But is that a risk worth taking in case the polls have been totally wrong or if the billionaire's supporters don't show up to vote?
"There is a concern," said Dennis Cronin, a 63-year-old consultant who attended Kasich's 100th New Hampshire town hall in Bedford Friday evening and is leaning toward Kasich over Bush.
"But it's a long race. The numbers are going to change dramatically."
Brad Perry, a 72-year-old, retired volunteer for Christie, has heard that concern while knocking on doors for the New Jersey governor. His response to undecided voters who have brought it up, he says while handing out Christie stickers at a pizzeria in Sandown, is simple: "Don't you think the country wants from New Hampshire whom they think is the best guy?"
Others like Perry believe strongly that voters in New Hampshire — about one-third of whom are undecided — have a responsibility to the rest of the country to ignore the polls and carefully winnow down the field.
"I think (Kasich's) going to get a lot of independents, so I think that will change things," said Tom Prasol, 36, a lobbyist. "In New Hampshire, we don't like to take our cues from the media, and we take this very seriously."
Ultimately, voting for someone, based on polls, is just a "self-fulfilling prophecy," argued William Kassler, 60, physician.
Kassler, who is undecided, has been carefully grading some of the governors on issues that matter to him. He likes Kasich, but one his grades is getting in the way of committing — a C+ on health care policy. His method of evaluating is the only thing he will use in making his decision. "It wouldn't surprise me if some of the polls end up being wrong," he said with confetti flying around in the background to celebrate Kasich's 100th town hall.
Kasich has insisted on running a positive campaign — as he repeatedly tells voters — focusing more on his record in Ohio than attacking Rubio's. But Bush and Christie have been spending their time and resources in the final days hitting the senator every chance they get.
Their campaigns have been airing ads featuring Rick Santorum's struggle to come up with one of Rubio's accomplishments during an interview on MSNBC's Morning Joe, and they're bringing it up at events too.
"Rubio's own supporters can't tell you what he's accomplished," Christie said at a recent town hall. "Who are we going to put on that stage to prosecute the case against Hillary Clinton? Do you want a 53-year-old former prosecutor and governor of one of the toughest states in America, or do you want a 44-year-old, first-time U.S. senator who hasn't accomplished a thing? You can like Marco Rubio, he's a perfectly nice guy. But that doesn't mean he's ready to be president."
The pro-Bush super PAC Right to Rise has spent tens of millions on ads opposing Rubio on a range of issues from immigration reform to questioning his use of the Florida GOP's credit card.
Attacks on Rubio might not have hurt him among his supporters and those already leaning toward him, but voters who prefer the governors seem to have become less prone to abandoning their personal choice and making any compromises to rally behind Rubio. Many of them echoed the criticisms Bush and Christie have been stressing.
"Rubio sounds very intelligent, very worldly, but he comes across as young. I've seen him get overly excited and agitated," said Chris Russell, 52, Sandown resident.
Ron Dulong, a retired 64-year-old, also focused on his age. "It needs to be somebody with experience. You can't get these kids like Rubio," he said just after shaking hands with Christie and confirming what he already knew about the governor before voting for him on Tuesday.
"You think you're a big enough man to get in Putin's face?," he asked Christie.
"What do you think? You bet I am, baby," Christie responded.
"They all talk about ISIS, but it takes somebody really special to deal with Putin," Dulong later said in an interview.
Rubio, for him, was just not that special.