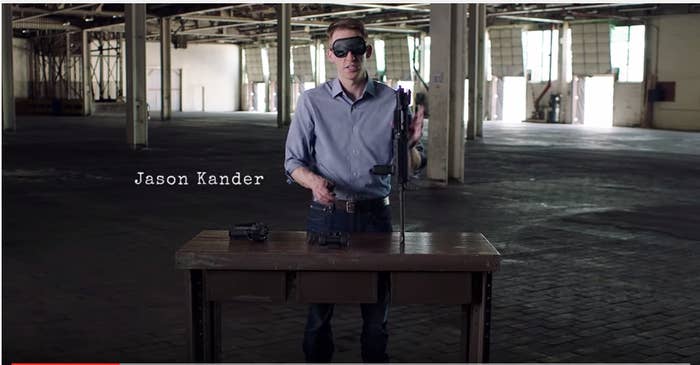 ST. LOUIS — Donald Trump and Jason Kander, a 35-year-old veteran and a rising star in the Democratic Party, don't agree on much.
But running an uphill challenge against a well-known GOP incumbent in a Republican-leaning state, Kander is unabashedly counting on the same anti-Washington rhetoric that's boosting Trump to amplify his own call for change in an increasingly tight and expensive race that's given Democrats new hope of taking back the Senate majority. Kander is locked in a closer-than-expected contest with Sen. Roy Blunt even as Democrats have struggled against more resilient Republicans in states like Ohio and Florida.
"Washington is broken. We need new leadership, and we're not going to change Washington until we change the people we send there," Kander said in a sit-down interview with BuzzFeed News.
"Donald Trump's entire candidacy, his entire message is that people like Sen. Blunt are the problem," he said. "We've had events where you'll see Trump and Clinton supporters arguing out front, but they were both just at our rally, because folks who respond to a message of 'we need to do something differently, we need some more authenticity in our national conversation,' those folks then are not turning around and voting for somebody who has been there 20 years and has been part of the problem."
Kander is clear that he doesn't think Trump is qualified to serve as president. But just as much as he needs to ride any headwinds Hillary Clinton might offer, he'll need to win over Trump fans who are new to politics and not loyal to the Republican party — a very tough task, Republicans argue. Trump is up 7 points over Clinton in Missouri, according to Real Clear Politics polling average.
"I just don't think those people exist," said a top Republican involved in the race. "I think those voters are unicorns. I think you travel to the circus and pay 25 cents to see them."
"Democrats are just out of runway to the majority when they're trying to get a seat that Trump is going to win by double digits."
Kander served in Afghanistan as an intelligence officer, in the state legislature after coming home, and now as Missouri's secretary of state. His biography — from him talking about army training days to now building forts with this three-year-old son — itself serves as a stark contrast with Blunt, 66, who was first got involved in politics in 1972 and was elected to Congress in 1996.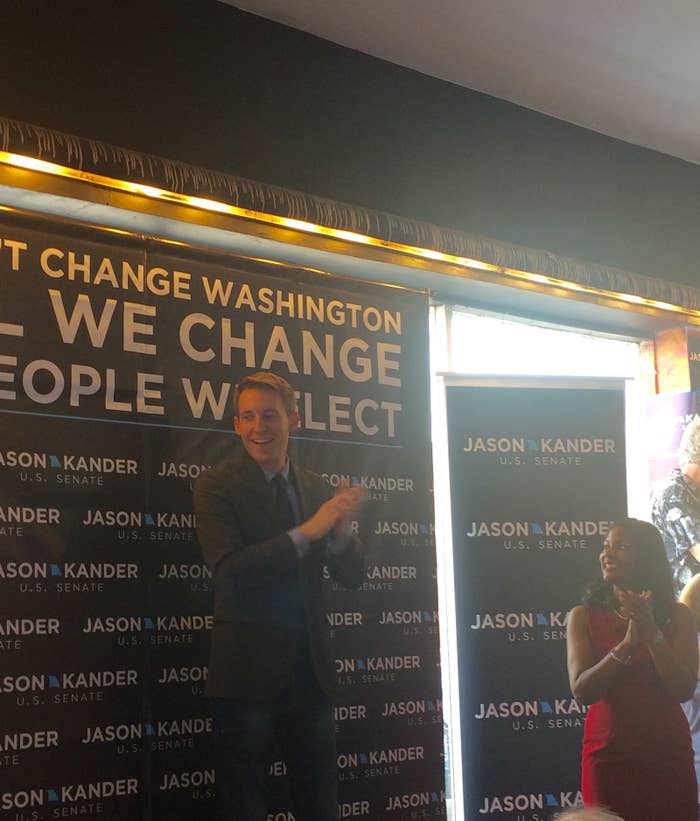 Even Republicans admit that Kander's background have made him a tough contender. "He doesn't have any major personal baggage and hasn't really made any unforced errors," said another Republican involved in the race. A recent poll showed him up 2 points up over Blunt, and the RCP average has him within three points of the incumbent. That's despite the fact he told a crowd at one his events recently — just a few miles from the St. Louis Cardinals' stadium — that he was a Kansas City Royals' fan. "I'll always be real with you," he said with a laugh to boos from the crowd.
Kander's opponents are trying their hardest to tie him to Hillary Clinton and portray him as a "liberal Jefferson City career politician." Attack ads are hitting him on Obamacare, gun control and environmental regulations.
In an ad that quickly went viral and was praised by political consultants as the best ad of the 2016 election, Kander responded to one of those attacks by assembling a rifle blindfolded while calling for background checks. The Democrat had told his ad maker he could assemble a rifle fast, but the campaign decided to go a step further and shoot the commercial with him blindfolded. "We got it on the first take," he said about the ad. "But like everything else we did it multiple times...there's a lot of muscle memory there."
Republicans are now using Kander's spot to highlight his "F" rating from the National Rifle Association and downplaying any impact it might have. "I'm married to an Army Ranger Captain who's a West Point grad. I'm not impressed," said Republican Rep. Ann Wagner, in an interview at a county GOP picnic. (Wagner's office clarified after publication that she misspoke and was actually talking about her son)
"[Kander] is a Hillary Clinton clone," said Wagner, who represents the St. Louis area. "Roy Blunt represents the values of Missourians."
Blunt also argued that the importance of this election up and down the ballot was to keep President Obama's agenda from moving forward. He didn't mention his challenger's name when he spoke to Clayton County Republicans at their picnic and instead focused on issues like the Supreme Court vacancy and environmental regulation.
Up against the anti-incumbent, anti-Washington sentiment that's helping his young challenger, Blunt is focusing on policy specifics and name-dropping Democrats he's worked with to highlight his major accomplishments.
"I like what I do. I've done it well," he told reporters. "We've got lots of things that we're working on — mental health and health research and victims of child abuse — things that maybe a little outside the normal lane of where Republicans like to be."
"But I like to be in those areas," Blunt said at an elementary school, where he focused on a new grant he helped secure for children who had experienced trauma.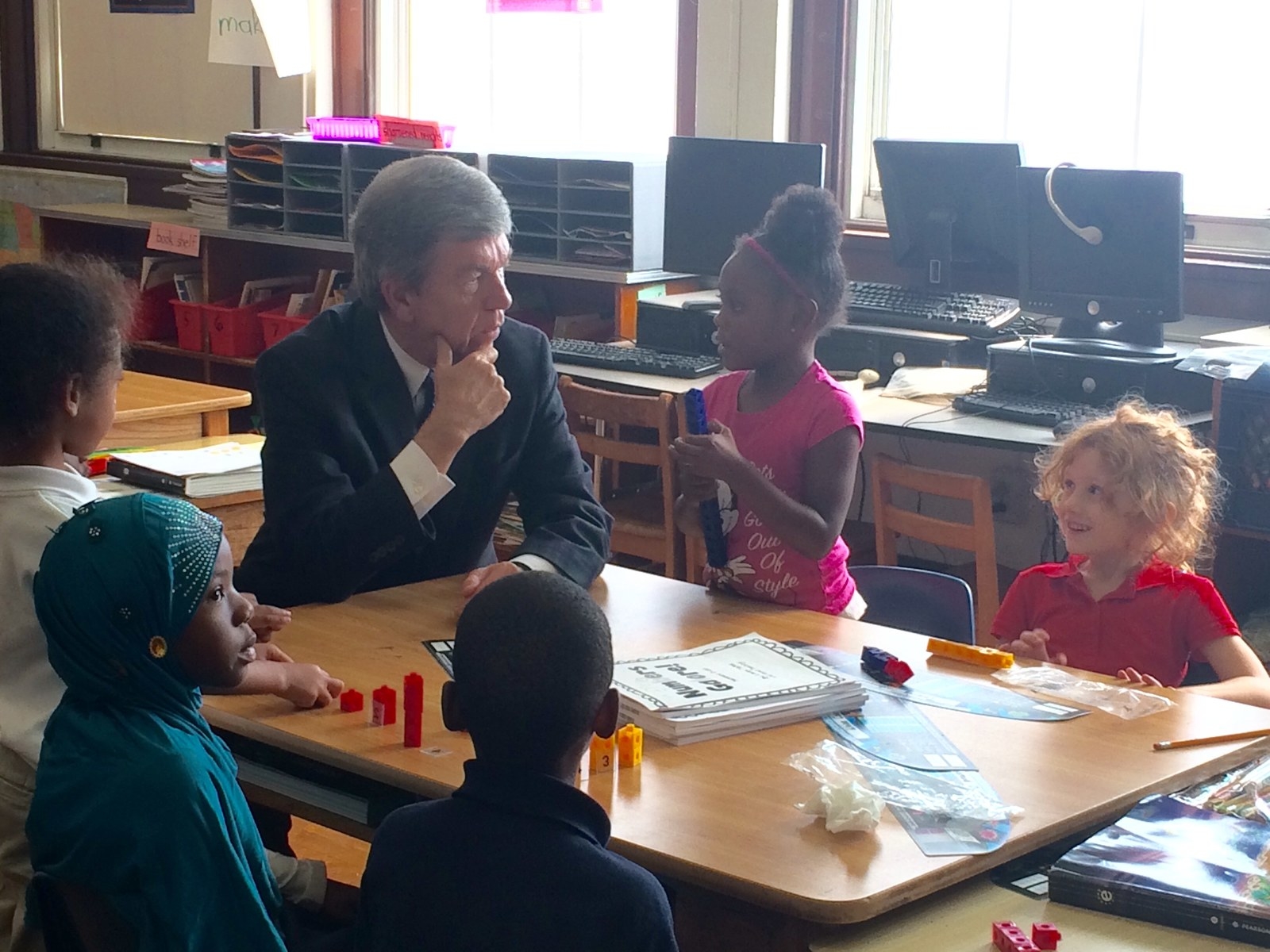 Blunt took careful notes during the event as he talked to those in charge of the program and visited a kindergarten classroom. He chatted with five-year-olds about their guinea pigs, Honey and Cocoa, before turning back to the adults to highlight his work with Democrats including Sens. Debbie Stabenow of Michigan, Chris Coons of Delaware and Patty Murray of Washington — the same senators he mentions in his latest ad.
"Voters in fairness, need to look at what I've done in the Senate," he said. "It's fair to look at the last six years and see if you agree with the kinds of things that I've done or not. I think one of the things that I have on my side of the ledger that often isn't there is the ability to find somebody on the other side of the aisle that maybe you don't agree with on lots of things, but to find the one thing that you do agree with."
Later at another event, Blunt again brought up his Democratic counterparts. When asked if he thought voters in this anti-Washington political climate understood and cared about the details of the work he was doing, he paused for a minute before saying:
"If you do it the right way, they do."
While both men support their respective top-of-the-ticket candidates (Blunt has endorsed Trump and told reporters this weekend without hesitation: "I'm for the Trump-Pence ticket) they've also both aggressively tried to highlight the differences.
Asked if he disagreed with Clinton and Obama on anything, Kander pointed to the Iran deal and the Trans-Pacific Partnership as examples. "I make decisions based on what I believe is right," he insisted. "I support a balanced budget amendment to the Constitution, which is unlike Secretary Clinton or President Obama."
Blunt meanwhile has focused on his legislative accomplishments, but he has been dogged by attacks that he's under the influence of special interests, which feeds into the narrative of him being a Washington insider. His wife and three children are all lobbyists. One of his sons, Andy, a lobbyist, is also managing Blunt's campaign.
Kander also doesn't miss a single opportunity to remind voters of Blunt's ties to lobbyists, saying his opponent "approaches everything with the sheet of music that's given to him by special interests and his political party."
But questioned about help he's getting from outside groups and special interests, Kander said he couldn't speak for independent groups airing ads on his behalf, calling it a sign of momentum for his campaign and adding that "in the first six months of this year, 94 percent of those who gave [the the campaign] gave $100 or less."
As the race heads into the final stretch, Republicans predict that Kander will have to get used to more scrutiny and responding to questions about his own campaign when he launches attacks. "He's certainly a decent candidate -- there's no disputing that," said Ian Prior, spokesman for Senate Leadership Fund, which is spending $2.5 million on behalf of Blunt this month alone. "But he's had the luxury of flying under the radar."
And in an especially rough year for political forecasting, Missouri Democratic Sen. Claire McCaskill has a bold prediction of her own. "I think it's going to surprise a lot of people in Washington," she said of the race, bringing up parallels from her own victory in 2006.
"Everybody said no way can't win in Missouri — it's too red. And someone — I can't remember her name," she added with a smile — "won that year and that gave us the majority by one."