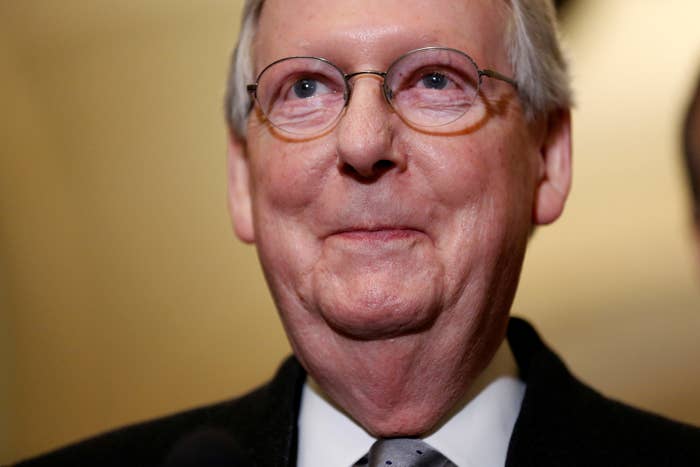 An opening on the Supreme Court months before the 2016 election rallied the Republican base, boosting Donald Trump to win the presidency. And a court opening now — months ahead of the midterms — might again be the boost Republicans need to keep or expand their Senate majority.
The retirement of Justice Anthony Kennedy effective at the end of July brings a Supreme Court vacancy front and center for Republicans to run on. It can mobilize voters, break through the noise of the president's daily actions or tweets, and give Republican voters who might be disenchanted with the president or the current political moment a reason to channel their energies.
The issue will be a big motivator for evangelicals in particular, as it was in 2016, said Republican pollster Chris Wilson. "Not only does it close the enthusiasm gap with Democrats, it just injects rocket fuel into the evangelical base," he said.
Putting another conservative justice on the court would also give Republicans a concrete accomplishment to point to, after a year that has been marked with a number of high-profile legislative collapses.
"I think if the nominee who they put up is a rock-solid conservative, I think that very much helps muddy the failures of what the Republicans did, say, on Obamacare specifically," one Republican pollster told BuzzFeed News.
Unlike in 2016, Senate Majority Leader Mitch McConnell said Wednesday he plans to move forward with confirming a new justice before November's elections. But Republicans will be able to keep attention on the court as the nomination and confirmation process plays out over the summer, and organize activists and fundraise off their efforts, according to sources close to the Trump administration and Republicans involved in races across the country.
And they'll still likely be able to tout a new, conservative justice in the fall as they try to defeat Democrats defending their seats in red states, reminding voters that they need a GOP majority in the Senate to get conservative justices on the court.
Within hours of Kennedy announcing his retirement, for example, vulnerable Nevada GOP Sen. Dean Heller sent out a fundraising missive to his supporters based on the breaking news. "BIG NEWS: Justice Retiring (here's what we do next)," was the subject line of the email.
Ten Democrats are up for reelection in states Trump won in 2016, and Republicans are counting on the conservative base to come out and vote in a midterm year when turnout is typically much lower. The court vacancy and a likely upcoming vote on a Trump nominee puts those Democrats, who have been balancing being critical of the president with supporting parts of his agenda, in a bind.
"They want to keep their heads down and focus on local issues, but that will be difficult when they're asked to vote on a nominee of national and historic importance," said Alex Conant, a Republican strategist and former top aide to Sen. Marco Rubio. "No matter how they vote, they risk splitting a majority of their constituents and their base."
Conant added that it's already clear that Democrats are worried, based on their response to Kennedy's retirement, which was focused on calls for the confirmation vote to take place after the election in January.
"Establishment Democrats' immediate messaging is very focused on the Senate schedule, because they don't want red state Democrats to potentially make a difficult political vote," he said.
A national Democratic operative said each of the red state Democrats will determine how to vote for themselves, as they did last time with Neil Gorsuch. "Every time they've been faced with a tough vote, they've done what they think is in the best interest for their state." Three of those Democrats voted to confirm Gorsuch last year.
Republicans running against Democratic senators in states Trump won — including Indiana's Mike Braun, Missouri's Josh Hawley, and Florida's Rick Scott — put out statements soon after Kennedy's announcement attacking their opponents. "Claire McCaskill has never once voted in line with Missouri's wishes on a Supreme Court nominee, and that's why she must be replaced," Hawley said in his statement.
Braun's opponent, Sen. Joe Donnelly, was noncommittal in a statement, saying he "will thoroughly review the record and qualifications of any nominee presented to the Senate."
Sen. John Cornyn, the second-ranking Republican in the Senate and a former chair of the Senate Republican campaign arm, told BuzzFeed News after Kennedy's announcement that the vacancy "will provide a lot of energy on both sides" for the midterms. "It may become the most important issue. Because I think people have seen the difference it makes the types of judges who serve on the court," he said.
Well-funded conservative groups are also already preparing to invest significant resources into the confirmation battle through ad campaigns and grassroots efforts. The Judicial Crisis Network, which played a key role in confirming Gorsuch and spent $10 million to help confirm him, announced a seven-figure campaign Wednesday afternoon, #AnotherGreatJustice. The campaign will include a national cable and digital ad buy targeting vulnerable Democrat incumbents.
An official with the political network affiliated with billionaire industrialist Charles Koch told BuzzFeed News that the network is also prepared to spend seven figures to support a nominee like Justice Neil Gorsuch, which could include ads targeting those same Democrats.
"This is an issue where our activists have been excited about for a long time," said Sarah Field, vice president for judicial strategy for the Koch-backed Americans for Prosperity, which has more than 3 million activists.
"The reality is that the American people are focused on the Supreme Court — we saw that in the 2016 election," Field said about the group's messaging ahead of the election. "It's going to be the same thing this fall."
Not all Republicans are as optimistic the vacancy will play out the way it did in 2016. Pushing the nomination through before the election has the benefits of forcing red state Democrats to make an uncomfortable decision. But it also means that the stakes are lower for voters going to the polls in November.
"Republicans will be happy, but will that be a motivator?" one Republican campaign consultant said of the timeline. "It's a lot different than the reality of, 'if we lose the Senate we won't be able to get President Trump's nominee confirmed. I think that's a much more compelling message than, 'Look, we've got two Supreme Court justices and we could get more.' I think that is less of a threat."
Some Republicans fear it could also motivate Democrats, who could argue that the addition of a reliably conservative justice would lead to the dissolution of Obamacare or impact abortion rights. "Democrats have needed one issue in their campaign to run on and to win back the majority, and this will probably be it," said one Republican strategist.
"A lot of why the Republicans did so well during the Obama years was they were just able to throw bombs all the time," the strategist added. A fight over a Supreme Court nominee will give Democrats something to throw bombs at.
But others suggested that the Democratic enthusiasm that has manifested so far this cycle was unlikely to be impacted by the addition of one more issue. "Democrats already have their motivation," said Wilson.
Nidhi Prakash contributed reporting to this story.
CORRECTION
Sarah Field's name was misstated in an earlier version of this post.