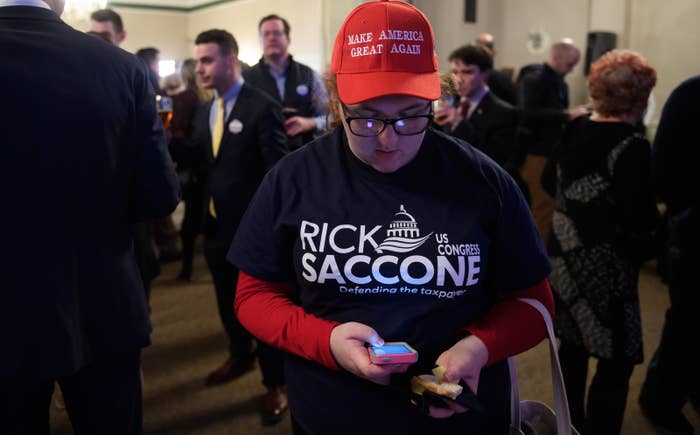 Republicans have publicly turned on their candidates in the final days of recent special elections, trying to spin possible losses in districts that never should have been competitive in the first place as being unrelated to the party's overall fate.
Republicans rated their candidate Greg Gianforte in Montana last year as a "C-minus." They bad-mouthed Karen Handel in Georgia, and said Ron Estes in Kansas was a "no energy" dud. But none of those candidates was as uninspiring as Rick Saccone in Pennsylvania, whom GOP operatives loudly criticized for a host of reasons before he turned into the likely electoral loser: from his lackluster fundraising to his "pornstache."
All of this trash talk from Republican operatives from within the party came even before Election Day, something that has become a bit of a tradition over the past year. None of those candidates were going to set a room on fire. But it's not like they would be the first members of Congress to register low on the excitement scale.
The preemptive spinning has provoked discomfort among some rank-and-file Republicans, who see the party apparatus as "more interested in saving face than they are in just running through all the way," as one Republican consultant put it to BuzzFeed News. One former White House official called the strategy "counterproductive"; another expressed surprise at how far Republicans had gone in their criticism.
"It's not helpful," Texas Rep. Joe Barton told BuzzFeed News. "I don't think anytime your own party is saying negative things about your campaign or your candidate, if you're the candidate, it's just not helpful."
Barton pointed out that, leading up to the midterms in November, no one candidate will get such outsized attention as these candidates did in special elections.
One of the main reasons Republicans have been playing the expectations-setting game is to keep donors happy, said GOP strategist Alex Conant. "When you spend as much money as we have in these special elections, donors want an explanation of why we're not doing better. Subpar candidates are an easy scapegoat."
Republican outside groups spent about $10 million of the total $12 million spending in this week's Pennsylvania race alone.
Conant also said it's important to raise the alarm and talk about candidate quality and fundraising to make sure Republicans are prepared ahead of November.
"Candidate quality matters now probably more than ever," he said. "If you're getting dramatically outraised and not able to define yourself, you're going to have a tough time winning in this environment."
Brian Walsh, another GOP strategist, said given how social media and the news cycle work now, it's crucial to set the narrative for the race beforehand. "It was important to help set expectations because people would read a lot into Saccone's loss," Walsh said, adding that the trash-talking was aimed at the media and donors, not voters.
"In this day and age...the narratives get cemented pretty quickly — even before the polls close."
There's also some frustration among Republicans with the narrative that the tight Pennsylvania race was some kind of surprise, last-minute "wake up call." GOP strategists were knocking Saccone as a candidate back in December. The Congressional Leadership Fund, which backs Republicans, opened an office in the district in January. "If you're just realizing this last night that that's a wake up call, that's a really big problem," said one national Republican strategist.
Lowering expectations ahead of Election Day has also allowed Republicans to hail their candidates' vote totals — even though they've significantly underperformed in conservative districts — as small victories.
Although Saccone is expected to lose Tuesday's race to Democrat Connor Lamb, some Republicans were already portraying the close race as a win for them because it wasn't as bad as the expectations they themselves had set.
Asked about the election, White House deputy press secretary Raj Shah suggested that the president's trip to the district last weekend had boosted a campaign that was set for a loss. "The president's engagement in the race turned what was a deficit for the Republican candidate to what is essentially a tie," Shah told reporters.
Republicans had also been sounding the alarm in Georgia for weeks before last April's special election, pointing to Handel as a perennial candidate who had a weak track record of winning statewide races. But when Handel narrowly won, they hailed her as a model candidate.
Earlier this year, the campaign arm for House Republicans asked Handel to advise her colleagues on running in the Trump era. "Karen ran a very adept campaign, and there's a lot people can learn from everything she did," said National Republican Campaign Committee chair Steve Stivers, according to the Washington Examiner. "People needed to understand that you can win, you just need to be smart about what you do."
A national GOP operative denied any efforts to set the narrative or intentionally lower expectations in special elections over the past year. "We are in a very volatile political environment," the operative said. "Reporters ask where the race is and we're upfront with where the data has it."
Retiring Pennsylvania GOP Rep. Charlie Dent said Republicans need to focus more on dealing with the tough political climate than on criticizing their candidates when races look tough.
"This is really a lot less about the candidates in these special elections and more about the national political environment. ... If I were in Republican leadership, I'd be more concerned about figuring out ways to help inoculate our candidates against this impending wave. That's the bigger issue," Dent said.
"There's always going to be this type of face-saving that goes on, you know, after the fact, which isn't particularly helpful."