Some Republicans Worry, Some Democrats Hope: Could Anti-Washington Tide Beat Roy Blunt?
Missouri is much more conservative these days, but its longtime Republican senator matches the profile of some others who've been booted from office. The young, military vet who's challenging him is trying to get some real money from national Democrats.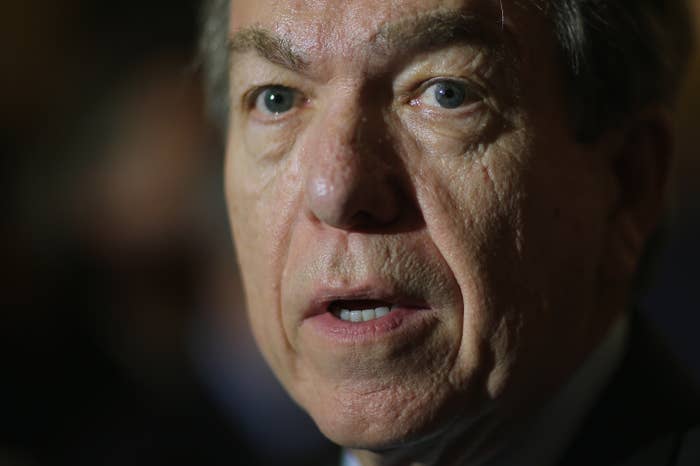 WASHINGTON — Missouri GOP Sen. Roy Blunt has served in Washington for about 18 years — a time period he once touted to highlight his experience. But facing a young Democratic challenger, that number has also become his biggest liability, as voters grow increasingly wary of career politicians.
Blunt's Senate seat — considered safe for Republicans for months — is now drawing concern from within his own party, as the race becomes contingent in part on the strength of the anti-Washington, anti-politician sentiment spreading across the country. Although Republicans still believe the seat in the red-state will be extremely tough for Democrats to win, they are well aware that Blunt fits the profile of the type of Washington politician whom voters are turning on.
Republicans are already spending early money on positive TV ads in an effort to help Blunt's image. One Nation, a politically active nonprofit affiliated with GOP strategist Karl Rove, has spent $800,000 on ads that show Blunt's efforts to support military families.
And sources close to other major GOP groups told BuzzFeed News they are now also watching the race because the same grassroots frustration that has led to the rise of real estate mogul Donald Trump and neurosurgeon Ben Carson in the GOP presidential primary — and many attributed that kind of sentiment in spurring an unexpected landslide victory for Matt Bevin in Kentucky — could sink the longtime lawmaker next year if Democrats make a serious play for the seat.
Blunt's campaign cautioned against looking too much into the early ads. "Sen. Blunt has a long record of very hard work on behalf of our nation's heroes," said Burson Snyder, spokesman for Blunt's campaign, in a statement, adding that Blunt has has traveled to all 114 Missouri counties and the City of St. Louis three times since 2009.
"So it's not surprising that conservative groups are taking a real interest in highlighting Sen. Blunt's track record on this and other issues, as they work hard early to maintain and grow the majority in the U.S. Senate," Snyder said.
As of now, Democrats don't have plans to make the seat a priority by any means, but they view it more as a "moneyball race" — a more calculated, smaller investment that could turn out to have a big return.
They believe Jason Kander, the 34-year-old Afghanistan veteran who currently serves as Missouri's secretary of state, is the ideal recruit to create an effective contrast with Blunt in an election cycle where Republicans face a tough road ahead in defending their majority in the Senate.
On the campaign trail and in interviews, Kander has made his efforts to reform ethics laws in Missouri a central part of his messaging. His campaign also routinely points out that Blunt's wife is a D.C. lobbyist and that his two children have also lobbied.
"Washington is broken right now, and Missouri deserves a senator who looks out for middle-class families and not special interests," Kander said in an interview with BuzzFeed News. "I think Washington could use someone who hasn't spent their career in Congress. We can't change Congress by sending the same people there."
Before being elected to the Senate, Blunt served seven terms in the House, where he was both majority and minority whip and later interim majority leader.

On capitalizing on the political outsider movement, Kander said: "I think it's pretty clear that Missouri is not the only place where people feel a change is needed."
Racial tensions in Missouri — with the protests in Ferguson earlier this year and now at the University of Missouri — have also brought national attention to the state. Kander said he's been talking to voters about race relations and criminal justice issues like determining the best use of body cameras. It's difficult to predict how those issues will play in a statewide election next year, but with the University of Missouri System President Tim Wolfe announcing his resignation Monday amid the student protests, Kander said in the interview that the university provided the starting point for "an important dialogue that's long overdue."
Although Kander — whose campaign committee has about $1.5 million on hand — has exceeded expectations when it comes to fundraising, his chances of defeating Blunt also depend on an investment from national Democrats, who are expected to focus on battleground states including Illinois, Wisconsin, New Hampshire, Ohio, and Florida. The party needs to pick up five seats to win back the majority in the Senate.
But Missouri Democrats are hoping that the Democratic Senatorial Campaign Committee and outside groups like Senate Majority PAC will put money into the state, which they argue, would be a much cheaper investment than many other battleground Senate races. Unlike Missouri, other key Senate races are in states that will also see heavy presidential ad spending, making it more expensive to buy air time.
Senate Majority PAC hasn't spent on behalf of Kander yet. But the group did circulate a memo pushing back on the pro-Blunt ad aired by One Nation — an indication that big-money Democratic groups are interested in Kander, who has also caught the attention of reform groups because of his focus on ethics and campaign finance reform.
Adam Smith, spokesman for the one of those groups, Every Voice Action, said no decisions have been made yet. But he added that "Kander is absolutely right to make the ethics and campaign finance reform a central part of his campaign. It's an effective message that can appeal to voters fed up with what they see as a broken system that too often caters to the wealthy and well-connected."
Democratic opposition research group American Bridge is also keeping an eye on the race and has a tracker on the ground in Missouri.
But in the meantime, the National Republican Senatorial Committee has been using Kander's anti-lobbying rhetoric against him, calling him a "serial panderer," following reports that the Democrat attended a fundraiser hosted by a lobbying firm.
And Republicans maintain that Kander will struggle next year, because with little help from national Democrats, he could only win if 2016 ends up being a wave year for Democrats.
"It's hard to see — Todd Akin aside — Democrats winning a Senate seat in Missouri," said Brian Walsh, who worked for the National Republican Senatorial Committee in 2010 when Blunt first ran for Senate. "The DSCC is just putting players in the field in case it turns out to be a wave election."