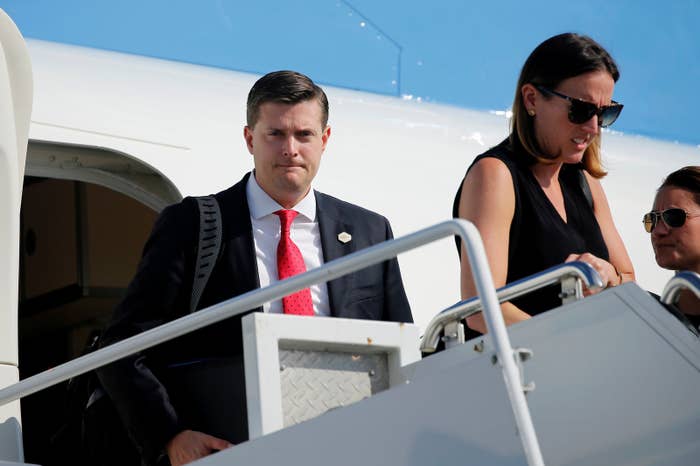 White House officials have repeatedly portrayed Rob Porter, who resigned over domestic abuse allegations involving two ex-wives, as a mild-mannered, congenial coworker with "the highest integrity and exemplary character."
But that's not how some people who worked with Porter on Capitol Hill describe him.
In interviews with a dozen people who worked with Porter or were familiar with the operations of the Senate offices where he worked, many said he was competent but at times difficult to work with — a micromanager who wanted to be included in every meeting, sometimes was angry and confrontational, and also had a reputation for dating women he worked with in the Senate. A few portrayed those office conflicts as not out of the ordinary power struggles on Capitol Hill, and maintain he remained professional. The complaints against Porter, however, never reached the senators he worked for, they say.
Former colleagues said they were shocked by the abuse allegations against Porter by his ex-wives, which he has denied, saying they never saw anything close to that kind of behavior.
But many also said Porter turned off many staffers in the offices of both Mike Lee and Orrin Hatch, the two Republican senators from Utah. And despite his sterling qualifications (he is a Harvard-educated Rhodes scholar), Republican operatives on Friday called Porter's hiring, and employment in the face of allegations, emblematic of the challenges the Trump administration has faced in trying to recruit competent staffers. Officials there are working from a shallower talent pool, in part because of grudges with old Trump rivals from the 2016 campaign. Porter, portrayed as a steady presence in a chaotic administration, was able to expand his responsibilities beyond his staff secretary title.
"They're pushing away people who spoke out against Trump in the primary," one Republican strategist said. "The loyalty thing pushes away experienced high-level staffers."
Porter could not be reached for comment on Friday after several attempts. But a friend and former colleague contacted BuzzFeed News Saturday morning and said Porter had been "targeted" by members of Lee and Hatch's office for years by coworkers who held "grudges" against him for his influence with the senators. The friend added that Porter remained an "even-keeled professional."
Porter entered the White House with a number of high-profile assignments on his resume — though his results in those roles were mixed, according to interviews.
He worked in Lee's office between 2011 and 2013, where sources said he constantly clashed with colleagues on how the then–newly elected tea party–aligned senator should approach certain issues. Two former colleagues said he would often get irritated in meetings when things didn't go his way, and one recalled a particular incident in which he described Porter as "unhinged" — visibly red and shaking with anger — when he was not included in an event.
"He wasn't a good fit in that office," said another former colleague. "Mike Lee had certain things he wanted to accomplish and had a certain brand [in the conservative movement]. But Porter was the guy who didn't want to ruffle feathers. He didn't get along with very many people in the office."
The former colleague said that Porter was competent, but disagreed on most things with the rest of the staff, who saw him as a "hill climber." "He was one of those DC douchebag types, always looking for the next job."
Three sources who have worked around Porter in different offices said he took an unusual number of meetings with younger women, and that they constantly heard rumors about him getting too close to interns. One of those sources was so troubled by these rumors that he tried to repeatedly track them down, but none of the interns came forward.
Porter took some time off during his time in Lee's office to go to work for GOP presidential nominee Mitt Romney's campaign transition team. His next job was a brief, nine-month stint in Ohio Sen. Rob Portman's office as general counsel. A spokesperson for Portman said that Porter "did not have a security clearance during his short tenure here and there was no indication of any inappropriate behavior," but did not get into specifics about his time there.
Neither Lee nor Portman offered statements of support for Porter when the White House first released them Tuesday night in response to the original story about the allegations in the Daily Mail. His most recent former employer, Hatch, was the only one to do so.
Porter began working for Hatch's office as deputy chief of staff in 2014 and was quickly promoted to chief of staff when the job opened. Although Hatch praised him in his initial statement, a source close to the senator's office said it "was a mess under him." "[Porter] really made it worse."
The source said Porter was "constantly micromanaging and very unhelpful to everyone."
"A lot of folks are shocked about the abuse, but the idea that Porter is this stand-up guy? He infuriated the staff," the source said, adding that the person now described as "soft-spoken" could occasionally be heard yelling on his phone from the lobby.
Another former colleague from Porter's Senate days saw no such problems: "Never saw him as anyone other than a smart and capable guy who worked well with others."
In Trump's White House, competency appears to have gone a long way with senior leaders like White House Chief of Staff John Kelly and White House counsel Don McGahn, both of whom learned of the allegations at some point last year before the news broke this week. Trump continues to be sympathetic toward Porter, telling reporters Friday "we certainly wish him well," and in a tweet Saturday he added that there is "no recovery for someone falsely accused."
The president was also reportedly impressed with Porter's dual Harvard degrees, which his former colleagues also said he leaned heavily into as someone always looking to network. Porter, who was close to Trump's son-in-law Jared Kushner and former chief of staff Reince Priebus, joined the office after volunteering for the Trump campaign and taking on a bigger role during the transition. He later became close to Kelly, who gave him more power.

The handling of Porter's abuse allegations underscores a further complicating dynamic inside the White House: When someone leaves or is pushed out, it's not always clear if there will be a skilled aide to take their place.
As one Republican strategist noted, many top party operatives have little interest in going to work for Trump: "You have to defend the indefensible. I would rather be a barista at Starbucks."