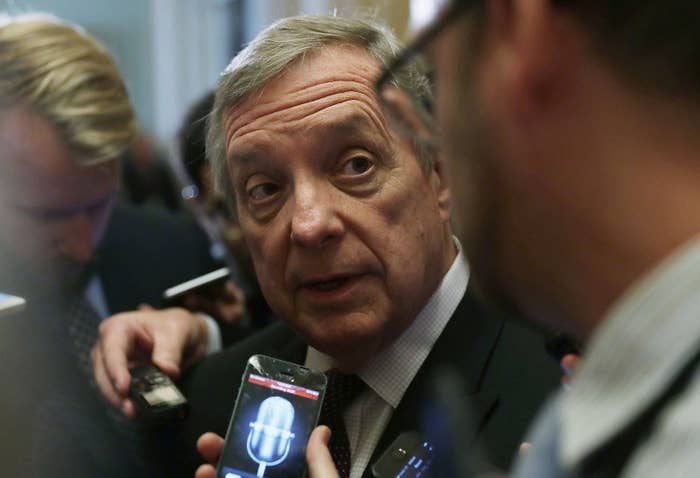 WASHINGTON — Illinois Democratic Sen. Dick Durbin and South Carolina Republican Sen. Lindsey Graham are filing a bill Friday that would continue to protect DREAMers — who were granted temporary protection against deportation — in case President-elect Donald Trump acts on the hardline immigration views he campaigned on.
Durbin and Graham are co-sponsoring the bill, called the BRIDGE Act, with Alaska GOP Sen. Lisa Murkowski and California Democratic Sen. Dianne Feinstein. Durbin told reporters Friday that several other Democrats want to sign on to the legislation to protect young immigrants, but the bill's co-sponsors are working first on getting more Republicans on board.
The bill would provide "provisional protected presence" for three years to young immigrants if they register with the government, pay the required processing fee and pass a criminal background check.
If passed by Congress, the legislation would essentially extend the protections for the more than 740,000 young immigrants, or "DREAMers," that were granted through executive order by President Obama and allow more immigrants who meet the same requirements to also apply. Trump campaigned on repealing the executive order, but has since given mixed signals.
"We're going to work something out that's going to make people happy and proud," Trump said in a recent Time magazine interview.

"They got brought here at a very young age, they've worked here, they've gone to school here. Some were good students. Some have wonderful jobs. And they're in never-never land because they don't know what's going to happen."
The Senate is expected to leave town for the holidays — if lawmakers are able to pass a spending measure to fund the government — on Friday. But Durbin and Graham are expected to re-introduce the same bill in the new Congress next year.
Durbin told reporters they didn't want to wait until next year to unveil this bill, though Congress will not take action on it in 2016. "There's so much interest in this issue and so much anxiety over this situation," he said. "We want to move to make this public. I can't go anywhere without someone raising this issue."
Durbin and Graham were both part of the Gang of Eight — the group of senators that pushed comprehensive immigration reform through the Senate in 2013. Most other Republican senators in that group have not yet signaled support for the legislation. Arizona GOP Sen. Jeff Flake said last week he would back a bill dealing with this issue, but has not yet signed on to the BRIDGE Act.
"I think if President Trump says, 'This is a good solution to a hard problem.' Here's what you've got to ask Republicans and Democrats: What do you do with these kids?," Graham told reporters last week. "Now, I'm not going to be part of a Republican Party that will take 700,000-plus young people who've done nothing on their own — they came here as small kids, they lived their life in America, they have no place else to go — and just ruin their lives."
Durbin said they're encouraged by Trump's recent comments on the issue and will reach out to the incoming administration and urge them to work with members of Congress on this bill if they plan on repealing Obama's executive order. "I will seize on every encouraging word," he said.

"Generally speaking most Republicans, even though they are reluctant to come to the floor and make a speech, feel it's only fair...even if they have strong feelings against other parts of comprehensive immigration," Durbin said when asked about efforts to get GOP support.
"This is a very difficult group — once you meet them — to oppose."