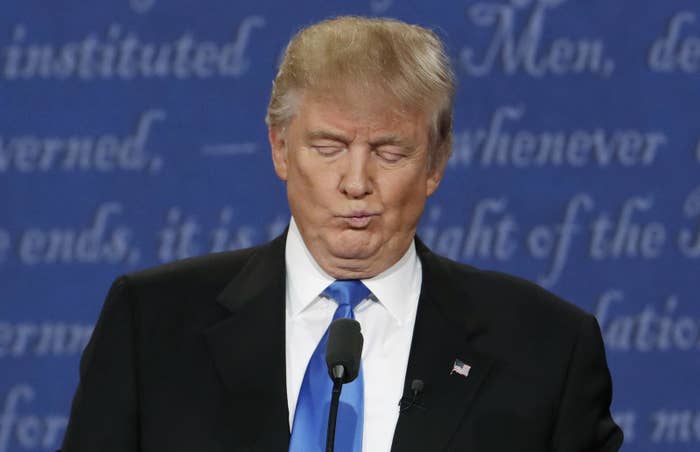 WASHINGTON — Senate Republicans weren't exactly thrilled with Donald Trump's debate performance Tuesday night, believing he missed some opportunities to talk about important issues and go after Hillary Clinton.
But they don't think it will move numbers in Clinton's favor either.
As they work on a deal to fund the government and try to retain their majority in the November election, Senate Republicans once again had to answer for their party's presidential nominee, who lost his composure after repeated attacks from Clinton during the first presidential debate Monday night.
"It seemed to me that both sides kind of did what they had to do," said Sen. John Thune of South Dakota. "I mean, I don't think there's coming out of there any substantial change in kind of where the state of the race is. But we'll see people will evaluate that over the course of the next few days."
Thune said Trump should have pushed jobs, immigration, and the Supreme Court vacancy more. "There were a lot issues that didn't get covered last night that are pretty big issues," he said. "I think there were some opportunities for Trump on cyber issues that he didn't follow through enough on."
Sen. Thom Tillis of North Carolina also said he thought both sides continued to play to their base.
"Neither of them I think did a particularly good job of going to the undecideds," Tillis said, adding that it did show that Trump "can be measured."
Tillis also said that Trump could have gone after Clinton a lot more than he did. "Secretary Clinton talks about her trips abroad. A lot of those trips resulted in horrible outcomes — the reset with Russia, the Iran nuclear talks. There were a number of trips I wish she hadn't taken."
Asked about some of Trump's past sexist comments coming up, Tillis said Trump could have used it to hammer Clinton instead. "We're talking about a candidate in Secretary Clinton that doesn't necessarily have a stellar reputation. So that seems to be an area that she may need to tread lightly on going forward or she needs to be accountable for things that she and her family need to answer to or even the foundation. I mean taking millions and millions of dollars from countries that treat women horribly. ... It seems to be a little bit of double standard."
Sen. David Perdue of Georgia — one of Trump's biggest supporters in the Senate — insisted Trump "did exactly what he had to do," despite a rough second half.
"What he really did in there is he called out Hillary's background of being 30 years in the system," he said. "That's resonating back home. That was the most salient moment in the entire hour and a half."
Perdue, however, added that he was "troubled" that topics like Benghazi, the email scandal, and the Clinton Foundation didn't come up. "It got a little awkward in the second half ... but he was strong without being offensive, which I think surprised a lot of people last night."
Sen. Dan Sullivan of Alaska didn't evaluate the details of Trump's debate performance, saying only that he wanted more talk about the economy. "More details on how to grow the economy, which as you guys know is flat and not growing, would have been helpful," he said.
Several senators were cagier in responding to questions about Trump and the debate, as reporters chased them around the Capitol Tuesday.
Senate Majority Leader Mitch McConnell simply said: "I thought he did just fine."
Sen. Marco Rubio of Florida, who is up for re-election, said he didn't watch the debate at all. Sen. Johnny Isakson of Georgia said he was focused only on his own race.
And Sen. Ted Cruz responded to every question about the debate with: "We put out a statement on it last night.
Sen. Jeff Flake of Arizona, one of the senators who has been especially critical of Trump and has said he won't be voting for him, said Trump's debate performance didn't change his decision.
"Not even close," he told reporters with a laugh.