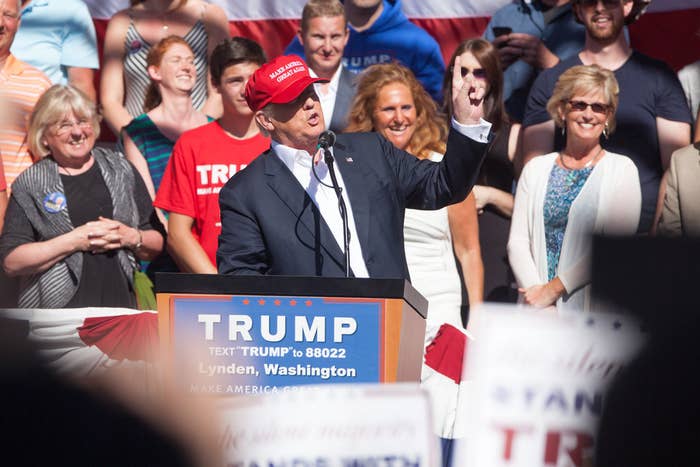 WASHINGTON — Senate Republicans returned to the Capitol on Monday for the first time since Donald Trump became the party's presumptive nominee — and immediately, several of them tried to distance themselves from the billionaire.
For months, Republicans in tough re-election races have been twisting themselves into knots when asked about Trump. But days before Trump is expected to meet top Republican leaders in Washington, senators who are not up for re-election this year and those who represent Republican-leaning states weren't rushing to support Trump either.
"I haven't met him yet, so I want to get to talk to him about some issues," said West Virginia Sen. Shelley Moore Capito, who isn't up for re-election until 2020.
Georgia Sen. Johnny Isakson, whose re-election race has become more competitive with Trump expected to be at the top of the ticket, said "the most important thing I can support is me and getting re-elected" when asked about Trump.
"I'm going to wait and see what happens after the meetings this week with [Speaker] Paul Ryan and what happens as he unrolls his platform," Isaakson said.
Trump is expected to meet with Ryan, who recently said he couldn't support the party's presumptive nominee at this point, and with Senate Republican leaders on Thursday.
Missouri Sen. Roy Blunt, one of the GOP leaders who is expected to meet with Trump, told reporters on Monday he will support the nominee but is "mostly focused on re-election."
Sen. Chuck Grassley, who usually cruises to re-election, did not mention Trump by name when asked about the presumptive nominee. "I'm going to do everything I can do to make sure we do not have a third term of an Obama administration," Grassley repeatedly told reporters.
"I'm going to have to run my own race regardless of who our nominee is," he added.
Arizona Sen. Jeff Flake, who has become an outspoken Trump critic in recent days, continued to distance himself from Trump, saying the campaign had made no effort to reach out to him.
"It doesn't seem his style," he said. "But we'll see."
Flake isn't up for re-election but said he decided not to attend the GOP convention in July. "No reason to be there," he said. "Lots to do at home."