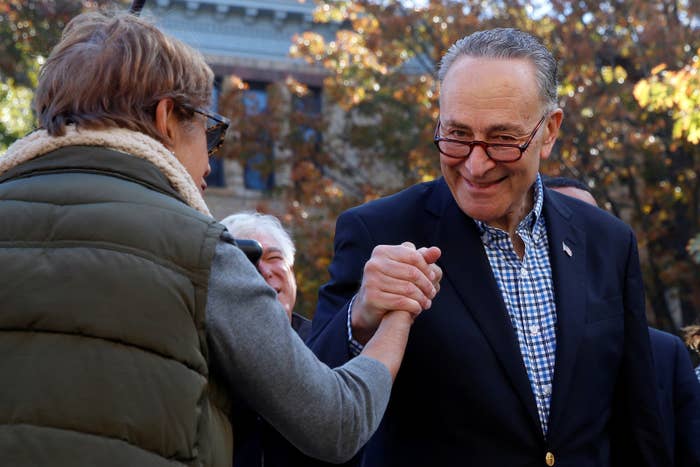 WASHINGTON — Senate Democrats are expanding their leadership slots to include more progressive and moderate members, giving the varying factions within the party a seat at the table, following the disappointing results of the 2016 election.
The new leadership team includes Sens. Elizabeth Warren, Bernie Sanders and Tammy Baldwin — progressive stars within the party. It will also elevate Sen. Joe Manchin of West Virginia, a moderate who is up for re-election in 2018, along with several other moderate Democrats who represent red states.
"This team is ideologically and geographically diverse, it mixes the wisdom of experience with the vigor of youth, at least in Senate years, but from the top to bottom, each of these Senators has devoted their lives to fighting for the middle class and those struggling to get there," newly minted Senate Minority Leader Chuck Schumer said at a press conference after the election of the new leaders.
Illinois Sen. Dick Durbin will continue to serve as minority whip, while Washington Sen. Patty Murray was elevated to the role of assistant Democratic leader.
The decision to include more members with different views comes as the party works on crafting a clearer, more appealing message. In the aftermath of the 2016 losses, Democrats have been trying to figure out how to win back white, working class workers that voted for Donald Trump after voting for President Obama while also keeping their advantage with minorities.
"At a time when we lost the White House, and Republicans control the Senate, Republicans control the House, and I think what is not widely known is that now Republicans control two-thirds of the state legislatures ... I think it's time to re-think how we go forward," Sanders told reporters. "We just can't keep doing the same old, same old. The fundamental issue is that there is a lot of pain and suffering among the working people in this country ... This is a reality we have got to understand."
Sanders will also be serving as the top Democrat on the budget committee.
"The caucus is going to have to have the guts to stand up to the billionaire class and talk about the income inequality and have the courage to take on the insurance companies, Wall Street, the fossil fuel industry," Sanders said.
Sanders' official title is chair of outreach, while Warren will serve as vice chairs and Baldwin as secretary of the Democratic conference. But it's still unclear exactly what those roles will mean and how much of a say they will have. Manchin will serve as vice chair of the Democratic Policy and Communications Committee under Michigan Sen. Debbie Stabenow.
"This is an election that was split," Stabenow said, referring to the split between the popular and electoral college vote. "For us, we want to make sure we are unifying people and focus on the things that we know the majority of Americans care about and making it clear who's side we're on."
A key leadership role that remains unfilled is chairman of the Democratic Senatorial Campaign Committee, the campaign arm of Senate Democrats. Democrats will be defending a number of seats in GOP-leaning states in 2018, making it not as attractive of a leadership slot as it typically is.
When asked about this hole in the leadership, Schumer told reporters to "stay tuned."
In the meantime, Manchin will serve as a crucial voice for those vulnerable Senate Democrats facing tough re-election in two years.

"Bernie and I have — we can identify problems we agree on. Our solutions will be different, and that's healthy, but at least I have a voice now," Manchin told reporters.
Even as Democrats signal they will try to block Donald Trump's agenda depending on the issue, Manchin said he would be willing to work with the president-elect.
"If President-elect Trump comes with good policies, I'm going to be 1000% behind it...I'm going to find a pathway forward."
"I'll sit down with President-elect Trump, his staff, whoever he wants me to sit down with, to find out, where is that middle? How can we move forward as a country? We can't continue to be this divided."