Senate Democrats Threaten Brief Government Shutdown
A fight over extending benefits for miners is holding up funding for the government, which is scheduled to run out at midnight Friday.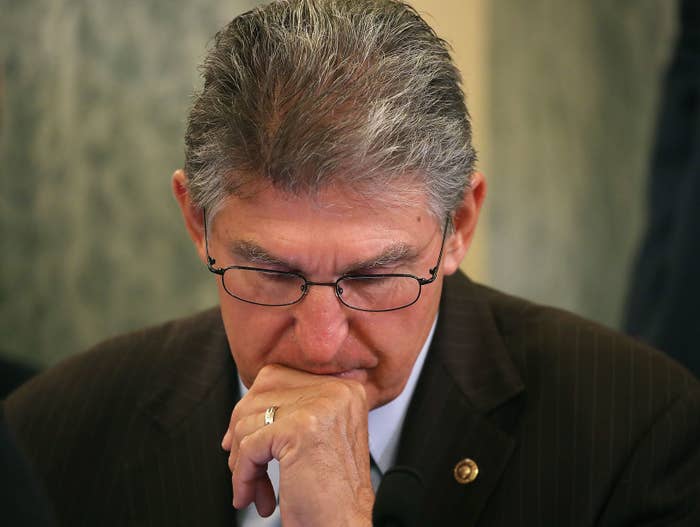 WASHINGTON — Senate Democrats are putting up a fight over an extension of health benefits for coal miners, threatening to prevent the Senate from passing a government funding bill in time to prevent a short government shutdown.
West Virginia Sen. Joe Manchin and Ohio Sen. Sherrod Brown are leading the charge to renegotiate an extension for expiring benefits for miners and their widows within the end-of-year funding bill. The House voted overwhelmingly, 326-96, to pass the spending legislation, which includes a four-month extension of the miners' benefits, hours before funding for the government runs out Friday at midnight and then left town.
But Manchin and Brown are pushing for a longer extension of the benefits — at least one year — and that fight, along with a separate argument over a water infrastructure bill, are causing delays that have made a government shutdown a real possibility. A shutdown, if it occurs, would likely be short-lived however, lasting through the weekend as members sort out their differences.
At a press conference outside the Capitol on Thursday evening, Manchin — who stood alongside coal miners and other Democratic senators in the cold — denied that their efforts could risk a government to shutdown. "This is not a shutdown issue. If you think we've been overworked this year, you're the only person in America who thinks that...We're willing to stay here and work. There's no reason to even speak about a shutdown. With the time that we have left, we can do extensions."
He later added: "The government is not going to shutdown. It doesn't need to shutdown. This is such a simple lift."
Manchin and Brown insist they have a "strong commitment" from the Democratic caucus, but it's unclear how many Democrats will actually vote against moving forward with the spending bill.
Senate Democrats discussed their strategy during a long caucus lunch Thursday afternoon. The language in the bill itself, which funds the government through April 28, cannot be changed unless members of the House return to Washington, D.C., and agree to the new version of the legislation.
"Those are our priorities," said Minority Whip Dick Durbin, mentioning both the miners' insurance and another provision in a water bill requiring American steel and iron products to be used to improve infrastructure. "We'll see how this unfolds."

"There's just a lot of concern, so I think that's where we are now is we have agreement that those things, somehow, we need to make improvements on, and how we get there is what's under discussion," said California Sen. Barbara Boxer.

Boxer, however, said they could "resolve these matters without such a situation," referring to a government shutdown.
Top Senate Republicans, who are growing increasingly annoyed by the delay, urged Democrats to move on. They've also pointed out that Senate Majority Leader Mitch McConnell was the one who initially pushed for an extension.
"It depends on the appetite of the people who want to slow it down," said South Dakota Sen. John Thune when asked how long the process could take. "The question is how much they want to drag it out, and right now it sounds like maybe a lot."
Senate Majority Whip John Cornyn said "there's no alternative" for the funding bill since the House is leaving town.
"I love Joe Manchin but I think this was a box canyon he was walking himself into and we tried to talk him out of it but he wouldn't be talked out of it."
"I think the ship has sailed," Cornyn said. "The House is leaving, so..."
Cornyn also said that even though Republicans are in control of the Senate, they wouldn't be blamed in case of shutdown. He said he believes that Brown and Manchin would earn the blame instead.
Manchin is also expected to meet with President-elect Donald Trump about a possible job in the new administration on Friday.
Asked if Republicans are negotiating with the two senators, Cornyn responded: "[You mean] how they can get themselves out of the bind they've created? No."