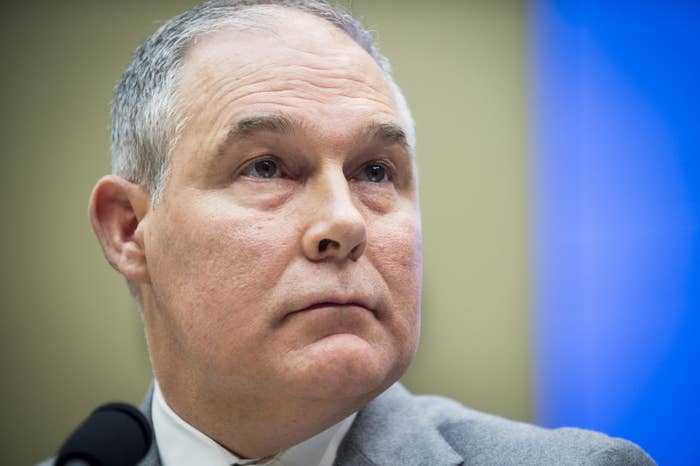 A conservative group that's defending Environmental Protection Agency administrator Scott Pruitt is behind a coordinated campaign on Twitter encouraging President Trump to keep Pruitt in the administration, even as top White House aides push for his ouster.
The group, Tea Party Patriots, has hundreds of Twitter accounts tweeting at the president: "Thank you for having confidence in @EPAScottPruitt. He's helping you #DrainTheSwamp!" The tweets are in response to the president telling reporters Thursday that he still had confidence in Pruitt.
The group blasted an email to its supporters late Thursday asking them to take action by clicking one of two buttons that would automatically send out pre-drafted tweets, one of which is a response to a separate tweet from this reporter.
"It's all nothing more than a smear campaign to get rid of one of the most effective Administrators in the Trump administration," the email reads, following days of stories about Pruitt's 2017 living arrangement, spending practices, and use of power.

Jenny Beth Martin, cofounder of the group, said the group has used Twitter for years, but given the president's frequent use of it, organizers have been using it a lot more to reach him directly. "It seems to be the place where a lot of organization is happening."
Martin said the group decided to take action on Pruitt because nothing that has been reported so far has been a "fireable offense."
"The fact is that any government official is going to get scrutinized," she said. "That's nothing new."
Martin is one of 22 conservative leaders to issue a letter Friday in support of Pruitt.
The letter lays out Pruitt's accomplishments in rolling back environmental regulations, saying he has been "instrumental" in an effort to reduce bureaucracy. Leaders from groups that are close to the administration, including Heritage Action for America, Family Research Council, and Judicial Crisis Network, also signed on to the letter.
The conservative activists appear to have serious White House opposition: White House chief of staff John Kelly is pushing for Pruitt to go, both the Wall Street Journal and New York Times report.