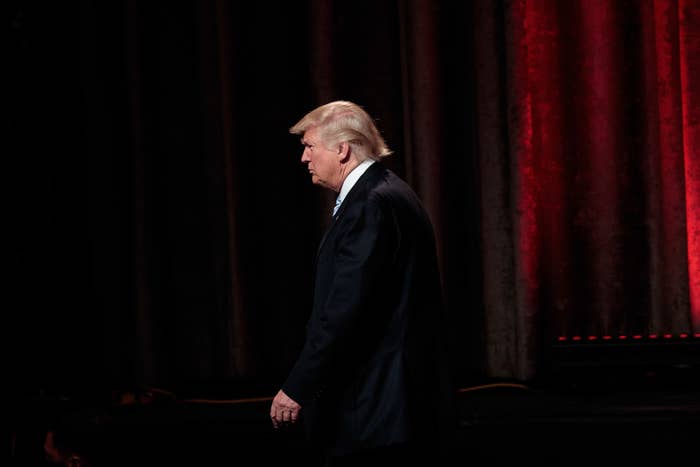 WASHINGTON — Republicans are making clear they don't agree with President-elect Donald Trump's tweets that falsely claim widespread voter fraud and encourage punishments for those who burn American flags.
They're not, however, calling on him to give up tweeting altogether — as unpresidential and factually incorrect as his tweets may be.
"That's up to him," said South Carolina Sen. Lindsey Graham. "He's over 21 years old."
But Graham said Trump needs to exercise more caution in what he says on Twitter.
"You're now the president-elect of the United States," he said. "If you really believe millions of people voted illegally, you should have some proof. When you say things, you're not just Donald Trump, you're Donald Trump, president-elect and soon-to-be president of the United States."
During the election, Trump regularly tweeted from his Android — often at odd hours — to defend himself, attack his critics, and rally his loyal supporters. He regularly stirred up controversies with his own incendiary statements, or by retweeting those of someone else. Many establishment Republicans hoped he would give up his late-night Twitter habits, and at one point his staff even tried to monitor his social media account, but it didn't take. Now, as president-elect, his tweeting remains a constant — and a regular source of angst for some Hill Republicans, who have soured on the prospect of answering for everything Trump says or tweets. "I do not comment on Mr. Trump's comments," Arizona Sen. John McCain told reporters multiple times on Tuesday.
In the three last days, Trump has suggested flag burners should lose their citizenship, attacked CNN and its reporters, and falsely claimed he would have won the popular vote if millions hadn't voted illegally.
Asked if Trump should still be tweeting, North Carolina Sen. Thom Tillis responded: "Of course! Why wouldn't he be?"
"It's up to him," shrugged Oklahoma Rep. Tom Cole. "He's the president-elect of the United States."
Arizona Sen. Jeff Flake responded with a laugh: "That's not for me to say."
And Alabama Sen. Richard Shelby went as far as to praise Trump's use of social media: "I'd leave it up to him. He's been pretty good at it."
Ohio Rep. Pat Tiberi professed ignorance of what Trump had been tweeting over the past couple of days, and said whether he did so or not was a decision for the Secret Service if it posed any security issue. But, he said, "it sure worked in the campaign."
Texas Rep. Blake Farenthold suggested Trump might want to consider having an editor for his tweets. "I write the tweets, I send them to my staff and they correct the typos. Or they say, 'Hey, Congressman, are you sure you really want to say that?'"
Without mentioning Trump by name, Senate Majority Leader Mitch McConnell sharply criticized Trump's tweets in a press conference Tuesday afternoon. He didn't call on the president-elect to give up tweeting.
"The Supreme Court has held that that activity is a protected First Amendment right, a form of unpleasant speech, and in this country we have a long tradition of respecting unpleasant speech," he said in response to Trump's tweet about flag burning. "I happen to support the Supreme Court's decision on that matter."
And the Kentucky Republican called Trump's claim of voter fraud "totally irrelevant," reminding voters that the election was over.
"I support the outcome of the election," House Majority Leader Kevin McCarthy, who hails from California, one of the states where Trump claimed there had been "millions" of fraudulent votes cast, told reporters Monday. "I think the election came out fine."