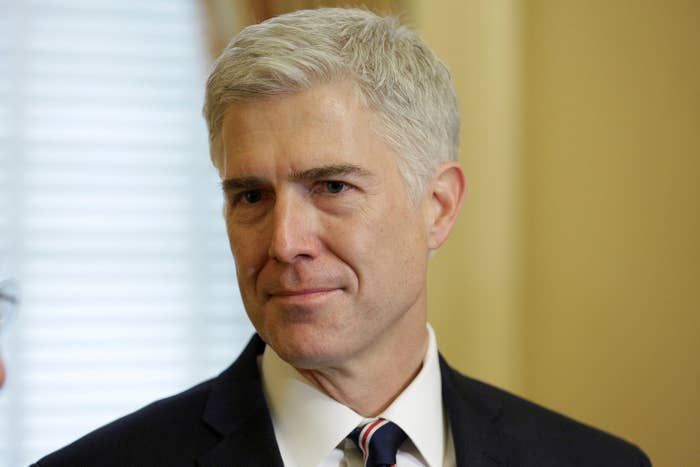 WASHINGTON — As they tried to win back the Senate majority last year, Democrats repeatedly lobbed attacks against vulnerable Republicans for failing to confirm former President Obama's Supreme Court nominee.

It didn't work: Republicans didn't feel the heat enough to offer the nominee, Merrick Garland, even a hearing — and voters didn't punish them for it at the ballot box.
But now, Senate Republicans are spending big on the same strategy Democrats used. And this time, they say, things will be different.
GOP groups pouring millions into ads on the issue believe they have a stronger argument this year. They are pressuring Democrats facing tough re-elections to give them the eight votes they need to confirm President Trump's nominee Neil Gorsuch by using their own words against them.
Senate Republicans' campaign arm, the National Republican Senatorial Committee, launched TV ads Tuesday targeting a handful of Democrats up for re-election in 2018 in states that Trump won. The ad, which is running against Democratic Sens. Debbie Stabenow in Michigan, Joe Donnelly in Indiana and Tammy Baldwin in Wisconsin, makes the point that Democrats are "playing politics" if they pushed for a swift confirmation for Garland last year but are putting up a fight against Gorsuch.
Democratic leaders in the Senate have expressed deep concerns about Gorsuch's nomination, and some senators have already come out and said they will be voting against him even before a meeting or hearing. But many of the Democrats facing reelection in red states next year have held their fire so far and indicated that they want to hear from Gorsuch first before they make a decision.
"Senate Democrats are playing partisan games without considering just how risky it is for their colleagues up in 2018," said Katie Martin, spokeswoman for the NRSC. "Voters made it clear to these red state Democrats that they wanted President Trump in office so he could decide the next Supreme Court Justice. If these Democrats...go against the will of their voters, they will pay the price in 2018."
Republicans from the states that were ground-zero for messaging on the Supreme Court last year were quick to point out the differences between the attacks they faced last year and the ones GOP outside groups are now launching.
Missouri Sen. Roy Blunt, who faced those attacks by Democrats last year on his way to re-election, said the effectiveness of the strategy depends "on the moment." And Pennsylvania GOP Sen. Pat Toomey, who also fought back against Democrats' Garland messaging, said he doesn't see those attacks as "very comparable" to what Republicans are doing now. "That was under entirely different circumstances, entirely different time."
A Senate Democratic strategist admitted to BuzzFeed News that the impact of their Garland ads last year was short-lived. "In March and April, yes, Republicans got their asses kicked on this," the strategist said. "But it didn't last."
"There's a crucial distinction here," said a Wisconsin GOP strategist, comparing the attacks Democrats ran against GOP Sen. Ron Johnson in the state in 2016 and what Republicans are now running against Baldwin. "Democrats in 2016 got caught up in process," focusing too much on Republicans denying Garland meetings and hearings instead of a broader argument.
"It got some legs as far as narrative, but we always knew voters don't vote on Supreme Court [nominations] based on whether you hold hearings. It's the values that they want in a Supreme Court nominee that they vote vote on," the strategist said.
In addition to the NRSC ads, the Judicial Crisis Network has launched a $10 million campaign — which includes ads and grassroots efforts — also targeting Democrats on the Supreme Court. "What we saw last year was that people wanted to have a voice in who would pick the next Supreme Court justice," said Carrie Severino, policy director for the group. "Now, we're in a different time with the beginning of the president's term. The radical left is ready to blow everything up, but those aren't going to be the voters we're targeting."
Ryan Williams, a GOP strategist who was involved in advising the New Hampshire Senate race last year, said the "eye for an eye approach" that some Democrats are pushing in promising to block Gorsuch's appointment won't resonate with next year's political landscape.
"It sounds petty," Williams said. "We found in New Hampshire last year that the Garland attacks had little to no impact because it was an issue that motivated the base of each party, but it did little to move the voters in the middle."
"It's going to be different this time around because they're running in fairly conservative states where any efforts to block will not go well with Republican-leaning voters."
As the barrage of attack ads begin, a senior Senate Democratic aide maintained Republicans' strategy would not be effective because senators will make their decision based on Gorsuch's record and his willingness to show his independence from the Trump administration — not on attack ads playing at home.
"Voting to confirm or reject a Supreme Court nominee is one of the most long-lasting and consequential decisions a senator makes in their career, which is why outside spending and ads has even less of an impact than it usually does," the aide said.
"The millions of dollars that right-wing groups spend won't move a single Democratic senator's vote."