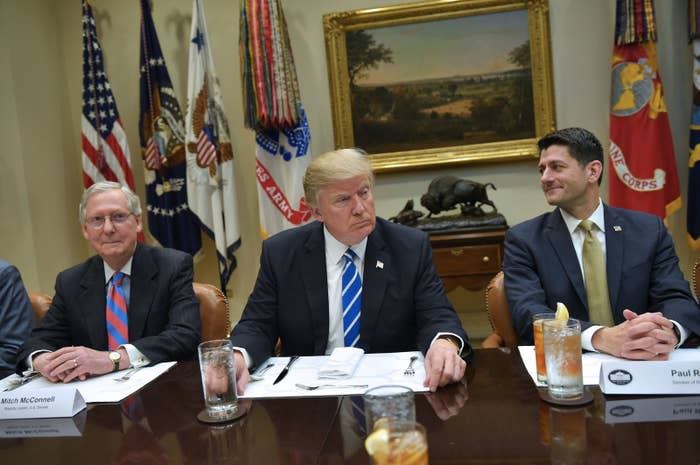 WASHINGTON — Republicans finally released a draft of their plan to repeal and replace the Affordable Care Act Monday evening, but divisions within their own party indicate the bill will face a rough path to actually becoming law.
Conservatives in the House and Senate remain skeptical that the bill makes sufficient changes to the Democratic health care bill they have spent six years campaigning against. Sen. Rand Paul damningly told reporters the draft "still looked a lot like Obamacare-lite," and Rep. Justin Amash branded it "Obamacare 2.0" in a tweet.
Four key Republicans in the Senate — Rob Portman of Ohio, Shelley Moore Capito of West Virginia, Cory Gardner of Colorado and Lisa Murkowski of Alaska — also expressed concerns regarding how Republicans would deal with Obamacare's Medicaid expansion in a letter to Senate Majority Leader Mitch McConnell about an hour before the new bill was released.
"We believe Medicaid needs to be reformed, but reform should not come at the cost of disruption in access to health care for our country's most vulnerable and sickest individuals," the senators wrote in their letter.
"Any changes made to how Medicaid is financed through the state and federal governments should be coupled with significant new flexibility so they can efficiently and effectively manage their Medicaid programs to best meet their own needs. We also believe a gradual transition is needed to ensure states have the time to successfully implement these new changes."
With a narrow GOP majority in the Senate, Republicans can afford to lose no more than two senators from their own party.
A White House official conceded that not everyone was going to be happy but overall the bill addressed a lot of concerns.
"I think we made a lot of progress. At the end of the day, we're not going to please everyone," the official said. "But we're hoping we can get them on board. You'll be seeing a lot of outreach to different groups in the next 48 hours"
Senate Republicans were still going through the final draft of the bill Monday evening, but Portman said soon after sending the letter that some of the modifications in the new House bill, including temporarily grandfathering in Medicaid expansion enrollees, were a "step in the right direction."
"You're going to have a real gap, so during this transition period, we're concerned about that House approach. There's also a strong interest in flexibility."
Capito, another senator who signed the letter, also said it was "moving in the right direction," but didn't want to come out in support of the new bill yet.
"I've got a situation where in Alaska we've got 27,000 people that are now eligible for coverage that didn't have it before that really don't have any place else to turn, so I'm trying to figure out a way that treats these people in a fair and humane manner," Murkowski said about her concerns regarding the Medicaid expansion piece. "We're using the expression 'not pulling the rug from under people,' but if we see it go by the wayside, that's what happens to these folks."
"How we kind of work this forward is what this whole jump ball is all about."
But any concessions on Medicaid could hurt the bill's chances of passage in the House, where members of the House Freedom Caucus made clear in the lead up to the release that they would have difficulty supporting a bill that included the Medicaid expansion.
Both the chairman of the Freedom Caucus, North Carolina Rep. Mark Meadows, and Rep. Mark Walker, the chairman of the Republican Study Committee, a larger group of conservative members, balked at the draft of the bill that leaked last week — particularly on the refundable tax credits, which both deemed akin to the creation of a new entitlement. Though the official version includes some definite differences from the leaked draft, it remains to be seen if those changes will go far enough to placate conservatives. Several had previously expressed concerns that the draft the GOP put forward would be, in the words of Freedom Caucus member Rep. Raul Labrador, "Obamacare-lite."
Rep. Kevin Brady, chairman of one of two committees that drafted the bill, pushed back on criticism that it was "Obamacare-lite," according to a transcript of an interview with Fox News. Instead, Brady branded the bill "Obamacare gone."
"It is Obamacare gone, because we repeal all those taxes, those mandates, those subsidies. There's nothing left there. And instead, we give them the same tax break that we give workers at big businesses," Brady said.
"And I think maybe most importantly, we're giving Americans the freedom...like they've never had before to buy health care that's right for them."
Pressed on the math Republicans needed to pass the bill, Senate Majority Whip John Cornyn, who said Republicans had struck "good middle ground" responded: "Here are the only numbers that count: 218 and 51," referring to the number of 'yes' votes needed in each chamber.
But do Republicans have 51 votes? "We will. We'll see what the House passes. They're going to move first."