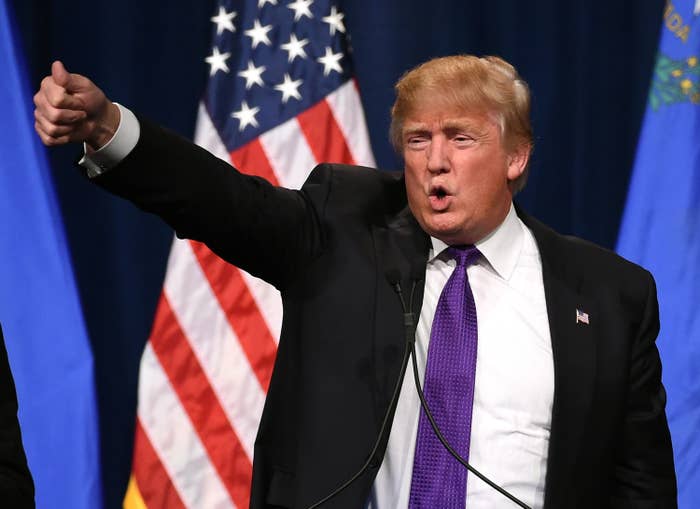 WASHINGTON — The day after Donald Trump's third decisive win in early state primaries, the prospect of the billionaire's inevitability as the Republican presidential nominee began to sink in on Capitol Hill.
Members of Congress have rushed to endorse Sen. Marco Rubio in recent days, but with several candidates still splitting the vote and Trump racking up delegates, Republican lawmakers now believe Trump is close to being unstoppable and are grappling with what that could mean for the party's down-ballot candidates.
"Unless the field consolidates, Trump is the inevitable nominee," Sen. Lindsey Graham told reporters on Wednesday. "There's a small chance you can stop him, but that would mean a massive consolidation of the field."

"I'm not going to tell anyone how to run their campaign. I didn't do a very good job with mine," he joked. "People have got to make these decisions."
The South Carolina Republican endorsed Jeb Bush, who dropped out after the primary in Graham's home state last week.
Although other establishment Republicans might still refuse to acknowledge it, Graham said if Trump does well on March 1, he will be unstoppable.
"If he can win two-thirds of the delegates, then you're not really going to be able to take it away from him at the convention," Graham said. "As much I dislike what Trump stands for and the way he's run his campaign, when he gets over 600 delegates, it wouldn't be fair to try to deny him the nomination."
Sen. Jeff Flake, one of the lawmakers who recently endorsed Rubio, also said it's now become much more difficult to stop Trump.
"Some of us were surprised by the margin last night," Flake said. "It's a concern. Very concerning."
"I'm confused about that appeal," he added.
Another top Republican, Sen. John Thune, said Nevada "certainly gives Trump some momentum." Asked if the billionaire could win the nomination in the coming weeks, he responded: "All bets are off this year."
Thune, however, said it won't necessarily be a doom-and-gloom scenario for down-ballot candidates if Trump is at the top of the ticket.
"My point is that if you look at the level of enthusiasm and the intensity that we've seen in the Republican primaries relative to the enthusiasm level for the Democratic candidates, I see that as a good thing," he said. "We got people turning out at record levels. Now whether that translates into a general election climate, that remains to be seen."
Rep. Greg Walden, chairman of the campaign arm for House Republicans, previewed how Republicans might handle a potential Trump nomination — by quickly pivoting to Clinton.
"Hillary's got her own set of problems with half of Democratic voters thinking they should be socialists and vote against her…only older, rich folks voted for her in New Hampshire, and the FBI is continuing to expand their review of the email situation," Walden told reporters. "If I were a Democrat, I'd be pretty concerned that my nominee would be in trouble."
"Both parties are going to have issues with their nominee — whoever the nominee is," he repeatedly stressed.
Graham, however, didn't sugar coat Trump's affect on the party. "We won't lose. We'll get slaughtered."