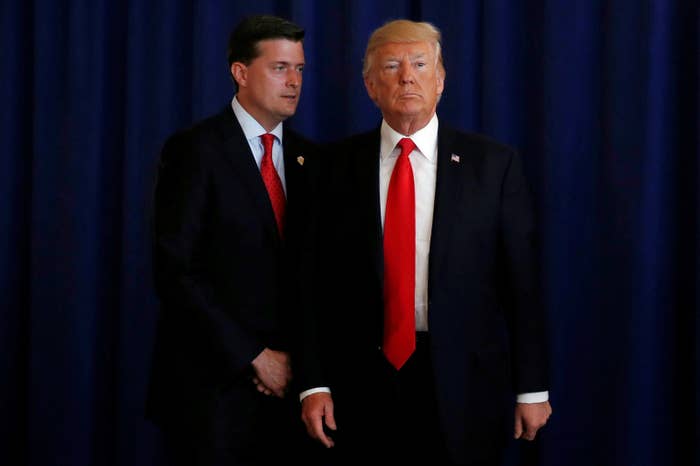 The White House's handling of the abuse allegations against now-former top aide Rob Porter has created problems that Republicans fear could reach far beyond the West Wing.
The stories of physical, verbal, and emotional abuse from Porter's two ex-wives — and the glowing statements about Porter that President Donald Trump's aides released in the aftermath of them first being reported — are just the latest in a series of boggled responses from the White House that Republicans think could have long-term consequences for the party. If 2018 candidates aren't able to separate themselves from the leader of the party — according to strategists, lawmakers, and those close to the White House — a key demographic could put GOP majorities in Congress in jeopardy: suburban women.
Trump himself deepened the problem Friday, days after photos surfaced of Porter's first wife with a black eye she says she got after being punched by Porter.
"It's a tough time for him," Trump said of Porter in the Oval Office. "He did a very good job when he was in the White House. And we hope he has a wonderful career and he will have a great career ahead of him." The president later added, "we absolutely wish him well."
At no point did the president mention the allegations, or the women who say they were abused by Porter. Instead, as he has in other instances when women have made allegations of abuse, he adamantly stuck to saying the men proclaiming innocence should be heard.
When first confronted with the allegations against Porter — who, as staff secretary, was close to the president — the White House went into crisis mode to figure out how to respond and offered rosy statements from chief of staff John Kelly and others, praising Porter and insisting that the administration still had confidence in him. "Those of us who have the privilege of knowing him are better people because of it," White House press secretary Sarah Huckabee Sanders told the Daily Mail.
The White House hardly changed its response as Porter's former wives detailed what they say happened during their marriages. In a second statement Wednesday night, Kelly said he was "shocked," but added, "I stand by my previous comments of the Rob Porter that I have come to know since becoming Chief of Staff, and believe every individual deserves the right to defend their reputation."
By Thursday, detailed reports of Porter's abuse were everywhere, and the White House continued to stress that Porter had denied the allegations and the positive statements they released were just a reflection of "the Rob Porter we have come to know," as deputy White House press secretary Raj Shah said. Shah also acknowledged during his press briefing — nearly two days after the reports of abuse were first published — that the allegations were "serious and disturbing" and that the White House "could have done better in dealing with this situation."
Earlier that morning, White House staff was still in a state of shock, with many saddened by Porter's sudden departure. Three female staffers who worked with Porter were seen crying in the West Wing, a Republican with ties to the White House told BuzzFeed News. The Republican has been in communication with several White House staffers since the stories about Porter first broke and described the handling as "completely and utterly insane" from a political and public relations perspective.
"It's a sad state of affairs when people are crying in the White House for the abuser and not the abused," the source said.
West Virginia GOP Sen. Shelley Moore Capito — one of five Republican women in the upper chamber — called the allegations against Porter and the aftermath "deeply disappointing."
"I don't know how something like that could be allowed to go on. Does it help? It certainly doesn't help in terms of women," she told reporters Thursday.
Capito, however, added that misconduct-related issues are not limited to one party. "I think it's a national issue. We've seen in the MeToo movement that there's a lot of rugs being pulled back."
The alleged dark side of Porter's personal life is not the first time those close to Trump have been faced with accusations of abuse or misconduct.
The president himself has had several women accuse him of misconduct. Last October, the White House said its official position is that those women are lying. During Trump's White House run, his campaign manager, Corey Lewandowski, was charged with assault after Michelle Fields, a reporter for Breitbart at the time, said he aggressively grabbed her arm. Trump's former strategist Steve Bannon was also charged in 1996 with misdemeanor domestic violence and battery charges. Both charges were ultimately dropped.
In December, the White House also stood by Alabama Senate candidate Roy Moore after several women accused the Republican of sexual misconduct when he was in his thirties and they were teenagers. The president maintained his support for Moore and raised doubts about the women who had come forward, even after Senate Republicans and the National Republican Senatorial Committee withdrew their support. "He totally denies it," Trump said of Moore.
Trump's defense of Moore, and pleas to take him at his word, was similar to defenses he gave to other high-profile men accused of abusing women. After former Fox News executive Roger Ailes was accused of sexual harassment, Trump called Ailes "a very good person," and suggested Ailes had helped the women "complaining" about his behavior in their careers. After former Fox News host Bill O'Reilly was reported to have paid millions to settle sexual harassment claims, Trump said he thought O'Reilly was "a good person" and said "he shouldn't have settled."
Trump has also been quick to attack Democrats, like former Sen. Al Franken, on issues of misconduct, while staying quiet when Republicans face those issues. He hasn't said anything about the allegations against casino mogul Steve Wynn, who recently stepped down as finance chair of the Republican National Committee, and the RNC has yet to return the hundreds of thousands of dollars he contributed to the committee.
Rep. Ileana Ros-Lehtinen, a Florida Republican who decided against running for reelection, criticized Trump over the Porter situation, but said it's up to individual lawmakers to make up for any of effects of the White House's responses. "The titular head of the Republican party is turning off women voters," she told BuzzFeed News. "President Trump is not attracting young people, minorities, or women. But the people who will be on the ballot this coming election will not be the president, but will be individual candidates, and they can make up the difference from that divisive language."
Another Republican strategist close to the White House argued that if the party is able to stay focused on and effectively sell tax reform and other policy issues, then voters — including women — will tune the rest out. But the strategist acknowledged that the frequency of these problematic responses from the White House could eventually take a toll and make it harder and harder to avoid.
There's some evidence that women who previously supported Trump are taking notice. The president won white women over Democrat Hillary Clinton by nine points, according to exit polls. A recent ABC–Washington Post poll at the end of last month found that, although Trump's overall approval is at 47%, only 37% of white women now approve of his job performance. It also found that among white women with college degrees, his approval, which had previously been as high as 40%, has now dwindled to 27%.
The administration has begun taking some steps to improve its image with women, with control of the House of Representatives in play later this year and several vulnerable GOP incumbents running in districts won by Clinton. Last month, the White House launched "Conversations With the Women of America," which was described by a spokesperson as a three-part panel featuring American women from various backgrounds and experiences talking to high-level women within the Trump administration "about what has been accomplished to date to advance women at home, and in the workplace."
The president made a surprise appearance at one of those events last month. "I wasn't very far away," Trump said when he showed up. "I said I'd love to do this, this is fun."
Trump talked about the economy and immigration during the event, but also used it as an opportunity to take another shot at his woman opponent in the 2016 presidential race. "How did I win Arkansas by so much when she came from Arkansas?" he said.
Although some are sounding the alarm, former GOP Rep. Mary Bono said the political effect of the White House's response to allegations of misconduct and abuse remain unclear because there is too much going on for voters to keep track of.
"As we've seen, elections are never about a single issue, a single incident or a single person," she said. "They are complex."
"As much as we may cringe or rage about stories affecting us all or just a political party, there are many dynamics at play," Bono said. "And now, add in the fact that the recklessness from some in the media has created a din — almost a mind numbing white noise — it has become difficult for many Americans to separate fact from fiction. They simply show up at the ballot box to vote for whoever they believe to be the lesser of two evils."
Asked about the handling of the Porter allegations and other crises, a major woman GOP donor responded, "Of course, that's frustrating."
But she said she's figured out a way to personally deal with it and hopes that other women, ahead of the 2018 midterms, respond in the same way and stay focused on policy.
"I just kind of look at it," she said. "And I just shrug it off."
Lissandra Villa and Paul McLeod contributed additional reporting to this story.