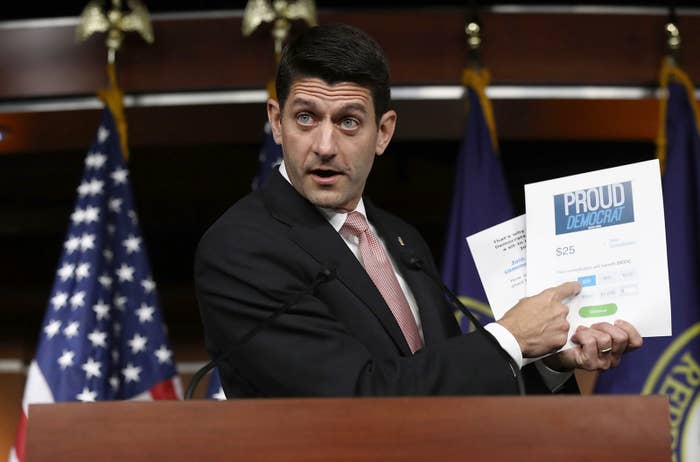 WASHINGTON — House Republicans are leaving town without handing out any sanctions against Democrats for breaking House rules during their sit-in over gun control, despite comments from GOP leadership earlier this month that they would be taking action "in the very near future."
"Not enough floor time available given how quickly the votes went," said AshLee Strong, spokeswoman for the speaker's office, in an email.
Asked if the sanctions would happen when the House returns after the election, Strong directed scheduling questions to Majority Leader Kevin McCarthy's office.
A spokesman for McCarthy said Republicans are "still working through the options we have before us."
"Most notably, one option requires us to institute changes to House Rules – which we typically begin work on during our post-election session," the spokesman said.
Democrats see the delay as a sign that "cooler heads prevailed," said Drew Hammill, spokesman for Minority Leader Nancy Pelosi.
"We, of course, welcomed the opportunity for the House GOP to remind the American public of their continuing inaction in the face of episode after episode of senseless gun violence," he said.
Democrats in recent weeks tried to paint the pending punishment as less about enforcing the rules and more about personally attacking Rep. John Lewis, a leader in the civil rights movement.
In June, as the House was preparing to leave for the July 4th recess without addressing gun violence, Democrats launched a floor protest that angered GOP leaders, who dismissed the sit-in as little more than a fundraising stunt.

Earlier this month, both McCarthy and Speaker Paul Ryan spoke of the importance of taking action against Democrats for the sit-in and their rank and file members supported them.

"There are numerous rules that were broken. That's not the way a democracy works and I think you will see appropriate measure taken in the very near future," McCarthy told reporters early in September. "Are you going to let the House stand with that behavior going forward? I think it would create real damage to the reputation of the House in the long term."
And Ryan had said the sanctions were necessary "so that democracy can work… so that Republicans and Democrats can actually talk to one another and be reasonable with one another."