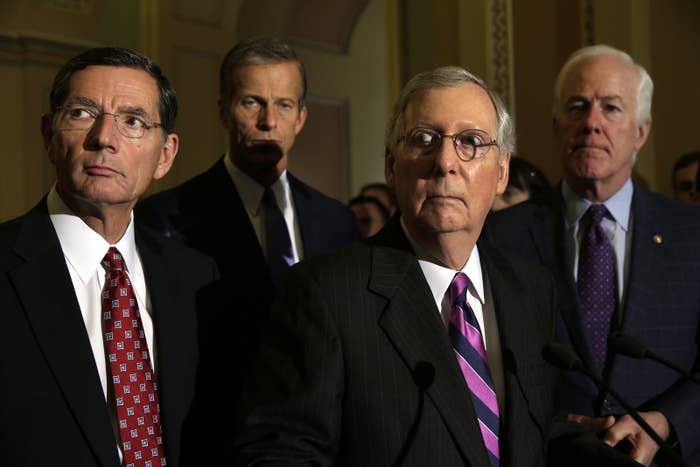 Republicans will be holding their majority in the Senate, denying Democrats the four seats they needed for a takeover — a surprising outcome following months and millions of dollars Democrats spent pounding GOP incumbents for their ties to Donald Trump.
With the Trump's campaign performing much better than expected, the Democrats strategy of tying GOP incumbents to Trump didn't help the party's challengers. And even races that the Democrats had been counting on — like Wisconsin, they couldn't close on Tuesday night.
Polls showed several of these races to be pure toss-ups heading into the election, but Republican incumbents were able to survive the lack of organization from the top of the ticket and Trump's controversial remarks by focusing on hyper-local issues.
The Senate majority is a big win for Republicans after a chaotic year in which the map clearly favored Democrats, who defended only one tough seat this year -- retiring Sen. Harry Reid's seat in Nevada. Democrats were able to hold on to that seat with former Nevada Attorney General Catherine Cortez Masto defeating Rep Joe Heck.
Outside GOP groups also played a major rule in keeping the Senate majority for Republicans with a late infusion of tens of millions into top races. In the final days, Republican incumbents tried to tie Democratic challengers to Hillary Clinton, following an FBI letter days before the election to Congress indicating a continuation of the investigation into Clinton's emails. Two days before the election however, FBI Director James Comey said after a review, there was nothing to change their July recommendation of no charges for Clinton.
Vulnerable Republicans — including North Carolina Sen. Richard Burr, Florida Sen. Marco Rubio, Ohio Sen. Rob Portman, Wisconsin Sen. Ron Johnson, and Pennsylvania Sen. Pat Toomey — were able to hold their seats. So far, only Illinois Sen. Mark Kirk, lost his race. The Senate race in New Hampshire remains too close to call.
Majority Leader Mitch McConnell is expected to hold on to his leadership position. And Looking ahead to 2018, Republicans will have a good opportunity to expand their majority with a map that favors them. Democrats will be defended a handful of seats in GOP-friendly states.