Republicans Faced Off In Their Third Presidential Debate
BuzzFeed News' McKay Coppins and Rosie Gray reported from the debate in Boulder, Colorado.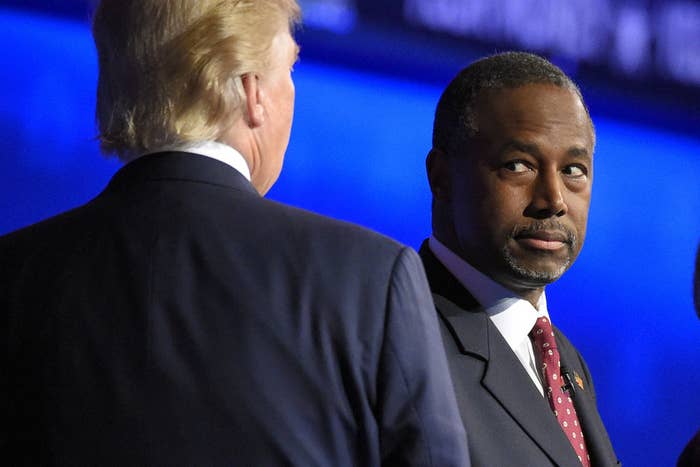 Here's a quick rundown:
* The third Republican Presidential debate aired on CNBC and lasted about two hours.
* It featured businessman Donald Trump, former surgeon Ben Carson, former HP CEO Carly Fiorina, Sen. Marco Rubio, Sen. Ted Cruz, former Florida Gov. Jeb Bush, Sen. Rand Paul, former Arkansas Gov. Mike Huckabee, New Jersey Gov. Chris Christie, and Ohio Gov. John Kasich.
* Trump and Carson, the two frontrunners, were mostly treated like normal candidates and didn't dominate the debate. Trump has previously garnered much of the attention from moderators.
* Rubio and Bush, both from Florida, engaged in a sharp exchange early about Rubio's recent voting record while he campaigns.
* The questions largely focused on economic policy and some perceived personal financial failures of the candidates.
* Democratic frontrunner Hillary Clinton was criticized through the night, mostly by Christie and Rubio.
The top contenders for the Republican nomination for president faced off in their third debate Wednesday evening, the first of the campaign season where Ben Carson was largely leading in the polls.
One of the most anticipated exchanges came early. Sen. Marco Rubio was asked about his recent voting record in the Senate — the Florida Sun-Sentinel published an editorial calling on the Senator to resign because he is missing votes while campaigning — and Jeb Bush used the question to attack his one-time protégé.
"I read that editorial today with great amusement," said Rubio, pointing to former Sens. John Kerry and Barack Obama who ran for president without resigning. "It's evidence of the great bias that exists in American media today."
Bush then attacked Rubio for missing votes, referring to him as "Marco," and calling the workload in the Senate "a French work week."
Rubio responded, "someone's convinced you that attacking me is going to help you."
Bush and Rubio, both from Florida, saw tensions grow in past weeks as they polled closely and are both considered institutional candidates.
The night's biggest applause lines included:
— Trump bragging about his permit to carry a concealed weapon in New York City after being asked about the recent mass shooting at an Oregon community college. He argued that gun-free zones are like "target practice" and a "feeding frenzy" for sick and mentally ill people.
"I have a permit, which his very unusual in New York — a permit to carry," he said during the CNBC debate. "And I do carry on occasion. Sometimes, a lot. But I like to be unpredictable."
— Bush, in response to a question about whether the government should regulate fantasy football sites such as DraftKings and FanDuel, comparing the online sport to "day trading with no regulation at all." He took the time to note that his own weekly fantasy team, which includes the Patriots' Rob Gronkowski and the Dolphins' Ryan Tannehill, is currently 7-0.
Christie, though, pounced on the moderators for asking the question in the first place. "We're dealing with ISIS and Al Qaeda, and we're talking about fantasy football?" He shouted incredulously. "Enough on fantasy football. Let people play! Who cares?"
— Cruz lashing out at the media and CNBC moderators. "The questions that have been asked so far in this debate illustrate why the American people don't trust the media," he said.
"This is not a cage match. And, you look at the questions — 'Donald Trump, are you a comic-book villain?', 'Ben Carson, can you do math?', 'John Kasich, will you insult two people over here?', 'Marco Rubio, why don't you resign?', 'Jeb Bush, why have your numbers fallen?'"
Many of the questions were focused on tax policy, the economy, and banking regulations. Several questions, though, honed in on perceived financial failures of each candidate.
The first question of the night was about each candidate's greatest weakness. Bush had perhaps the most honest answer, politically speaking, by saying he "can't fake anger." Trump said it was "hard to forgive people that deceive me." And Cruz said his biggest weakness is that he's a "fighter."
Fiorina turned a challenging question about being fired from her position as CEO of Hewlett-Packard and its falling stock price during her tenure into a comparison between leading a large company and leading the nation. "The truth is, I had to make some tough calls in some tough times," Fiorina said, adding that she saved thousands of jobs while keeping the company afloat.
She went on to say that the man who dismissed her, Thomas Perkins, has since admitted he was wrong and endorsed her presidential campaign. When debate moderator Becky Quick asked if she wanted to be endorsed by a man who has publicly said he believes millionaires should get more votes than poor people, Fiorina answered that statements like those were a large part of the disagreements that led to her being fired.
And Rubio, who has struggled with his personal finances, dismissed questions about his maturity and ability to handle the nation's $17 trillion economy by accusing CNBC moderators of listing "a litany of discredited attacks from Democrats and my opponents."
When he was pressed again, he responded with a line he's used in the past: "I'm not worried about my finances. I'm worried about the finances of everyday Americans…That's what this debate needs to be about."
Carson's long involvement with a controversial nutritional supplement company surfaced at Wednesday's debate, with the presidential candidate denying he had "a relationship" with the firm, Mannatech.
Mannatech has been involved in lawsuits over its health claims for its dietary supplements since 2004, including a 2007 lawsuit in Texas for claims its products helped treat illnesses, notably cancer. The firm did not admit wrongdoing, but settled the case for $7 million in penalties and restitution. Some scientific studies have concluded that the human body cannot digest the "glyconutrients" in the firm's products.
Carson has spoken at Mannatech events since 2004, in 2011 and 2013, and spoke about the benefits of glyconutrients on a PBS special last year, according to National Review Online. Carson said at the debate that he "had used the product" but did not endorse Mannatech.