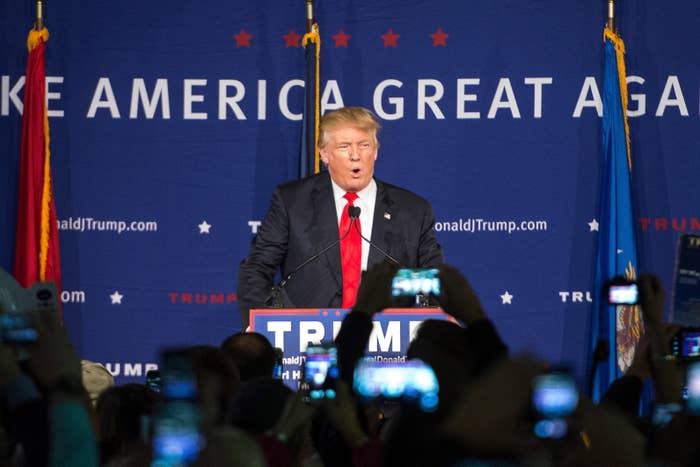 WASHINGTON — Republicans on Capitol Hill offered their strongest condemnation yet of Donald Trump on Tuesday, but one question — would they support Trump if he's the GOP presidential nominee? — continues to dog the party and its most vulnerable representatives.
From Speaker Paul Ryan to Senate Majority Leader Mitch McConnell, Republicans had harsh words Tuesday for Trump's proposal to ban Muslims from entering the country. But Republicans would not, largely, say they'd refuse to support Trump if he were the Republican nominee — something Democrats have already pointed to in an attempt to keep Trump tied to the other Republicans.
Democratic Party committees sent several email blasts pointing to Republicans' responses to the question and made it clear it's going to become part of their line of attack in every race — presidential, congressional, and gubernatorial.

"We are definitely planning on holding the rest of the presidential field's feet to the fire on this," said Justin Barasky, spokesperson for the pro-Clinton super PAC Priorities USA.
Even White House Press Secretary Josh Earnest went after Ryan and others for ruling out supporting Trump if he were the nominee. "They should say right now that they would not support Donald Trump for president," he said during Tuesday's briefing. "What he said is disqualifying and any Republican who's too fearful of the Republican base to admit it has no business serving as president either. OK?"
So far, of the Republican presidential candidates, Sen. Ted Cruz has reiterated that he would support Trump if he's the nominee. "I will absolutely support the Republican nominee, but I hope and intend for that nominee to be me."
Others have been more general in their answers, or largely sidestepped the question. Some Republican leaders are concerned that critical comments from within the party might encourage Trump to mount a third-party bid, and GOP presidential candidates have already signed a unity pledge promising to back the eventual nominee.
And the Democratic National Committee labeled Republicans' response to Trump as "cowardly." In a statement, the DNC criticized RNC Chairman Reince Priebus for his response to Trump. "I don't agree," Priebus said of Trump's proposal on Tuesday. "We need to aggressively take on radical Islamic terrorism but not at the expense of our American values. ... That's as far as I'm going to go."

Democratic opposition research group American Bridge kept a close eye Tuesday on how Republicans answered that question and will continue to do so to add to the research connecting vulnerable Republicans to Trump as much as possible, said Ben Ray, spokesperson for the group.
"It's part of our larger review that we've got of video files, statements, and contributions to see how Republicans are tied to Donald Trump," Ray said.
When asked about backing Trump, Republican senators facing tough re-election battles have maintained that they would support him if he became the nominee, but it's getting harder for some to stick to that line.
"We'll see what happens with the nomination; it's a long ways away," said Ohio GOP Sen. Rob Portman, who is facing former Ohio Democratic Gov. Ted Strickland. Portman's state will also be hosting the party's convention next year.
When pressed further, Portman said: "I've said the same thing from the start. I intend to support the Republican nominee, and I think my further comment was unless something crazy happens, and that continues to be my position. Look, guys, it's so early."
Again asked if he would consider ruling out supporting Trump, he responded, "I don't expect him to be the nominee."
Arizona Republican Sen. John McCain, who is also facing re-election in 2016, once again told reporters he would support Trump if he's the nominee. McCain initially joked on Tuesday when a reporter asked about Earnest's comments that Republicans should do more to denounce Trump: "I very rarely listen to the dictates of the White House."