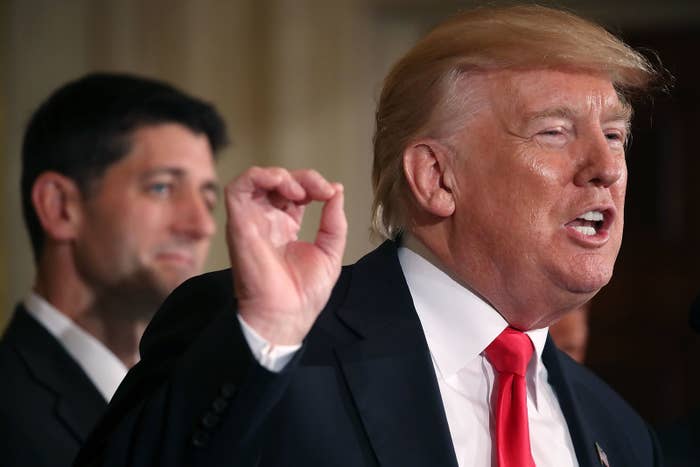 Last week was particularly humiliating for Republicans.
After eight years of promising to repeal Obamacare, Republicans failed to reach agreement amongst themselves to do so, and a last ditch effort went down in flames. All the while, everyone was talking about a profanity-laced tirade the new White House communications director had unleashed on a reporter. The president, meanwhile, spent much of the week bashing his attorney general, before announcing the resignation of his chief of staff on Twitter.
But it's a new week, and with a new legislative topic and new tactics — and a new chief of staff and a newly empty communications post at the White House — Republicans are hoping they have the necessary elements for a reset to prove the Republican Party — in control of the House, Senate, and White House — is actually capable of governing.
The mood, at least right now, is one of cautious optimism.
The White House is now laying out what legislative director Marc Short described this week as an "aggressive schedule" for the fall to change course for the Trump administration. Even with deadlines approaching on the budget and debt ceiling, the administration is making tax reform its chief priority — the biggest legislative test for the White House and one that outside groups are gearing up to spend millions of dollars to push through.
White House officials have been laying the groundwork for tax reform behind-the scenes since the spring. Learning from their struggles with health care, the administration started reaching out to conservative outside groups and experts early to make sure it could secure their support.
Short, along with Treasury Secretary Steve Mnuchin, spoke at a an event organized by the political network affiliated with billionaires Charles and David Koch on Monday about the need for reform and the support from conservative groups on the issue. It was a stark contrast to an event the same group held in March when the House first released its plan to repeal and replace Obamacare: overlooking the Capitol, the group and its activists then bashed the effort and encouraged lawmakers to kill the bill.
"I think there are a lot of lessons learned from health care," Short told reporters. "Making sure that we're doing the proper outreach to coalition partners I think is very important...Looking back, when the House health care plan was rolled out, there was still a lot of division about the repeal and replace plan."
Conservative activists raised alarm bells at various times over the course of the health care process, objecting to some versions put forward by the House and later the Senate as not doing enough to repeal the Affordable Care Act.
But on tax reform, besides outside groups, the administration and House and Senate leadership have come up with set of broad principles they want to convert into legislation — another difference from how they handled Obamacare repeal.
"There was never this level of unanimity," said Tim Phillips, president of the Koch-backed group Americans for Prosperity, which has a multi-million dollar campaign underway to push tax reform.
The Koch network did not support Trump during last year's election and the two sides have exchanged tough words, but the network is on board with the administration's vision for tax reform and is using its activists to make phone calls and knock on doors to advocate for it.
Republican senators said it would also be important for them to iron out their own differences at the start of the tax reform effort, to avoid a debacle like last week's inability to get Republican senators on the same page for a health care bill. Sen. Bob Corker of Tennessee said that point was discussed during the Republican senators' lunch Tuesday.
"We've got a lot of things to agree on on the front end so we don't have some of the same mistakes that we had on health care," he told reporters after.
Despite last week's display of dysfunction, Republicans say they remain confident that tax reform could be accomplished on the White House's ambitious timeline, in part because of the work that's already been done.
"The ground work's already been laid between House, White House and Senate to start laying some basic parameters down of how do you actually do this, so it's not that we're starting from ground zero, it's already begun," said Oklahoma Sen. James Lankford.
White House officials believe Trump will play a key role in the tax push. They said this week that the president will likely travel to promote the legislation Republicans come up with in states where the administration needs its base to put pressure on members of Congress.
That alone would mark a tactical change from the health care fight. The president was criticized for being too hands off on Obamacare repeal, both in persuading members of Congress to support the final effort and in crafting what that final effort looked like.
"The president never really laid out the core principles," Pennsylvania Rep. Charlie Dent told reporters last Friday, as House members went home for recess still reeling from the Senate's failure to pass a health care bill.
Short sketched a different scenario on tax reform.
"The plan is for the president to be traveling to those upper midwest states," Short told reporters. "I don't necessarily accept the premise about his efforts on the health care bill. I think he was very engaged, but I do think that from a travel perspective, you will see him get out in the states where we need the votes."
Asked by conservative activists if Trump "was ready for the big fight," Mnuchin responded: "Of course he's ready! This is the greatest negotiator. He's going to be on the road helping us sell it."
Trump's messaging so far has been a mixed bag for Hill Republicans, with many expressing growing frustration in recent weeks with the president's penchant for veering off topic. Trump's focus on Attorney General Jeff Sessions during last week's health care debate, and his strong-arm attempt to persuade Alaska Sen. Lisa Murkowski to back the bill, appeared to backfire.
Even on Monday, just as Short and Mnuchin wrapped up talking to reporters about tax reform, news broke about recently hired White House communications director Anthony Scaramucci getting ousted from his job, distracting once again from the tax reform messaging.
The White House, Oklahoma Rep. Tom Cole told BuzzFeed News in July, has "accomplished a lot more than I think they get credit for, but you can't complain if you say, 'why aren't you covering what we're doing on Dodd Frank or what we're doing on taxes or what we do on regulation,' when you're talking about other things yourself all the time."
Still, some conservatives said they would welcome the president's help on tax reform.
"I think [Trump's] excited about [tax reform]. I think this president has real potential," said South Dakota Sen. Mike Rounds. "I think in terms of laying out a vision and talking about the big picture on this, I think he can really add value to our discussions."
Top activists are optimistic about what will come next based on the conversations they have been having with the White House and GOP leadership on the hill. There seems to be a "coherent vision," unlike with Obamacare repeal, Adam Brandon of FreedomWorks said. "We're talking policy right now, but with an eye to politics...If this doesn't get through, Republicans are going to face a historic wipeout," he said.
"This is exactly what the White House needs — is to not be talking about Scaramcuci, but be talking about this and what happens when wages and the economy grows," Brandon said.
On the House side, where Republicans up for reelection in 2018 will potentially bear the brunt of the Senate's failure to pass health care, tax reform is something they are counting on to help them with their base.
"I think once we've passed tax reform and infrastructure, as long as we get something done on the other big things, I feel comfortable that it'll work out," Rep. Steve Stivers, who chairs the House Republican campaign arm, told BuzzFeed News last week as it began to look like the Senate might not be able to pass a health care bill.
Senators say they remain optimistic that despite their health care failure, they can push through a major tax bill. "I came to Congress to try to accomplish things, and I'm hopeful that we can get them done," said Kansas Sen. Jerry Moran. But his tone of voice belied his stated can-do attitude.
"Everything's a challenge," he said.