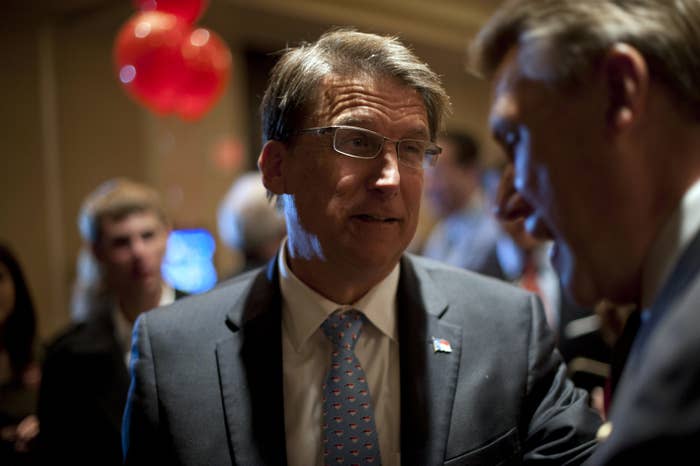 WASHINGTON — National Republicans aren't in panic mode over the re-election prospects of North Carolina's Gov. Pat McCrory's amid backlash over the state's broad new anti-LGBT law.
But those Republicans operatives are telling governors and candidates to heed North Carolina as a cautionary tale.
Republicans closely involved in gubernatorial races are advising governors — who might be pushed to consider similar bills or asked about the law by reporters — to keep precise wording and perception in mind. They believe the broadly written bill in North Carolina created a PR nightmare for the governor, one that's made it more difficult for him to explain his position to voters.
"If there's an appetite in the state, something we've been advising is that perception needs to be on par with the wording," said one such Republican granted anonymity to speak candidly about strategy in dealing with transgender-bathroom bills.
The law in North Carolina not only requires people to use the bathroom that corresponds with the gender on their birth certificate, but it also mandates that state law supersedes all local non-discrimination ordinances.
Governors, especially those who have difficult re-election battles ahead — whether it's this cycle or next — are being advised to distance themselves from the issue entirely.
Already, Republicans across the country are taking a more cautious approach in the aftermath of the backlash in North Carolina.
Tennessee Gov. Bill Haslam expressed concern over a transgender-bathroom bill introduced in the legislature; South Carolina Gov. Nikki Haley also quickly dismissed the need for such a bill; and New Mexico Gov. Susana Martinez, who serves as chairwoman of the Republican Governors Association, canceled an appearance at North Carolina's Republican Party convention, citing a scheduling conflict. (Haslam, however, did sign a bill into law allowing counselors and therapists to refuse clients based on their beliefs. And Mississippi Gov. Phil Bryant signed a broad religious liberty bill into law that specifically included LGBT exceptions.)
On Wednesday, the state legislature in Missouri also decided not to bring a "religious freedom" bill up for a vote after Democrats in the state pounced on the issue.
The Republican Governors Association declined to comment.
Unlike other governors who have been able to dodge the issue, McCrory's allies believe he had no choice but to act because conservatives in the state legislature were determined to stop a new ordinance in Charlotte that would have allowed transgender people to use the bathroom based on their gender identity. They didn't, however, foresee the extent of the backlash it would create.
Nearly 100 major corporations signed a letter to McCrory after he signed the bill into law, asking him to repeal it. Bruce Springsteen and Ringo Starr also canceled concerts in the state. NBA commissioner Adam Silver warned the league might have to move its 2017 All-Star Game that's supposed to take place in Charlotte, and on Thursday, the NCAA board of governors announced that cities bidding for league events like the Final Four cannot have laws in place that allow for discrimination.
Protesters demanding changes to the law have been rallying outside the state legislature this week, as a string of recent polls showed a majority of those surveyed disapprove of the bill.
And Democratic groups are already airing ads against McCrory, who is facing a tough re-election this year, focused on how the the legislation has cost the state hundreds of jobs and hurt the economy.
The Democratic Governors Association's spot, which is backed by six-figures, features news anchors talking about the new law costing the state $1 billion in lost revenue and PayPal declining to invest in the state as a result of the law. (The RGA has responded with its own ad attacking Democrat Roy Cooper for being a career politician who likes to increase taxes.)
The DGA is using a similar attack line against Indiana Gov. Mike Pence, who signed a controversial religious freedom law last year (that was later amended), making it clear that they will target any governor or candidate who makes a decision similar to McCrory and Pence and make the issue central to the race.
"You can make a strong argument that they both have damaged their states," said Jared Leopold, spokesman for DGA. "That's been compelling for folks. People want to move forward and these governors have been bad for businesses and the economy."