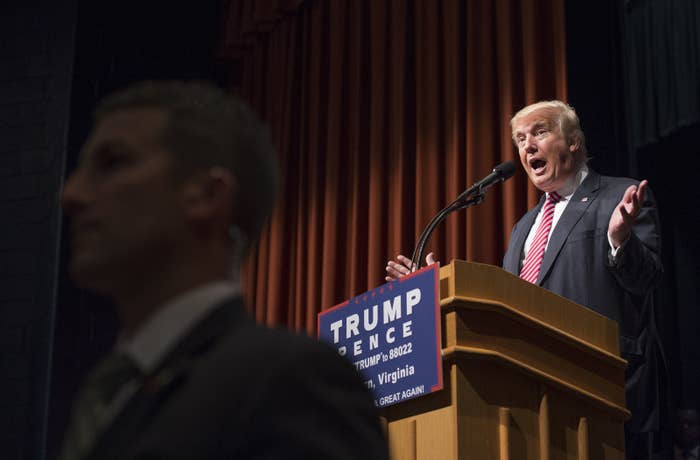 WASHINGTON — Republican donors weren't expecting a traditional campaign from Donald Trump, but they weren't expecting the level of this week's implosion either.

"I don't know what he's doing — trying to commit suicide?" said Stan Hubbard, a Minnesota-based top donor to a pro-Trump super PAC. Hubbard has been trying to get other Republican donors, including Charles and David Koch, on board with Donald Trump for months.
But he said Trump's recent comments, in particular those about the parents of a Muslim American soldier who died in the Iraq War, were "just nonsense," adding that he sent Republican National Committee Chairman Reince Priebus a note pleading with him to do something. "The whole world is laughing at that. It's just very frustrating."
Although Trump's campaign and the RNC announced raising $80 million in July, the candidate's rolling implosion has been felt. He's continued to engage in attacks on the Khan family, refused to endorse Paul Ryan and John McCain, and suggested Russia should hack Hillary Clinton's email. A high-profile Republican — Meg Whitman — has said she will not only donate to Clinton, but encourage friends to do so as well.
Prospective donors are now having second thoughts about getting involved, while those who convinced themselves to get behind Trump, like Hubbard, are at their wits' end over the presidential nominee's behavior.
One Republican operative with ties to the Trump campaign said that Trump Organization Executive Vice President Michael Cohen was one of those attempting to soothe worried donors. The operative said it was "certainly the risk" that prospective donors could back out, and added, "We'll see how the next week plays out." Cohen did not immediately return a request for comment.
Another Republican familiar with the Trump campaign's fundraising efforts said that while existing donors are frustrated, "some prospective donors are moving slowly because they want to make sure the campaign can be run in a more disciplined manner and can be viable. If you're trailing in the polls and you're undisciplined, why does somebody want to write a check for 100 grand?"
Still, the source said they did not think those who have already donated will waver in their support for Trump.
Hubbard said he's not jumping ship yet, but suggested that if Libertarian nominee Gary Johnson picked up significant momentum, he would be willing to switch over. "It will be interesting to see," he said. "He was a good governor. He's not over the top. He's not loony. If there is some sort of effort, you're darn right I could."
He also acknowledged that any sort of intervention would likely be futile. "I don't think anyone can control him. He should control himself."
A top Republican fundraiser, Fred Malek, also said Trump's actions are "cause for alarm."
"Why would he or anybody in his campaign think it's a good idea to deny support to the speaker of the House and one of the heroic leaders of our in country in the Senate?"
"And why is it a good idea to keep front and center a story you're on the wrong side of?" he said, referring to Trump's response to the Muslim family.
Despite the concern from donors, a source involved with organizing campaign fundraisers in Nantucket and Cape Cod this weekend said he had seen "no drop-off in attendance or erosion in support" — yet.
Some donors who are eager to defeat Hillary Clinton say they have no choice but to back Trump even though they are losing their patience with the nominee. And Mica Mosbacher, a former national RNC finance co-chair who helped organize fundraisers for Trump in Texas last month, said frustration from donors won't necessarily affect their giving. "While donors don't always agree with his rhetoric, Trump reflects strength and represents a better economic future," she said.
Dale Dykema, who has contributed to a pro-Trump super PAC and the campaign's joint fundraising committee with the RNC, said he recently attended a lunch with the nominee and a few others in California and was hopeful Trump would change his demeanor.
"I was encouraged that he could change, but his appearances the last few days have been extremely discouraging. He's petulantly using the same phrase Paul Ryan used when he said he couldn't endorse him. It just seems so unpresidential and completely unnecessary."
"I'm not terribly optimistic that they're going to be able to change much, frankly. He is who he is and it's very difficult for him to change," he said.
Dykema added: "I go to bed at night hoping I'll wake up and it will all be a bad dream."