Republican Donors Give The Nebraska Senator Attacking Trump Lots Of Love
Sen. Ben Sasse took his critiques and jokes about Trump to the Koch donor network meeting in California. "The way to make America great again is not by abandoning the constitutional limits and saying to some guy, 'Would you be our king?'"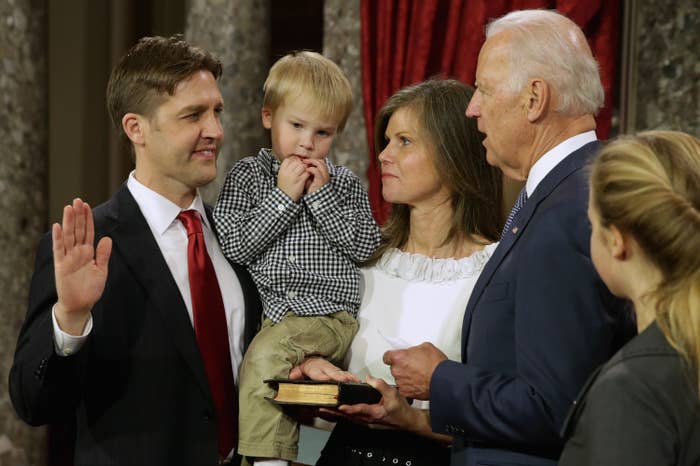 INDIAN WELLS, Calif. — Nebraska Republican Sen. Ben Sasse took his anti-Trump campaign from Iowa and his recent Twitter war with the real estate mogul to a gathering of some of the biggest donors in the Republican Party Saturday evening — and they loved it.
Speaking on a panel about the need to protect free speech, Sasse — who until recently was little known outside of his home state and Washington, D.C. — impressed donors attending the semi-annual meeting of the Koch brothers' political network with his constitutional knowledge and critique of big government. But the first-term senator, who also attended a Koch network seminar last year, drew the loudest cheers and applause when he took on Trump.
At first, Sasse joked, "We had a bet — I think I'm losing right now — how far could we go before the name of the Republican frontrunner was mentioned, so I won't exactly mention him yet."
But within seconds, he went on to try explain Trump's popularity with the GOP base to donors — many of whom have been dumbfounded by the billionaire's rise and how to take him down.
Sasse campaigned with Sens. Ted Cruz and Marco Rubio in Iowa last week in an effort to get a GOP presidential nominee other than Trump, and in recent days has targeted the Republican front-runner's past policy positions — along with the length of his fingers.
"First of all, I was worried when we were told that this event was business casual and we couldn't wear ties, and we didn't even need to wear coats," Sasse said. "I felt the need to dress up since last night Mr. Trump decided to attack me on Twitter as someone who looks more like a gym rat."
"I viewed it as high praise," he said, drawing laughs and applause from the crowd.
On a more serious note, Sasse continued: "I want to distinguish between two aspects of this moment. I believe that Mr. Trump is actually a very, smart articulate man. And I think he's incredibly strategic about what he's doing. And there's a lot that's terribly broken in Washington, and he's good at diagnosis."
"So many times his blunt speech is actually accurate about certain kinds of problems he's identifying, so there are many people — again I'm totally new to politics... I know that there are lots of people in my family who are supporting Mr. Trump — not in my nuclear family, but in my extended family," he said.
When he was interrupted by another panelist constitutional lawyer David French, who said his parents were supporting Trump, Sasse joked, "I feel like it's just becoming an AA group. I'm David French and I know someone who is voting for Trump," before going back to his tough talk on Trump.
"I know across my state there are lots and lots of people who voted for me who are now in the Trump camp," he said. "Trump leads by 5 in Iowa and that appears to be his smallest lead in the nation, so I want to be clear that I think there are lots of people who are supporting Trump for reasons that are understandable on the diagnosis side of the ledger -- that's a completely different thing from what a solution is."
"Because I want to make America great again, and the way to make America great again is not by abandoning the constitutional limits and saying to some guy, 'Would you be our king?' And I think that's a lot of what's happening in our electorate right now," Sasse said. "We can't give Trump a pass when we don't know what he stands for."
Sasse was speaking to about 500 donors attending an event hosted by Freedom Partners, which is the political umbrella group of the Koch brothers. BuzzFeed News was one of six news organizations to accept an invitation to cover the event after agreeing to a set of ground rules proposed by the network, including not identifying the donors attending unless they agreed to an interview.