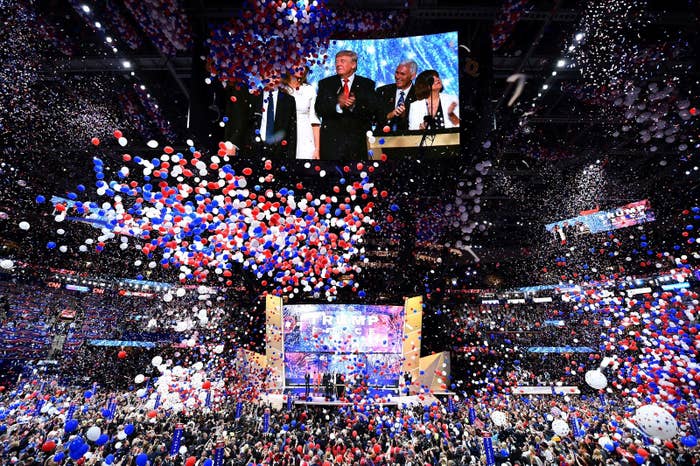 CLEVELAND — When GOP volunteers who took a week off work to help with the communications team at Republican National Convention arrived in Ohio, they were handed koozies that jokingly read "Trailer Trash" for all the time they would be spending in the media trailers.
By the end of the week, for some, the joke felt a little too real.
In interviews, several operatives who volunteered and were involved with the convention's communications operation described a war room operation that was falling apart during the convention. The event is the Republican Party's best and biggest chance each presidential cycle to put on a positive, televised message. But in Cleveland, based on at least eight sources, the staff struggled early in the week due to technical difficulties with a crucial task: booking campaign supporters, or surrogates, to make the rounds on local and national TV throughout the week to talk about the party and the nominee.
At the end of the convention, the team had done "almost 1,000 local TV interviews alone" and "nearly the same for national radio, national print, as well as hundreds of national TV bookings," according to a memo sent by Kirsten Kukowski, communications director for the convention. Those numbers are short of the more than 2,100 regional media interviews; 1,551 radio interviews; and more than 400 network cable interviews the team booked in 2012.
In an email, Kukowski said that the numbers weren't final and that comparing this year's interview numbers to 2012's was an "apples to oranges" comparison because it was set up differently.
"It was an unconventional convention and as with any large event with millions of viewers and tens of thousands of participants, there are challenges — things change and you have to call audibles, technology doesn't always work the way you want it to, the campaign has priorities that we all adjust to, and we all fill in gaps as people move from entity to entity," she said.
Before the convention even ended, several volunteers had fled Cleveland at their own expense because of what they described to BuzzFeed News as a communications staff in disarray.
The volunteers — many of whom are staffers who work in the House and the Senate — weren't each given credentials to even enter the Quickens Loan Arena, where the convention was taking place, making it logistically complicated for them to get surrogates on TV. "We had to check credentials in and out like we were in elementary school," said one of the volunteers.
They also said they weren't sure of what their assignments were, what their shifts were, and were given little direction.
Some of the volunteers are now putting together a memo with their feedback for the GOP with specifics on the disorganization.
One of the biggest issues was that the technology system that was supposed to be used to book interviews broke down on the first day, leaving volunteers to start from scratch. Volunteers also say there was also no list of regional media contacts — typically a big focus for coverage during the convention — and they were asked to google names and put one together last-minute. (Convention organizers maintain there were comprehensive lists available for every state.)
With the technological problems, volunteers started relying on their own contacts to book interviews with top Republicans. That move was criticized by deputy director of media affairs Ninio Fetalvo, because it did not follow a process put in place to ensure that the surrogates were Trump supporters. Fetalvo became essentially in charge of media affairs when the director Pam Stevens took on different role for the convention. (A gif of a Saturday Night Live skit in which Chris Farley is a professional wrestler called El Nino was emailed around by volunteers and later shared with BuzzFeed News as a joke when Fetalvo came up.)
Still, some Republicans maintained that the media operation did what it was intended, and there is a natural element of chaos.
"I think the overarching story is despite a couple of hiccups, people were able to step up and pick up the pieces," said Lyndsay Keith, deputy director of communication for the RNC's Committee on Arrangements Organization.
Although TV viewership for the event was down, convention organizers are touting their "digital footprint." The convention reached 18 million views on Facebook Live and 4.5 million on YouTube.
Volunteers who have worked on past conventions described the extent of this year's issues within the communications staff as something they haven't experienced before. And those who have run communications for past conventions declined to comment on specifics, but said an event of this scale is bound to be chaotic.
"The question is what is being done to manage the chaos and feed a voracious media appetite," Matt Burns, who served as communications director for the 2008 convention, in an email.
"Anytime you are working with 300 communications professionals — many of whom are Type A and think they are the next Dana Perino or Ari Fleischer — you'll have second-guessing. The bottom line: There is very little separating success from shit show when it comes to convention media management. And as long as national political conventions are planned, there will be a market for cigarettes and Diet Coke."
James Davis, who was in charge of communications in 2012, said the creation of media row — an added space next to the convention center for interviews — was a positive development this time around. "Each convention works to build off the successes from the past conventions. The expansion of Radio Row to Media Row was a great idea, one that I am sure will be used again in 2020."
And Mark Pfeifle, who ran communications in 2004, said polls would soon show if the event was a success: "All the hemming and hawing really doesn't matter. The proof is in the pudding. If Donald Trump gets a positive poll bounce out of Cleveland, that's a win."
Correction: Ninio Fetalvo has been an RNC staffer for three years. A previous version of this story misstated his most recent role.