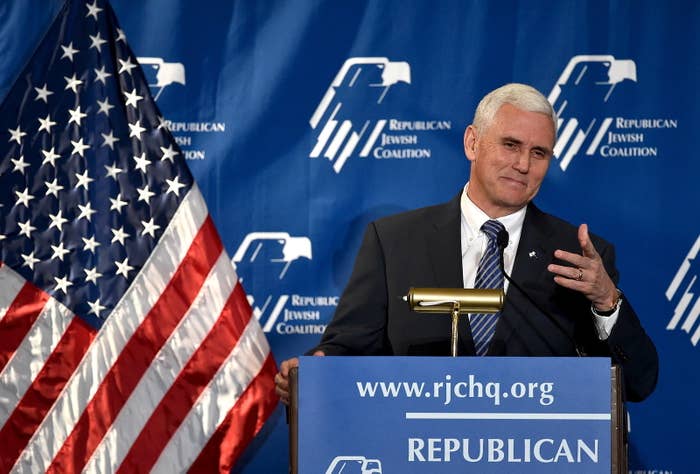 WASHINGTON — Indiana Gov. Mike Pence might help unify the Republican party if Donald Trump picks him as his vice presidential candidate, but he could also jeopardize his party's chances of keeping the governorship of Indiana.

Pence is in an usual situation of being in a tough re-election battle while being considered for vice president and would have to remove his name from the ballot by July 15 if he does end up being on the presidential ticket. Republicans would then have 30 days to replace him, and although some in Indiana have already started putting their names out there as replacements, national Republicans maintain they aren't planning for the scenario.

"We're not really focused on that yet," said Jon Thompson, spokesman for the Republican Governors Association. "We're operating on the fact that Gov. Pence is running for re-election."

When asked about the logistics of replacing Pence, Thomson said, "I personally have not even looked at that."

He also declined to comment on whether the RGA and Pence's campaign had discussed the scenario and said he wasn't worried about a potential change in candidate. "I am confident that Republicans will keep the Indiana governorship," Thompson said.

Pence met with Trump last weekend, fueling VP chatter, ahead of the presumptive nominee's expected announcement next week. Pence, who has gubernatorial and congressional experience, is seen as an attractive pick because of his popularity with social conservatives and establishment Republicans along with top GOP donors, including those affiliated with the Koch brothers' influential political network.

A former Trump adviser Michael Caputo told the Indy Star that Pence was a top contender for the job. "The Republican Party has a deep bench of qualified vice presidential candidates," he said. "Some of them ring certain bells, and others ring other bells. I think Mike Pence rings the most bells of all."
In a statement released after the meeting with Trump, Marc Lotter, a spokesman for Pence's campaign, stressed that the governor was still focused on re-election and that nothing had been offered by Trump or accepted yet.
But unlike Sens. Joni Ernst of Iowa and Bob Corker of Tennessee, Pence also hasn't removed his name from consideration, giving Democrats fodder for attacks. Already, Pence's Democratic challenger, John Gregg — who he is in a statistical tie with, according to recent polls — is going after the governor for his national political ambitions.
That line of attack will continue even if Pence doesn't get the vice presidential nod.
It's a pretty tough situation for a governor to be in when you're trying to run for re-election but you're clearly auditioning for vice president," said Jared Leopold, spokesman for the Democratic Governors Association. "It fits into this whole idea that this is a guy who is more a creature of Washington than Indiana."