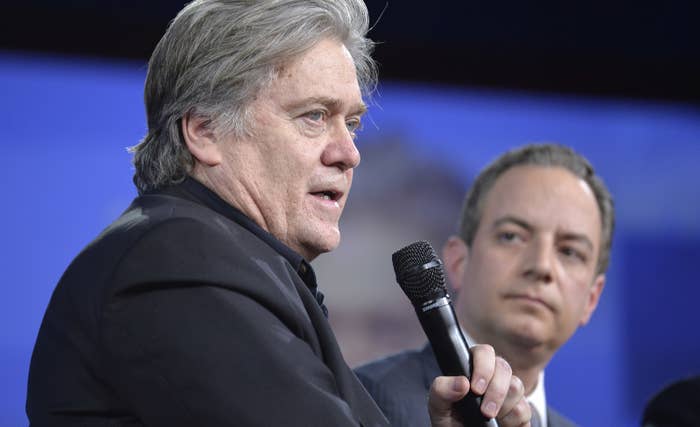 NATIONAL HARBOR, Md. — President Trump's top aides Reince Priebus and Steve Bannon continued to showcase the image of a budding bromance between them during a rare, joint-public appearance, as they stressed that the conservative grassroots and party leaders were coming together flawlessly under the new administration.
"The biggest misconception is everything you're reading," insisted Priebus, Trump's chief of staff, opening up a panel discussion Thursday afternoon at an annual conservative gathering known as CPAC.
Both Bannon and Priebus pushed back aggressively on news reports of any conflict between themselves and the narrative of chaos at the White House.
Bannon, Trump's senior adviser and former Brietbart executive, repeatedly referred to the media as the "opposition party." "You saw them all crying and weeping that night," Bannon said, reminding attendees of their unexpected win on election night.
They were "dead wrong" about the campaign, the transition and the presidency so far, Bannon said.
At one point even moderator Matt Sclapp, chairman of the American Conservative Union, jokingly remarked: "You guys have been so kumbaya here."
Schlapp then went on to ask the two what they liked about each other.

Playfully pointing to Bannon's casual look, Priebus, who is typically dressed in a suit and tie, said: "I love how many collars he wears..interesting look."
"We're different, but where we're similar in that he's very dogged in making sure that everyday the promises that President Trump has made are the promises that we're working on everyday," Priebus said, adding that he "cherished" Bannon's friendship. "No. 2 he's very loyal…he's extremely consistent. It's a presence that I think is very important to have in the White House."
Bannon went on to praise Priebus for being "unwavering" and "indefatigable." "The only way this thing works is that Reince is always very steady," Bannon said.
The packed CPAC room gave the two a standing ovation and cheered on the two throughout the discussion, loving their criticism of the media and the image of the two getting along.
"We're at the top of the first inning of this and its going to take just as much fight, just as much determination," Bannon told them. "Hold us accountable to what we promised."