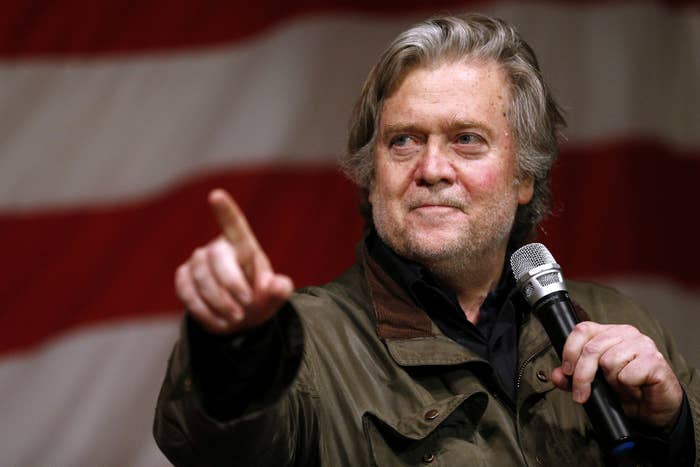 Billionaires Bob and Rebekah Mercer say they've cut Steve Bannon off from the millions that have kept him a key player in right-wing politics and in the White House over the last year.
"I support President Trump and the platform upon which he was elected," Rebekah Mercer said in a statement Thursday, distancing herself from Bannon following the release of excerpts from a forthcoming book in which Bannon is critical of the president's son.
"My family and I have not communicated with Steve Bannon in many months and have provided no financial support to his political agenda, nor do we support his recent actions and statements."
But the statement, a rare public one from Rebekah Mercer, leaves a lot to the imagination about when and where her family stopped being a benefactor to Bannon's efforts.
It's not clear when Mercer and Bannon last spoke, multiple people told BuzzFeed News. What happens next at Breitbart, where the Mercers are major investors, is also unclear.
Bannon allies have indicated for months that they were coordinating with the Mercers in selecting the candidates to take on Republican incumbents whom they did not consider to be supportive enough of the president's priorities. Bob Mercer contributed fundraising to two of those candidates last summer: $300,000 to a super PAC boosting Kelli Ward in Arizona and $50,000 to a super PAC helping Chris McDaniel in Mississippi.
After leaving the White House, Bannon reportedly spent five days in Long Island meeting with the Mercers. Even after Bob Mercer stepped down from his hedge fund in part because of the media attention on his connections to Bannon, those close to the former Trump adviser insisted that Rebekah Mercer continued to stay engaged.
And Republican candidates had been wooing Bannon in hopes that his support would translate into financial support from the Mercers. But for most, the endorsement so far meant little more than name recognition and favorable coverage by the far-right, Bannon-led website Breitbart.
Bannon did create a nonprofit, Citizens of the American Republic, in November to serve as a vehicle for pushing his political agenda, but a source told BuzzFeed News that the group was largely dormant and discussions regarding a detailed website — crucial for fundraising and messaging — never really materialized.