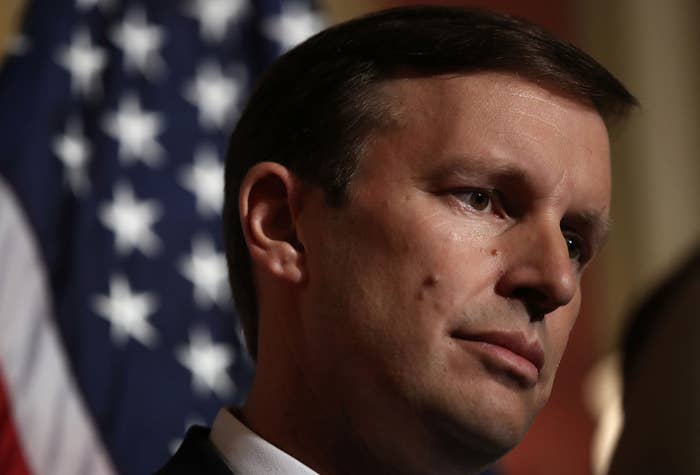 WASHINGTON — Hours ahead of the Senate voting on gun-control measures — all expected to fail — Sen. Chris Murphy, who launched a 15-hour filibuster on the issue last week, said just scheduling the votes was in itself a "psychological victory" for the country that also gave gun control advocates fodder to go after vulnerable Republicans in an election year.
"I know it's an uphill climb, but what I've always known since the failure of the background checks bill in the spring of 2013 is that this is really about building a grassroots political movement around anti-gun violence that ultimately rivals that of the [National Rifle Association]," he said in sit-down interview with BuzzFeed News Monday morning. "So I think the things that happened this week are a means to that end."
"Clearly I'm not in this to lose votes, but I think it is psychologically damaging to the country and to the victims of these tragedies when Congress doesn't even attempt to debate a solution," Murphy continued. "I think it's important for us to show the country that we're trying. There's a psychological victory to us even having the votes. I think increasingly there's a question about whether these senators can continue to vote against common sense measures and win elections."
The Senate will vote Monday evening on Democratic and Republican versions of measures to ban suspected terrorists from getting firearms and reforming background checks. They are expected to fail largely on party lines.
"Post-Orlando voting against keeping guns out of the hands of suspected terrorists is much more politically damning than it was prior," he said. "I think we have a shot at getting more votes than we did last time, but I think there are benefits to getting people on the record."
Centrist Republicans such as Sen. Susan Collins of Maine and Sen. Jeff Flake of Arizona have reportedly been working on a compromise. Murphy said he isn't directly part of the negotiations, but has been touch with those involved. "I'm not terribly optimistic. But I don't think those conversations would have ever happened had we not gone to the floor. And even if they don't bear fruit, it shows again that there are cracks in this wall of resistance."
The Connecticut Democrat, who told emotional stories from Newtown's recovery from the mass shooting in late 2012 on the Senate floor and in the interview, also argued the attention around the filibuster has energized the gun-control movement and groups that have been taking on the influential NRA could eventually be powerful enough to make Republicans worried about losing their seats.
"There's lots of signs that these grassroots groups are getting stronger," he said "I think eventually you're going to have to show an outcome at the polls. You're going to have to show that somebody fairly high-profile loses their seat in the Senate or the House in part because of a bad vote on guns — 2014 was not the year to do that because it was such a disaster in general for Democrats, but 2016 might. I know that those groups are raising a lot of money and getting ready to play significantly in a number of races."
And support from LGBT groups like the Human Rights Campaign in the aftermath of Orlando has "added power to the movement here," Murphy said. "If HRC is stepping in, the most important impact is the voters who listen to HRC may now elevate this issue and what drives them when they come to the polls."
Although GOP presumptive nominee Donald Trump has said he will discuss a ban on suspected terrorists from getting guns with the NRA, Murphy said he would not meet with Trump to negotiate if the opportunity arose.
"Trump? No," Murphy said. "I mean Trump's announced that he's going to negotiate national security policy with the NRA. Right? I don't give Trump an ounce of credit for announcing that he's going to continue to give the NRA veto power over gun policy and national security policy. Had he said I'm going to meet with terrorism experts on finding the path forward on the terrorist loophole? Had he said I'm going to meet with the victims of gun violence and negotiate a path forward on closing the loophole, then I'd given him credit. But no, he came out said I'm going to meet with the NRA. Guess what? The NRA isn't going to support any of this."
During the Sunday shows this past weekend, Murphy said he briefly met NRA lobbyist Chris Cox backstage. "We weren't sitting there negotiating backstage... he did tell me they aren't part of any of these negotiations, which I already knew so that's not news. It just doesn't sound like they aren't in the minds to do anything but remain obstinate about this."
Despite the resistance, Murphy said he is hopeful that this week will be seen years from now as one that changed the politics around the gun control issue.
"Just like we changed, hardened our infrastructure around airports after September 11th attack because it was done with airplanes," he said. "we should harden our infrastructure around gun stores after Orlando because this was done with assault weapons."

J. Lester Feder contributed to this story