Thiel Says "Single Digit Millionaires" Like Hulk Hogan Need Help With The Legal System
The Paypal billionaire had some things to get off his chest.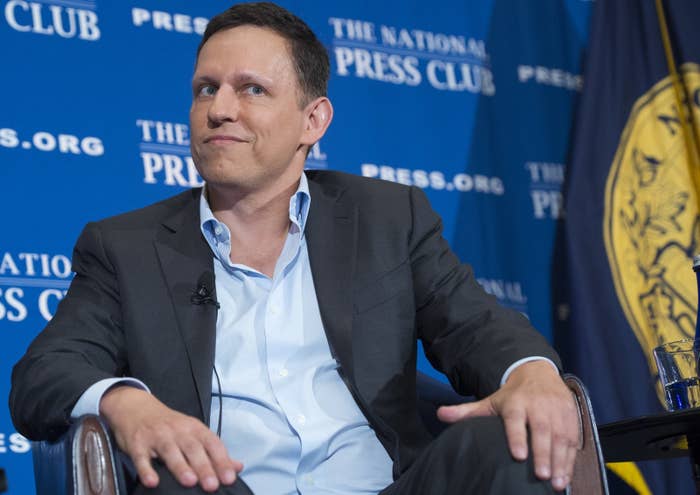 WASHINGTON — Silicon Valley billionaire Peter Thiel — known for his contrarian views and most recently under fire for backing Donald Trump and underwriting a case that bankrupted Gawker — litigated his positions on politics and the media before dozens of reporters Monday morning.
In a speech at the National Press Club, Thiel first offered a forceful defense of his support for Trump before taking questions for at least 40 minutes. Reporters turned in notecards with wide ranging questions during the speech, and Thiel took on as much of the thick stack of cards as he could in the allotted hour.
Just a few blocks from the White House, the PayPal co-founder repeatedly bashed Washington insiders, warning them that Trumpism isn't going to fade away after the election because "no matter how crazy this election seems, it is less crazy than the condition of our country."
"What Trump represents isn't crazy and it's not going away. He points toward a new Republican party beyond the dogmas of Reaganism. He points even beyond the remaking of one party to a new American politics that overcomes denial, rejects bubble thinking, and reckons with reality."
Thiel — who announced recently he has given $1.25 million to boost Trump's presidential campaign, despite saying Monday that money hasn't mattered this election — said he's been surprised by the "visceral reaction" he has gotten from the tech community. In his speech, he addressed the attacks he is facing, saying the "intolerance has taken on some bizarre forms."
"The Advocate, a magazine which once praised me as a 'gay innovator,' even published an article saying that as of now I am, and I quote, 'not a gay man,' because I don't agree with their politics. The lie behind the buzzword of 'diversity' could not be made more clear: if you don't conform, then you don't count as 'diverse,' no matter what your personal background."
He later added that he also knows "not a large number but a small number of people" in Silicon Valley who are supporting Trump but don't want to admit it publicly.
Thiel cited his fondness for outsiders, Trump's free trade policies, and his concerns about Hillary Clinton's hawkish voting record as reasons he was backing the GOP presidential nominee. But he stressed that he doesn't support everything Trump has said or done.
"Nobody thinks his comments about women were acceptable; I agree they were clearly offensive and inappropriate," he said in the speech. "But I don't think voters pull the lever in order to endorse a candidate's flaws."
Pressed on controversial policy positions Trump has taken, such as the Muslim ban, Thiel said he didn't support the specific language that the presidential nominee has used. "The media always takes him literally but not seriously," he said, arguing that the wall and the ban were symbolic for "sane and sensible immigration policy."
And on Trump's decision not to release his tax returns, Thiel said: "I think at this point the American people know far more than enough about the two candidates to make their decision." He refuted any doubts about Trump's business success ("We can debate how many zeros he has exactly in his net worth, but it's a lot") and made the case that an intense level of scrutiny might be holding talented people from running for office.
He also responded to questions about Trump's temperament and access to nuclear codes by saying Clinton had a "much more confrontational foreign policy."
Besides his support for Trump, Thiel was asked about his own political future. He didn't say he would ever run for office and would likely limit his involvement to political contributions. "My future is going to be in the tech industry. That's what I'm good at. That's what I enjoy doing. I always have a somewhat schizophrenic view of politics — it's a horrible business...crazy amounts of carnage and nothing ever changes. That's one part of my schizophrenia. And then the other part is that it's really important."

He also answered several questions about his role in bankrupting Gawker, which outed him as gay in 2007. The billionaire funded an invasion of privacy lawsuit brought by wrestler Hulk Hogan against the news organization after it posted a sex tape. Thiel reportedly contributed $10 million on behalf of Hogan. Gawker lost the case and filed for bankruptcy.
On Monday, he described Gawker as a "singularly sociopathic bully" and said he wasn't underwriting any other lawsuits against news organizations. Asked about his involvement with the case, Thiel said he was encouraged by friends in the media to get involved. He also made an eyebrow-raising comment: "If you're a single-digit millionaire like Hulk Hogan, you have no effective access to our legal system."
Arguing that the Gawker case wasn't about freedom of speech or press, Thiel repeatedly defended his support for the First Amendment.
But at the end of event, after making his way through a sizable portion of the stack of questions, Thiel left the National Press Club, leaving journalists covering the event locked in the room, where the event was held, for several minutes until he had safely exited the building.