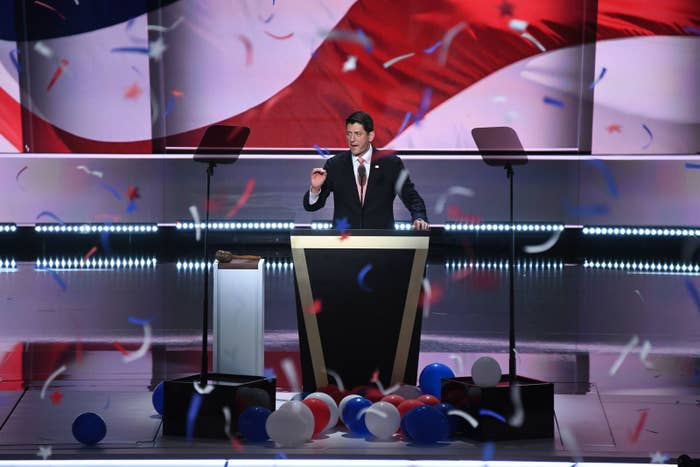 WASHINGTON — As Donald Trump calls on Russia to find and expose his Democratic opponent Hillary Clinton's emails, congressional Republicans are pushing back and bashing Russia's leader Vladamir Putin.
In a statement, Speaker Paul Ryan's spokesman Brendan Buck said: "Russia is a global menace led by a devious thug. Putin should stay out of this election."
House Foreign Affairs Committee Chairman Ed Royce gave a similar statement to BuzzFeed News. "The United States should not tolerate Russian meddling in November's election. Period."
During a press conference Wednesday morning, Trump essentially encouraged cyber espionage against Clinton. "Russia, if you're listening, I hope you're able to find the 30,000 emails that are missing," he said. "I think you will probably be rewarded mightily by our press."

The GOP presidential nominee later doubled down on his statement.
Trump's comments follow a report from the New York Times that found that US intelligence agencies believe Russia was behind the hack of the Democratic National Committee that resulted in their emails being leaked on the eve of the party's convention in Philadelphia.
Becca Watkins, spokeswoman for Sen. Richard Burr — chairman of the Senate Intelligence Committee, said the senator "has said for some time that foreign adversaries are intent on gaining unauthorized access into our country's government and private networks to access sensitive data – whether that is trade secrets of American companies, or healthcare information of government workers. These hackers remain a serious challenge to the security of the US."
Specifically on Trump's comments, Watkins said: "As Chairman of the Intelligence Committee, Sen. Burr has an obligation to wait for the FBI and the broader intelligence community to complete their investigation on the source of this cyberattack. Public discussion about attribution and possible responses are premature, at best."
Nebraska GOP Sen. Ben Sasses, who has said he will not vote for Trump, said in a statement: "Every American, without regard to political party, must face this grim reality: While the Obama administration idles with empty platitudes and fantasy resets, Mr. Putin's Soviet-style aggression has escalated to levels that were unimaginable just a week ago."
"America is digitally exposed. The United States must take serious offensive and defensive actions now. Russia must face real consequences."
This post will be updated with more comments from congressional Republicans.