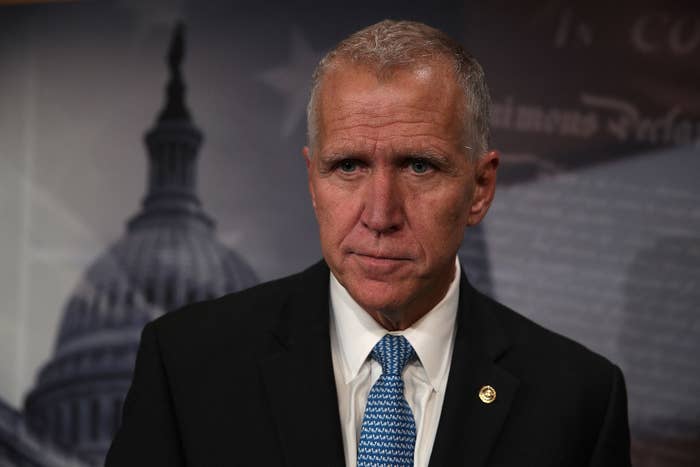 Although the Republican National Committee has resumed its support for Alabama Senate candidate Roy Moore, North Carolina GOP Sen. Thom Tillis said the Senate Republicans' campaign arm will be "standing firm" against helping Moore and called for an ethics investigation into allegations of sexual assault and misconduct into their nominee if he is elected.
"I think we have to first move with an ethics investigation," Tillis said on BuzzFeed News' Twitter morning show AM to DM. "We need to examine the facts and let those facts lead us where they may."
Tillis had previously called on Moore to withdraw from the race, but now thinks there's little his colleagues can do until after next week's election.
"There's Supreme Court precedent to say that we really don't have the authority to deny him being seated. But we do have jurisdiction over members, and we use an ethics investigation and see what remedies come out of that," he said.
Tillis said he believes there is legitimacy to the allegations, but he's not going to financially support Moore's opponent, Democrat Doug Jones, as Arizona Republican Sen. Jeff Flake did earlier this week by writing his campaign a $100 check.
"I'm going to stay out of a race that I don't have a vote in," Tillis said. "And then as a member of a body that Mr. Moore might be admitted to, I'm going to try to get the facts to the point where we can take appropriate action."
"We have to wait until after the election. ... Until he wins, he's not under the jurisdiction of the Senate," Tillis said.
Asked about the allegations against Minnesota Democratic Sen. Al Franken — who announced Thursday that he would soon resign from the Senate — Tillis said he wants to be "intellectually honest and consistent" and not take a partisan approach on these allegations. (The interview was taped Wednesday morning just as Democrats were calling on Franken to resign.)
Tillis said he supports the ethics committee's investigation into the allegations against Franken.
"Similar to Mr. Moore, I do think there's a lot of legitimacy to these allegations."